UW News
UW News blog
---
November 13, 2018
In a paper published Oct. 8 in the journal Nano Letters, a team from the University of Washington and the National Tsing Hua University in Taiwan announced that it has constructed functional metalenses that are one-tenth to one-half the thickness of the wavelengths of light that they focus. Their metalenses, which were constructed out of layered 2D materials, were as thin as 190 nanometers — less than 1/100,000ths of an inch thick.
---
November 7, 2018
When it comes to supporting and promoting the growth of minority businesses, the University of Washington has a long track record – 27 years to be exact. This milestone represents the UW's long-standing relationship with the Northwest Mountain Minority Supplier Development Council (MSDC).
---
November 2, 2018
The University of Washington has distributed news to the campus community — in one form or another — since 1975. Such communication began as a way to streamline how faculty, staff and students received important administrative news and was initially published as a pamphlet of memos. In 1983, it evolved into University Week, a weekly…
---
UW oceanographer Jody Deming is a leader of a new, interdisciplinary effort that addresses the theme of "ocean memory."
---
October 25, 2018
UPS announced today that it will be pilot-testing deliveries with cargo e-bikes in downtown Seattle. This test is expected to last a year, and the University of Washington's Urban Freight Lab at the Supply Chain Transportation and Logistics Center will help UPS evaluate the study's outcomes.
---
The University of Washington will lead one of three teams that will partner with the Honda Research Institute to explore the mechanisms behind curiosity and seek advances in artificial cognition. The UW-led team will receive $2.7 million over the next three years to generate a mathematical model of curiosity.
---
October 24, 2018
Jiun-Haw Chu, a University of Washington assistant professor of physics and faculty member at the UW's Clean Energy Institute, has been named a 2018 fellow by the David and Lucile Packard Foundation for his research on quantum materials — substances that exhibit novel combinations of quantum-mechanical properties that could one day transform information technology.
---
A new University of Washington initiative seeks to advance research on the health benefits of time spent in nature, connecting academic researchers with pediatricians, childcare providers, mental health practitioners and others who work with various populations on critical health issues.
---
October 17, 2018
UW atmospheric scientists leave next week for a six-week field campaign in South America to study the most intense storms on the planet.
---
October 12, 2018
In a new UW-authored book, a cartoon robot takes young readers on a School of Oceanography voyage to explore the deep ocean.
---
The University of Washington is listed at No. 5 on the Reuters Top 100: The World's Most Innovative Universities, released Thursday. Now in its fourth year, the list ranks the educational institutions doing the most to advance science, invent new technologies and help drive the global economy.
---
The University of Washington's Urban Freight Lab at the Supply Chain Transportation and Logistics Center has been looking for solutions to Seattle's traffic congestion: Parcel lockers that aren't owned by a specific company could alleviate the strain. Now the researchers have identified five viable locker locations at three different Seattle Link light rail stations for a future pilot test.
---
October 11, 2018
Kristie Ebi, a UW professor of global health, was a lead author on the Intergovernmental Panel on Climate Change's "Special Report on Global Warming of 1.5 C" that compares the effects of 1.5 versus 2 degrees Celsius of global warming.
---
October 10, 2018
When Rainier Beach High School was proposed to close in 2008, community members rallied around a new vision for the school, which has since nearly doubled its enrollment and introduced a more rigorous curriculum.
---
October 8, 2018
Pablo García Borboroglu, president of the Global Penguin Society and a UW affiliate associate professor of biology, has won the Whitley Gold Award and the National Geographic/Buffett Award for Leadership in Conservation, as well as accolades from the Argentine National Congress, for his research and advocacy for penguin conservation.
---
A new book by University of Washington history professor George Behlmer seeks to improve understanding of the British colonial era by "reconsidering the conduct of islanders and the English-speaking strangers who encountered them."
---
October 4, 2018
Harold Tobin, who joins the UW this fall as a faculty member in Earth and space sciences and director of the regional seismic sensing network, discusses earthquake early warning, seismic risks and the Pacific Northwest's "big one."
---
October 1, 2018
This fall, the University of Washington's annual engineering lecture series will feature three College of Engineering faculty whose research is accelerating positive impact here and around the world.
---
September 27, 2018
People who have submitted photos to the #MemoriesInDNA project have selected images of family members, favorite places and tasty food that will be preserved for years in the form of synthetic DNA. Now this collection will be headed to the final frontier: space.
---
September 26, 2018
The University of Washington has been ranked No. 28 on the Times Higher Education world rankings for 2019, released Wednesday.
---
September 25, 2018
A UW study found that mindfulness lessons, offered to parents at two early childhood centers, helped adults learn how to manage their emotions and behaviors while supporting their child's development.
---
September 24, 2018
David Shields, UW professor of English, discusses his latest book, "Nobody Hates Trump More than Trump: An Intervention."
---
September 20, 2018
The University of Washington in Seattle is welcoming its largest-ever incoming class — about 7,050 freshmen —in ceremonies this Sunday. The university's 35th annual New Student Convocation, which begins at 10:30 a.m. Sunday, Sept. 23, in the Alaska Airlines Arena at Hec Edmundson Pavilion.
---
September 19, 2018
Nurses and nurse-scientists interested in advanced multi-disciplinary training for population and global health practice can now apply for a new University of Washington degree program.
---
September 18, 2018
Margaret O'Mara, UW professor of history, explores the impact of a December 1968 computer presentation that came to be called "the mother of all demos" in an essay and podcast from the news website The Conversation.
---
September 15, 2018
The assistant state climatologist, Karin Bumbaco, looks back on an unusually hot and dry summer — the third-hottest summer that Washington state has experienced since 1895.
---
September 12, 2018
The National Science Foundation announced on Sept. 11 that it is awarding grants totaling $8.5 million to 19 collaborative projects at 23 universities for the study of complex and entrenched problems in data science. Three of these projects will be based at the University of Washington and led by researchers in the College of Engineering and the College of Arts & Sciences.
---
September 10, 2018
Justin Marlowe, a professor in the UW's Evans School of Public Policy & Governance, has been named a member of Washington Governor Jay Inslee's Council of Economic Advisors. He will be among those advising the governor on local and state economic conditions and national developments that affect state policies.
---
September 6, 2018
The University of Washington is among the top schools on The Wall Street Journal's newest college ranking: value for the money. The UW was ranked third in the nation by the newspaper.
---
September 4, 2018
The Center for Sensorimotor Neural Engineering is updating its name to the Center for Neurotechnology (CNT) to highlight the key role that neurotechnologies play in its mission.
---
August 27, 2018
The University of Washington is ranked No. 14 in the world — No. 3 among public universities — on the 2018 Academic Ranking of World Universities, released this month.
---
August 21, 2018
Last year, King County Metro and the Seattle Department of Transportation started a pilot program that allowed Microsoft's and Seattle Children's Hospital's private shuttles to pick up employees at a few public bus stops throughout Seattle. Now a recent study from researchers at the University of Washington suggests that public buses are unaffected by private shuttles most of the time.
---
University of Washington researchers argue that further study of why infants persist, and to what end, may shed new light on how they learn and what the future yields.
---
August 20, 2018
The University of Washington's Doorway Project has offered a cafe for homeless young adults each quarter, while students have helped add services, from preventive health care, to establishing a fundraising organization to designing a permanent café home. Its summer pop-up cafe event is Aug. 24.
---
August 15, 2018
Researchers at the University of Washington have developed a new method that gives aircraft a backup system in case GPS fails: An antenna on the ground that can tell a drone where it is. The team successfully tested their system in June.
---
August 13, 2018
Hans Scholl, professor in the UW Information School, discusses the challenges and opportunities of digital government. The website Apolitical has named him among the "Top 100 Most Influential People in digital government."
---
August 10, 2018
Now, a new $250,000 fellowship at the UW Harry Bridges Center for Labor Studies has been established in his name. The Jenkins Fellowship in Labor Studies will honor and preserve Jenkins' lifelong commitment to the causes of social and economic justice through financial support for students at the UW.
---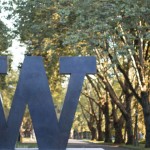 The University of Washington placed fourth among U.S. higher education institutions, according to the NTU Rankings released Thursday.
---
August 7, 2018
Hilary Wething, a doctoral student in the University of Washington's Evans School of Public Policy & Governance, has received a grant to study the effects of Seattle's law requiring paid sick leave.
---
August 2, 2018
Recent notable books by University of Washington authors tell of the struggle to break free of racism in higher education, taking an "urban diary" approach to documenting city life and more.
---
Previous page
Next page