UW News
UW Today blog
---
April 30, 2018
A Q&A with retiring Washington Sea Grant director Penny Dalton on her drive to serve the public, and the ways in which she has helped young marine policy experts get started in the field.
---
April 27, 2018
Oceanographer Cecilia Peralta Ferriz is spending the academic year in Tromsø, Norway, to collaborate with colleagues who study flow out of the Arctic Ocean.
---
The University of Washington this week ranked No. 5 on the Forbes list of Best Value Colleges 2018. The UW rose from 23rd place in the 2016 ranking.
---
April 25, 2018
About twice each decade, the United Nations' Intergovernmental Panel on Climate Change, or IPCC, looks at what is known about the science of climate change, the extent to which human activities are changing the Earth's climate, and what risks these changes pose to human and natural systems. Organized into three working groups, each assessment is…
---
The World Register of Marine Species has named the Mariana snailfish one of its 10 "remarkable new species" discovered in 2017. The team that discovered and named the small fish includes Mackenzie Gerringer, a postdoctoral researcher at the UW's Friday Harbor Laboratories.
---
April 24, 2018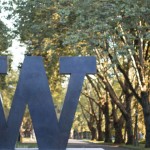 Seven University of Washington researchers have been selected as Washington Research Foundation fellows. This fellowship funds 10 researchers who work in STEM fields to perform mentored research projects over the next three years.
---
April 19, 2018
Vikram Prakash says his weekly "ArchitectureTalk" podcast got its start, as many things do, from a student's idea.
---
April 17, 2018
Daniel Bessner, assistant professor in the Jackson School, has a new book from Cornell University Press: "Democracy in Exile: Hans Speier and the Rise of the Defense Intellectual."
---
April 16, 2018
Halting the spread of disease involves a combination of health care and societal practices — from access to doctors and vaccines to clean water and adequate resources. Many of those solutions rely on electricity and transport fuels, whether for refrigeration, diagnosis and treatment, or distribution. But with two of the major energy sources the…
---
April 6, 2018
A University of Washington professor is among the 173 scholars, artists and scientists from the U.S. and Canada recognized this year by the Guggenheim Foundation. Christian Lee Novetzke, associate director, Henry M. Jackson School of International Studies, and director, Center for Global Studies, was among the winners chosen from more than 3,000 applicants.
---
April 4, 2018
A national program to boost the employment prospects of young adults with autism is piloting its approach at the UW this year. At 10 locations on campus over the course of the year, interns with the program have built databases, organized libraries and maintained facilities.
---
April 3, 2018
A new trail that winds through Washington Park Arboretum is bringing to focus plants previously hidden and a stream that used to be underground in pipes and culverts. The UW together with Seattle Parks and Recreation and the Arboretum Foundation on Sunday, April 8 will celebrate the trail opening with festivities along the path.
---
The College of Built Environments Department of Real Estate, formerly the Runstad Center for Real Estate Studies, has been named in honor of Jon and Judy Runstad.
---
March 29, 2018
During a recent survey of supermassive stars, an international team of astronomers discovered a star that is in quite a hurry. As they report in a new paper, the team tracked one yellow supergiant star cruising along at about 300,000 miles per hour, a velocity that would get you from the Earth to the Moon in about 48 minutes.
---
March 27, 2018
Dr. Benjamin Danielson, a 1992 graduate of the UW School of Medicine, a Children's Hospital pediatrician and director of the Odessa Brown Children's Clinic, will be the featured speaker at the University of Washington's Commencement exercises Saturday, June 9.
---
March 22, 2018
A pair of anglerfish, a species never before seen alive by humans, was recorded recently on camera by researchers aboard the LULA1000, a submersible operated by the marine science-focused Rebikoff-Niggeler Foundation.
---
March 21, 2018
With a new $700,000 grant awarded from the NOAA Ocean Acidification Program, scientists from the University of Washington's Applied Physics Laboratory, Washington Sea Grant and the Joint Institute for the Study of the Atmosphere and Ocean have teamed with federal and tribal partners to study the social and ecological vulnerabilities of Olympic Coast ocean acidification.
---
March 15, 2018
The University of Washington's new minor in Oceania and Pacific Islander Studies debuts spring quarter. The 25-credit, interdisciplinary program is the result of a longtime effort to elevate the history and culture of an underrepresented, and often misrepresented, community.
---
Researchers at the University of Washington have developed a set of tools to make MRI studies of our central nervous system easier to share.
---
March 14, 2018
African-American voters who dislike and feel threatened by Donald Trump and his presidency are more likely to vote and to engage with politics, according to new research from the UW and California State University, Sacramento.
---
Former University of Washington Provost and Vice President for Academic Affairs Irving Shain has died. He was 92.
---
March 13, 2018
Renée Cheng has been named dean of the University of Washington's College of Built Environments, President Ana Mari Cauce and Provost Gerald J. "Jerry" Baldasty announced today. Her appointment, set to begin Jan. 1, 2019, is subject to approval by the UW Board of Regents.
---
March 12, 2018
The University of Washington is launching a study to identify soldiers experiencing post-traumatic stress symptoms and to determine whether free, confidential, over-the-phone counseling can help them navigate resources and spur them to seek further support.
---
March 9, 2018
Think about the last time you looked for a new apartment or house. Maybe you asked your friends or colleagues about where they lived. You thought about your route to work, or that neighborhood you always drive through on your way to your kid's soccer practice. Many of these places were familiar to you,…
---
March 8, 2018
The UW Jackson School of International Studies presents "Trump in the World: International Implications of the Trump presidency," a series of public lectures and discussions Tuesday afternoons through spring quarter.
---
Megan Ming Francis, UW associate professor of political science, has been named a fellow with the Thurgood Marshall Institute. The institute is a multidisciplinary research and advocacy policy center within the NAACP's Legal Defense and Educational Fund.
---
March 7, 2018
A University of Washington study finds that women authors are significantly under-represented in high-profile academic journals.
---
Researchers at the University of Washington Sustainable Transportation Lab want your input to learn why bike share programs — like Pronto, LimeBike, Spin or ofo — succeed or fail. The lab is conducting a short, voluntary survey of cyclists to find out what they're looking for from a bike share program.
---
March 5, 2018
Immigrant rights, environmental concerns and racial, class, gender and sexual justice will be the focus of a daylong conference hosted by the Harry Bridges Center for Labor Studies March 10 at the UW.
---
March 2, 2018
Charles Simic, one of America's most celebrated poets, will give the 2018 Theodore Roethke Memorial Poetry Reading on April 12. Simic will be the 54th poet to appear in the series since its inception in 1964.
---
A new study almost 20 years in the making provides some of the strongest evidence yet of the "speciation reversal" phenomenon in two lineages of common ravens.
---
March 1, 2018
In a region as expensive as the Puget Sound, making ends meet affects college students, too. Rent, utilities and food can run into the hundreds, if not thousands, of dollars a month – and for students without the means, it's a daunting and sometimes compromising challenge. Urban@UW is trying to learn more about…
---
February 27, 2018
LaShawnDa Pittman, a UW assistant professor of American Ethnic Studies, is collecting stories of African-American grandmothers, past and present, on her Real Black Grandmothers website.
---
February 26, 2018
Brian McCartan has been named vice president for finance at the University of Washington, Executive Vice President Jeff Scott announced today. McCartan joins the UW after serving as the chief financial officer at Sound Transit for the past 11 years. He begins on Feb. 26.
---
February 22, 2018
When scientists have conducted research in Native American communities, the process and the results have sometimes been controversial. There have been a few well-known cases, such as the 1979 Barrow Alcohol Study, in which researchers examined substance use in the tiny Arctic Circle town and issued findings to the press, before briefing the…
---
February 21, 2018
The Peace Corps today announced that University of Washington ranked No. 2 among large schools on the agency's 2018 Top Volunteer-Producing Colleges and Universities list. There are 74 UW alumni currently volunteering worldwide.
---
February 20, 2018
The University of Washington ranked second in the country in producing Fulbright Scholars. Fulbrights were awarded to 11 researchers at UW's Seattle campus, and to three faculty members at UW Bothell.
---
February 15, 2018
Five faculty members at the University of Washington have been awarded early-career fellowships from the Alfred P. Sloan Foundation. The new Sloan Fellows, announced Feb. 15, include Maya Cakmak, assistant professor of computer science and engineering; Jiun-Haw Chu, assistant professor of clean energy and physics; Arka Majumdar, assistant professor of electrical engineering and physics; Jessica Werk, assistant professor of astronomy; and Chelsea Wood, assistant professor of aquatic and fishery sciences.
---
February 13, 2018
Pimone Triplett, UW associate professor of English and creative writing, has released "Supply Chain," her fourth book of poems.
---
February 12, 2018
University of Washington engineers have turned tissue paper – similar to toilet tissue – into a new kind of wearable sensor that can detect a pulse, a blink of an eye and other human movement.
---
Previous page
Next page