UW News
UW Today blog
---
August 27, 2018
The University of Washington is ranked No. 14 in the world — No. 3 among public universities — on the 2018 Academic Ranking of World Universities, released this month.
---
August 21, 2018
Last year, King County Metro and the Seattle Department of Transportation started a pilot program that allowed Microsoft's and Seattle Children's Hospital's private shuttles to pick up employees at a few public bus stops throughout Seattle. Now a recent study from researchers at the University of Washington suggests that public buses are unaffected by private shuttles most of the time.
---
University of Washington researchers argue that further study of why infants persist, and to what end, may shed new light on how they learn and what the future yields.
---
August 20, 2018
The University of Washington's Doorway Project has offered a cafe for homeless young adults each quarter, while students have helped add services, from preventive health care, to establishing a fundraising organization to designing a permanent café home. Its summer pop-up cafe event is Aug. 24.
---
August 15, 2018
Researchers at the University of Washington have developed a new method that gives aircraft a backup system in case GPS fails: An antenna on the ground that can tell a drone where it is. The team successfully tested their system in June.
---
August 13, 2018
Hans Scholl, professor in the UW Information School, discusses the challenges and opportunities of digital government. The website Apolitical has named him among the "Top 100 Most Influential People in digital government."
---
August 10, 2018
Now, a new $250,000 fellowship at the UW Harry Bridges Center for Labor Studies has been established in his name. The Jenkins Fellowship in Labor Studies will honor and preserve Jenkins' lifelong commitment to the causes of social and economic justice through financial support for students at the UW.
---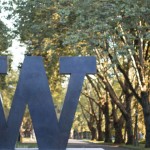 The University of Washington placed fourth among U.S. higher education institutions, according to the NTU Rankings released Thursday.
---
August 7, 2018
Hilary Wething, a doctoral student in the University of Washington's Evans School of Public Policy & Governance, has received a grant to study the effects of Seattle's law requiring paid sick leave.
---
August 2, 2018
Recent notable books by University of Washington authors tell of the struggle to break free of racism in higher education, taking an "urban diary" approach to documenting city life and more.
---
July 31, 2018
Lou Cariello has been named vice president of UW Facilities, University of Washington Executive Vice President Jeff Scott announced earlier this month. Cariello is scheduled to start in mid-August.
---
July 19, 2018
As a middle school student, Srinya Sukrachan spent a lot of time in hospitals. She had juvenile rheumatoid arthritis and her father was battling colon cancer.
When she was 17, her personal health care experience led her to participate in the University of Washington School of Nursing's first Nurse Camp. Now, a decade later, Sukrachan is one of the student leaders for the camp's 10-year anniversary session and she's become an advocate with a passion for teaching, equity and inclusion. The recent School of Nursing graduate already also has a job lined up at Swedish Medical Center in Seattle.
---
July 17, 2018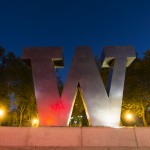 Fourteen scientists, physicians and engineers from the University of Washington have been elected this year to the Washington State Academy of Sciences.
---
July 16, 2018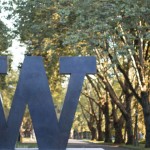 Dr. Gary Chiodo of Oregon Health & Science University has been appointed interim dean of the University of Washington School of Dentistry, effective Aug. 1, UW President Ana Mari Cauce and Provost Mark Richards announced Monday.
---
July 13, 2018
Sapna Cheryan, a University of Washington associate professor of psychology, has spent her career researching the stereotypes surrounding STEM. Now she's serving on Mattel's Barbie Global Advisory Council, lending her expertise as the company looks ahead to the toy's future.
---
July 2, 2018
University of Washington assistant professor of human centered design and engineering Daniela Rosner explores some hidden histories in technology design in her new book "Critical Fabulations." The book highlights the idea that design stories from the past can show today's designers how to create more inclusive technology.
---
June 28, 2018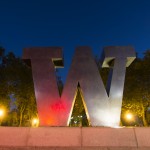 Daniel Schwartz, a University of Washington professor of chemical engineering and director of the Clean Energy Institute, received the Presidential Award for Excellence in Science, Mathematics and Engineering Mentoring (PAESMEM) from the White House Office of Science and Technology Policy and the National Science Foundation this week.
---
June 27, 2018
UW Libraries Special Collections has a new exhibit called "Captured in Ink: Historical Cartoons and Caricatures." The exhibit features the editorial cartoons of Howard Fisher, who worked and drew for decades for the Oregon Journal, a Portland newspaper that folded in 1982. Many other historical caricatures are included as well in the display, which stays up until October 19.
---
June 21, 2018
The University of Washington's Jen Self will be one of three grand marshals of Sunday's 2018 Seattle Pride Parade.
---
More than 100 scientists and crew from more than 20 U.S. research institutions, including the UW, will depart in August for a month-long expedition to study how the ocean absorbs carbon from the atmosphere.
---
June 18, 2018
The Washington State Legislature has commissioned faculty members with the University of Washington's Evans School of Public Policy & Governance to study ticketing and loading procedures at the West Seattle ferry dock and suggest ways to improve terminal operations. Evans School professor Alison Cullen and associate professor Stephen Page will lead the study, which begins…
---
June 15, 2018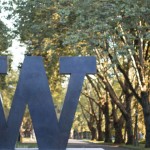 A new analysis suggests the value of structured research programs for undergraduates extends to society as a whole by encouraging participants to seek advanced degrees in scientific and technological fields.
---
June 12, 2018
Radhika Govindrajan's book "Animal Intimacies" started attracting attention before it was even available to readers. A University of Washington assistant professor of anthropology since 2015, Govindrajan specializes in animal studies, and in the politics and culture of the Central Himalayas, where much of the research for this book was conducted. "Animal Intimacies," published in May…
---
June 6, 2018
African-Americans in Washington state are 2.3 times more likely than whites to be sentenced to fines and fees, and carry about three times the debt in unpaid monetary sanctions. In all, said University of Washington sociology professor Alexes Harris, legal financial obligations represented nearly $2.5 billion in debt in Washington in 2014, the most…
---
June 4, 2018
Twenty-five polar bear hunters in East Greenland were interviewed before the first formal assessment of this subpopulation, one of 19 subpopulations of polar bears in a changing Arctic.
---
June 1, 2018
Art and design can amaze, inform, entertain, challenge or even gently baffle the viewer — and the annual thesis exhibition for Master of Fine Arts and Master of Design at the Henry Art Gallery reliably offers a little of each.
---
May 29, 2018
Two renowned global rankings released this week place the University of Washington fourth among U.S. public institutions.
---
May 25, 2018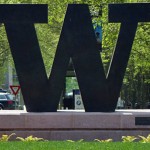 The academic student employees (ASEs) at the University of Washington have announced a strike to begin June 2, despite the fact that two bargaining sessions are scheduled before that date. The UW is working with deans, chancellors and department chairs to avoid disruption or delay in grades or graduation should the ASEs strike.
---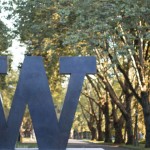 Assassinations. War in Vietnam. Racial clashes. Far more than simply the generation who lived the Summer of Love, the Class of 1968, which celebrates its 50th reunion next week, recalled their college years during a turbulent time in the nation's history.
---
Astronauts at the International Space Station are spending more time away from Earth, but they still need their daily serving of vegetables. In the quest to find a viable way for crew to grow their own veggies while orbiting — and possibly one day on the moon or Mars — student researchers are sending broccoli…
---
On a two-year stint teaching English in Beijing, Sasha Welland got her first glimpse of contemporary Chinese art. Not the antiquities so common in Western museums of Asian art, or the scroll paintings or ceramics or Buddhist sculptures, explains Welland, an associate professor in the University of Washington departments of anthropology and gender, women and…
---
May 24, 2018
What makes a good artificial reef, for divers, and for marine life? University of Washington landscape architecture students have done designs for a state-funded project to replace the artificial reef at the Redondo Beach dive site. They will present and discuss their work in a public meeting May 30, in Des Moines. The landscape architecture…
---
May 21, 2018
Through Alexis Hiniker's Designing for Evil course, which is unique to the UW, students have identified "emerging evil" technologies and redesigned them so that they are more likely to enhance — not detract from — users' lives.
---
May 18, 2018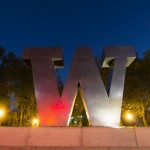 Eight decades ago to the day, the Faculty Senate met for the first time at the University of Washington.
---
For the past three years, a striking visual statement has marked Memorial Day on the University of Washington campus: thousands of miniature flags dotting the HUB lawn. The first year, student veterans placed hundreds of flags as a solemn gesture to underscore the significance of the holiday. The next year, the office of…
---
May 17, 2018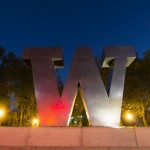 With the grand opening of the new $171 million Life Sciences Building just months away, it's time to fill the building with faculty. That was the idea behind a $3 million Washington Research Foundation (WRF) grant to hire four biology professors. It's called a cluster hire and will help maintain the University of Washington's leading reputation in primary research and life sciences.
---
May 15, 2018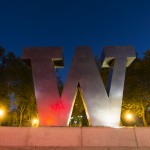 Karen Goldberg, an affiliate professor of chemistry at the University of Washington, has been elected to the National Academy of Sciences.
---
Family-focused science lessons, robotics for young children and touch-based programming for the visually impaired are among the University of Washington research videos featured in the STEM for All Video Showcase, funded by the National Science Foundation. The weeklong online event, in its fourth year, highlights more than 200 projects from universities around the country…
---
May 14, 2018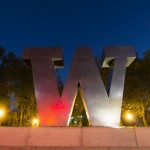 The presidents of four Seattle-area universities and colleges have joined forces to declare May 14-18, 2018 as Affordable Housing Week on their campuses. Dr. Jeff Wagnitz, interim president of Highline College; Dr. Daniel J. Martin of Seattle Pacific University; Steven V. Sundborg, S.J., president of Seattle University; and Ana Mari Cauce, president of University of Washington, have signed proclamations or otherwise affirmed the importance of safe, healthy, affordable homes in communities of opportunity. The higher-education institutions join King County and 20 King County cities, including Seattle, in recognizing the benefits of affordable housing to everyone in the community.
---
It's a challenge to write a biography of a man who was functionally illiterate and whose papers were mostly destroyed, but UW lecturer Taso Lagos has achieved it with his new book, "American Zeus: The Life of Alexander Pantages, Theater Mogul."
---
Previous page
Next page