UW News
Arts and entertainment
---
October 25, 2017
The University of Washington climbed to the No. 10 spot on the U.S. News & World Report's Best Global Universities rankings, tied with Johns Hopkins University and Yale University. The UW is now second among American public institutions — an improvement from last year's No. 3 slot. "I am proud to see the University of…
---
This week in the arts, hear the harrowing sounds of the Littlefield Organ Series' Halloween show; see the first performance of the School of Drama's 2017-18 season; enjoy a guest recital from a "leading champion of contemporary American piano music"; experience a special collaboration between the UW Symphony and Seattle Symphony Orchestra; and catch performer…
---
October 24, 2017
UW Libraries Special Collections' new exhibit, "All Over the Map: From Cartographs to (C)artifacts" — organized by UW Book Arts and Rare Book Curator Sandra Kroupa — is on display in Allen Library until Jan. 31, 2018.
---
October 12, 2017
This week in the arts, the School of Art + Art History + Design second year MFA show continues at the Jacob Lawrence Gallery; dance and social activism take the stage at the Chamber Dance Concert; Creative Research Fellow Daniel Alexander Jones meditates on nearly a quarter century of performance art and theatre; "a true theatrical original"…
---
October 9, 2017
Eight dance pieces on the themes of inequity and injustice comprise the UW Chamber Dance Company's concert "The Body Politic," Oct. 12-15 at Meany Theater.
---
October 4, 2017
This week in the arts, the School of Art + Art History + Design second year MFA show continues at the Jacob Lawrence Gallery; a final look at Brian Jungen's exploration of First Nations culture and globalism; BANDALOOP turns Meany's dance floor on its side; a child virtuoso takes the Brechemin stage; and innovative choreographers fuse…
---
September 28, 2017
This week in the arts, see the School of Art + Art History + Design second year MFA show; hear an evening of world premieres of music for speaking and singing percussionists; get a final look at the Henry's exhibitions of work by Doris Totten Chase and Jacob Lawrence;  and experience BANDALOOP as they weave dynamic physicality,…
---
September 27, 2017
The University of Washington's Henry Art Gallery has received two large and prestigious donations — one a collection of centuries-old European prints from Seattle art collector Albert Feldmann, the other scores of images by well-known photographers from the recently-disbanded Washington Art Consortium. Sylvia Wolf, Henry Art Gallery director, expressed deep appreciation for both donations and…
---
August 1, 2017
William Streitberger, UW professor of English, has been honored for his book "The Masters of Revels and Elizabeth I's Court Theatre." Decades in the making, the book was published in 2016 by Oxford University Press.
---
July 27, 2017
The true cultural tipping point in the run-up to the American Revolution might have been the First Continental Congress's decision in late October of 1774 to close the theaters in British America, says University of Washington drama professor Odai Johnson in his new book, "London in a Box: Englishness and Theatre in Revolutionary America."
---
June 13, 2017
Absurdity and abstraction, artistic dualisms, long-held family memories — and even some gentle voodoo — mingle together in the annual exhibition by UW art and design graduate students, on display through June 25 at the Henry Art Gallery.
---
June 5, 2017
A popular podcast by Joe Janes of the UW Information School is now a book. "Documents that Changed the Way We Live" is being published this month by Rowman & Littlefield.
---
May 31, 2017
This week in the arts, hear the Harry Partch Ensemble perform with students and faculty; experience a concert-drama combining the music of Verdi with video testimony from survivors of the Terezí concentration camp; get a final look at the Henry's exhibit from the Museum of Transgender Hirstory & Art; see an Obie Award-winning adaptation of Calderon de…
---
May 23, 2017
This week in the arts, hear The University Singers, Women's Choir, and Men's Glee Club on one stage; see award-winning playwright José Rivera's adaptation of the classic Life is a Dream, dig dinos at the Burke; check out the latest installment of the School of Art Graduation Exhibitions; and listen to a master drummer performs with his students….
---
May 16, 2017
For its final and biggest show of the year the UW Undergraduate Theater Society presents "Spring Awakening," a musical exploration of youth and blooming sexuality that's surprisingly timely for a story set in 19th century Germany.
---
May 10, 2017
This week in the arts, hear alumni composers play Music of Today; celebrate Native art with the Burke Museum; hear "The Voice of the Tunisian Revolution"; check out capstone Photomedia work at the Jake; and get a first look at the month-long Henry residency of Cheradonna Shinatra. MUSIC OF TODAY: UW ALUMNI COMPOSERS Friday, May 12,…
---
The Seattle Art Museum will feature work by abstract artist and UW art professor Denzil Hurley. The exhibit, titled "Disclosures," will be on display from May 20 through November. It's a fitting tribute, as Hurley will retire from the UW at the end of the school year.
---
May 3, 2017
This week in the arts, see century maverick composer Harry Partch turn Sophocles's play Oedipus into a visual and aural extravaganza; hear music inspired by great works of literature; and listen to the co-winners of the School of Music's 2016 Strings and Piano Chamber Competition. HARRY PARTCH'S OEDIPUS: A MUSIC DANCE DRAMA May 5 – 7| Meany…
---
May 2, 2017
Timing is everything, they say. In the latest episode of his Documents that Changed the World podcast series, Joe Janes of the UW Information School explores how an overload of critical information helped trigger the stock market crash of 1929, and thus the Great Depression. "This is a story about fortunes lost, lives ruined, a…
---
April 28, 2017
The University of Washington community has a new tool — designed as a digital scavenger hunt — to explore and learn about the existing Seattle campus as well as plans for the future.
---
April 27, 2017
This week in the arts, experience "one of literature's most beloved fantasies"; attend a one-day environmental writing program in both the field and classroom; celebrate the Photomedia Graduation show at a special reception; and hear the latest installment of the Brechemin Piano Series. ORLANDO April 28-30 and May 3-7| Glenn Hughes Penthouse Theater Virginia Woolf's Orlando…
---
April 12, 2017
This week in the arts, wrap up spring break at the Burke; hear a noted Northwest jazz pianist; see classically-inspired textural print works in Edmonds; experience the School of Art's Painting + Drawing Graduate Exhibition; and hear the UW Wind Ensemble and Symphonic Band present their spring quarter concert. AMAZING ANIMALS: WATER & SKY EDITION…
---
The story of Little Red Riding Hood takes on a new dimension in the UW Undergraduate Theater Society's new production, "Wolves," by Steve Yockey, running April 13 to 23 in the Cabaret Theater in Hutchinson Hall.
---
April 5, 2017
This week in the arts, get one final look at the Burke's Wild Nearby; see student's capstone in ceramics, glass, and sculpture; celebrate the centennial of Jacob Lawrence; experience an experimental performance using a mind-driven instrument; and hear voice students in a monumental Baroque opera. Music of Today: DXARTS 7:30 p.m., April 6| Meany Theater The University…
---
March 31, 2017
The Disklavier is an electromagnetic piano that — like the UW-created encephalophone recently reported on by the Seattle Times — is played by brain waves alone, via an electroencephalogram. UW audiences can see and hear this new technology in "Music of Today: The DXARTS Spring Concert," April 6, in Meany Hall.
---
March 13, 2017
UW English professor and New York Times best-selling author David Shields has a new book out and — perhaps unsurprisingly — it's getting excellent reviews. Shields has a couple of local book events coming up for "Other People: Takes & Mistakes."
---
March 8, 2017
This week in the arts, see a former medical marijuana dispensary transformed into a makeshift theater cafe; experience the School of Drama's telling of the Tony-winning Pippin; hear a faculty piano recital; see Shen Wei Dance Arts defy categorization in a fusion of calligraphy, dance, and choreography; and get a framework of the Elements of…
---
March 7, 2017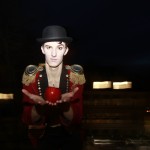 Director Wilson Mendieta discusses "Pippin," the third production of the UW's Musical Theater Program, running March 8 – 19 in the Floyd and Delores Jones Playhouse Theater.
---
March 1, 2017
As March marches in, UW welcomes an assortment of musical productions to campus.  Enjoy a free performance by UW music students; experience the diverse musical talents of African artist Dobet Gnahoré; and see the School of Drama, School of Music, and Dance Program team up to tell the classic story of PIPPIN. Brechemin Piano Series…
---
February 22, 2017
This week in the arts, hear how Wendy Red Star explores Native American ideologies through photography, sculpture, video, fiber arts, and performance; explore a special group exhibition honoring the the 100th birthday of Jacob Lawrence at this namesake gallery; and witness UW faculty and students performing in array of forms, including classical violin, voice, and dance. Critical…
---
The UW Undergraduate Theater Society will present "Medea" Feb. 23 through March 5 in the Cabaret Theater of Hutchinson Hall, home of the School of Drama.
---
A new, two-part project led by the UW's Kristin Laidre aims to explore the interacting effects of climate change and subsistence hunting on polar bears, while also illuminating the cultural value of the species to indigenous peoples and the role they play in conservation.
---
February 15, 2017
Maritime communities take various forms around the planet and through the centuries. Margaret Willson, affiliate associate professor of anthropology and Canadian Studies Arctic Program at the University of Washington, is the author of "Seawomen of Iceland: Survival on the Edge," published in 2016 by University of Washington Press. UW Today asked Willson a few questions…
---
This week in the arts, learn about the intersection of feminism, pop music, and hope with lecturer Hannah Black; celebrate the 100th birthday of Jacob Lawrence with Step Afrika!; hear from the Director of the Henry on the photography work of Chuck Close; and explore the facilities of the 3D4M: ceramics + glass + sculpture Program. Critical…
---
February 10, 2017
Ralina Joseph, University of Washington associate professor of communication, has guest co-edited a special triple issue of the interdisciplinary journal Souls: A Critical Journal of Black Politics, Culture and Society with her former mentor and dissertation adviser, Jane Rhodes of the University of Illinois at Chicago. Joseph's own article in the issue focuses on the…
---
February 8, 2017
This week in the arts, hear Solaris Vocal Ensemble join forces with Seattle Modern Orchestra, take the family on an ArtVenture at the Henry, and spend Valentine's Day listening to the internationally recognized superstar pianist Benjamin Grosvenor. Guitar Studio Recital 7:30 p.m., February 10 | Brechemin Auditorium Students of Michael Partington perform works for classical guitar. More info….
---
February 1, 2017
This week in the arts, traditional Japanese music, a modern twist on a Shakespearean classic, and a lecture featuring Cameron Rowland discusses contemporary art and its place in society. KODO 8 p.m., February 3 & 4 | Meany Theater An international phenomenon since 1981, the percussion ensemble KODO explores the limitless rhythmic possibilities of the traditional…
---
January 31, 2017
Poet activists from around the nation will gather for daylong UW conference Feb. 3 on creativity in activism — and then give full voice to that creativity in performances 7 – 10 p.m. at the Seattle Public Library. All are welcome.
---
January 30, 2017
Jennifer Nemhauser leads a research laboratory of scientists, all immersed in the complex world of plant hormones. But last year, the University of Washington professor of biology boosted her lab's roster with some unexpected talent. Claire Cowie — an artist, UW alumna and lecturer — spent three months in 2016 as a part-time artist-in-residence in Nemhauser's lab….
---
January 27, 2017
Meany Center for the Performing Arts and the School of Art + Art History + Design celebrate the 100th anniversary of the birth of artist Jacob Lawrence along with the Seattle Art Museum.
---
Previous page
Next page