UW News
---
January 13, 2016
A new University of Washington study finds that urban crops in Seattle could only feed between 1 and 4 percent of the city's population, even if all viable backyard and public green spaces were converted to growing produce.
---
January 11, 2016
Along the West Coast, ocean acidification and hypoxia combine with other factors, such as rising ocean temperatures, to create serious challenges for marine life, a new study finds.
---
December 21, 2015
Forests help remove carbon dioxide from the atmosphere by storing it in trees, but a sizeable amount of the greenhouse gas actually escapes through the soil and into rivers and streams, a new paper finds.
---
December 16, 2015
A new University of Washington study confirms that composting food scraps is better than throwing them away, and also calculates the environmental benefits associated with keeping these organic materials out of landfills.
---
December 14, 2015
A University of Washington graduate student saw green-starved Ballard as an opportunity to call attention to areas in the neighborhood that have restoration potential. Her new report, the "Ballard Green Spaces Project," identifies 55 sites that could be restored as natural areas for people and wildlife, increasing the neighborhood's total amount of accessible green spaces.
---
December 3, 2015
Each year, hundreds of volunteers spread across Washington's forests and grasslands to look for the state's rarest, most sensitive plant species. Many of these endangered populations live in remote valleys or along unseen slopes and haven't been seen in a decade or more. That's where the University of Washington's Rare Plant Care and Conservation program…
---
November 18, 2015
Ocean acidification is top of mind for many Pacific Northwest scientists, shellfish farmers and even seafood chefs, but a new initiative seeks to know how an unsuspecting audience — kids and teenagers in the Northwest's urban and rural areas — is impacted by this issue. EarthEcho International, Philippe Cousteau, Jr.'s environmental education and youth leadership…
---
October 29, 2015
The UW School of Law will bring together many of the world's leading experts on ocean acidification in its first-annual Environmental Law Symposium Nov. 6. The day-long event will be held in the William H. Gates Hall on the UW campus and will include panels detailing the latest findings from scientists, current ocean acidification lawsuits…
---
October 28, 2015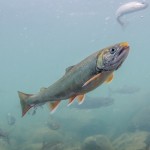 A new study in Ecology shows that Alaskan Dolly Varden trout, once they reach about 12 inches in length, can retire permanently from going to sea. They rely on digestive organs that can massively expand and contract and a unique relationship with sockeye salmon.
---
October 21, 2015
The equipment used to farm geoducks, including PVC pipes and nets, might have a greater impact on the Puget Sound food web than the addition of the clams themselves. That's one of the findings of the first major scientific study to examine the broad, long-term ecosystem effects of geoduck aquaculture in Puget Sound.
---
October 14, 2015
An international team of experts in fisheries management, spearheaded by UW professor Ray Hilborn, is trying to lead the conversation about sustainable fisheries using a less traditional approach — reaching the general public directly through a new website and social media outreach. The initiative is called the Collaborative for Food from Our Oceans Data, or…
---
October 9, 2015
How long would it take to walk the entire shoreline of Puget Sound? Which species are at risk here, and to what depths can the most adept bird and mammal divers reach? How much population growth can we expect in the next decade? A new resource published this week explores these questions and many more…
---
October 7, 2015
A group of young marine-disease researchers from around the country has contributed key information about sea stars' immune response when infected with a virus that is thought to cause a deadly wasting disease. It's the first time researchers have tracked how genes behave when encountering this naturally occurring pathogen, which could help explain how sea stars attempt to fight the virus and why they develop lesions and appear to melt.
---
September 30, 2015
A new report published Tuesday documents all of the fishes that live in the Salish Sea. In total, 253 fish species have been recorded, and that's about 14 percent more than in the last count.
---
September 23, 2015
A memorandum of understanding, called the "2+2 MOU," was signed Tuesday between the state of Washington and the Chinese province of Sichuan, as well as the University of Washington and Tsinghua University, to catalyze the science, technology and investment needed to grow innovations that will underpin adaptable and resilient urbanization.
---
September 17, 2015
In a commentary published Sept. 17 in Science, a team of scientists, including University of Washington researchers Jerry Franklin and James Agee, describe unique opportunities and provide suggestions to reform forest fire management to reduce the impacts of inevitable wildfires in future years.
---
September 15, 2015
University of Washington researchers have found the types of organisms in Seattle's Elliott Bay change depending on the shoreline nearby, either armored or restored beaches. Young chum salmon adjusted their diets based on these changes.
---
September 4, 2015
The UW's indoor alert system will be tested Wednesday at 7:30 a.m. in buildings across the Seattle campus. The indoor alerts are part of the campus emergency notification system. The test will last about 15 minutes and could include voice announcements, tones and horns, depending on the building. The purpose of this system-wide test is…
---
A five-year, $40 million study is laying the foundation for a Pacific Northwest industry that converts sustainably produced poplar feedstock into fuels and chemicals. The research, led by the University of Washington, will seed the world's first wood-based cellulosic ethanol production facility.
---
August 26, 2015
As a subarctic, seasonally ice-filled ocean that produces about 40 percent of the nation's annual fish catch, the Bering Sea is of particular interest to researchers as the climate changes and forces wildlife and fishing practices to adapt. The UW is a partner in a new effort to understand how changes to the Bering Sea's…
---
August 24, 2015
Transmission lines that funnel power from hydroelectric dams and wind turbines across Eastern Washington affect greater sage grouse habitat by isolating fragile populations and limiting movement, a new study finds.
---
August 12, 2015
Researchers have shown that CO2 appears in streams by way of two different sources — either as a direct pipeline for groundwater and carbon-rich soils, or from aquatic organisms releasing the gas through respiration and natural decay.
---
August 4, 2015
University of Washington scientists recently announced the name of a new genus and species of frogfish, which are small, stocky creatures found in most tropical and subtropical oceans around the world.
---
August 3, 2015
The University of Washington has again been named to Princeton Review's Green Rating Honor Roll, receiving the highest possible score for the 2014-15 school year. This is the fifth year in a row the UW has achieved this distinction and the seventh year overall since the program began eight years ago. The UW was among…
---
July 29, 2015
The Puget Sound Partnership on Wednesday adopted new targets that seek to quantify aspects of the natural environment that boost our collective happiness and wellness. These people-focused benchmarks will help inform restoration plans and assess future progress in cleaning up Puget Sound.
---
It's been a strange summer for Puget Sound and the Pacific Ocean that feeds it. Water temperatures are warmer than usual, shellfish harvesting has been closed because of a long-lived toxic algae bloom, and oxygen levels in some areas continue to drop, meaning fish kills could be a reality this fall. Local scientists from multiple…
---
July 23, 2015
Recreational boaters and commercial fishing boats in Western Washington can get free oil-spill reporting and cleanup kits this summer as part of a new campaign to prevent spills in Puget Sound. Washington Sea Grant, based at the UW, along with U.S. Coast Guard Sector Puget Sound, the Washington Department of Ecology and the state's Clean…
---
July 9, 2015
The University of Washington Botanic Gardens is one of the best university gardens in the nation, according to a new ranking by Best Colleges Online. The UW tied for first place along with three other universities for the top honor. UW Botanic Gardens, which includes the gardens and programs at the Washington Park Arboretum and…
---
June 25, 2015
A UW research analyst who monitors harmful algae in Washington state is aboard a federal research vessel surveying a massive bloom that stretches from California up to Canada.
---
June 24, 2015
The Natural Capital Project, with offices at UW, wants to integrate the socioeconomic, cultural and spiritual values of nature into all major decisions affecting the environment and human well-being.
---
June 19, 2015
New research comparing traditional hunter-gatherer living conditions to a more modern setting shows that access to artificial light and electricity has shortened the amount of sleep humans get each night.
---
June 18, 2015
University of Washington biologist Samuel Wasser uses DNA evidence to trace the origin of illegal ivory and help police an international trade that is decimating African elephant populations. New results show that over the past decade, ivory has largely come from just two areas in Africa.
---
June 9, 2015
Early intervention for toddlers with autism spectrum disorder helps improve their intellectual ability and reduces autism symptoms years after originally getting treatment, a new study shows.
---
June 3, 2015
The Ocean Modeling Forum is trying something very rare — bringing together multiple science models and people who care about a particular ocean resource or fishery to decide what's most important for its vitality and the communities it serves.
---
June 2, 2015
Gov. Jay Inslee has named Vanessa Kritzer, a graduate student at the University of Washington, as the next student member of the UW Board of Regents. The year-long appointment is effective July 1.
---
May 26, 2015
How can a sushi bar eliminate some of its most popular fish from the menu and still be profitable? One local establishment accomplished this, claiming that sustainable seafood is more important than profits in the long term. Hajime Sato, owner of Mashiko Japanese restaurant in West Seattle, will speak about his experience converting his sushi…
---
May 15, 2015
A chemical signature recorded on the ear bones of Chinook salmon from Alaska's Bristol Bay region could tell scientists and resource managers where they are born and how they spend their first year of life.
---
May 13, 2015
If you're looking for an escape this weekend, hop a ferry to Friday Harbor on San Juan Island and check out UW marine science research ranging from invertebrates and plankton to quirky fish and ocean acidification. The UW's Friday Harbor Laboratories will host its annual open house Saturday, May 16, 11 a.m. to 4 p.m….
---
May 12, 2015
Short clips ranging from Claymation and music videos to documentary and animated shorts that tell the story of what climate change means to local high school and college students will be shown in a first-ever video contest put on by the UW's School of Environmental and Forest Sciences. Update: Watch the winning videos Ten of the…
---
May 6, 2015
The Fishery Performance Indicators are the most comprehensive, global tool that considers social factors in addition to the usual biological measures when gauging a fishery's health.
---
Previous page
Next page