UW News
---
June 15, 2016
Researchers have discovered a handful of "bright spots" among the world's embattled coral reefs, offering the promise of a radical new approach to conservation.
---
June 13, 2016
A new study has found that only 2 percent of the eastern U.S. provides the kind of climate connectivity required by species that will likely need to migrate, compared to 51 percent of the western U.S.
---
June 9, 2016
The Ecological Society of America has named University of Washington professor Jerry Franklin its "Eminent Ecologist" of 2016. The award, considered the organization's most prestigious accolade, honors a senior ecologist who has made significant, long-standing contributions to the field of ecology.
---
June 3, 2016
University of Washington professor Peter Kahn recently co-authored an opinion piece in the journal Science about the importance of interacting with nature in urban areas. UW Today asked Kahn a few more questions about the broader implications of his work.
---
The authors of a Science perspective piece discuss the growing tension between an arguably necessary role urban areas play in society and the numbing, even debilitating, aspects of cities that disconnect humans from the natural world.
---
May 26, 2016
Ray Hilborn, a UW professor of aquatic and fishery sciences, this week will receive the 2016 International Fisheries Science Prize at the World Fisheries Congress in Busan, South Korea.
---
May 24, 2016
A cohort of UW Environmental Studies majors will present projects and research findings at at symposium from 1:30-5:30 p.m. May 25 at Alder Hall and Wallace Hall.
---
May 20, 2016
In a new study, scientists found that selectively fishing for lingcod in protected areas actually avoided hampering the recovery of other fish, including rockfish species listed as overfished.
---
A University of Washington team has demonstrated that poplar trees growing in rocky, inhospitable terrain harbor bacteria within them that could provide valuable nutrients to help the plant grow.
---
May 11, 2016
An interdisciplinary team of students, faculty and staff together with lighting design experts is asking the UW community those questions as part of a new plan to improve the efficiency and sustainability of outdoor lighting around the Seattle campus.
---
Researchers from the University of Washington, Disney Research and Carnegie Mellon University have created ways to give a piece of paper sensing capabilities that allows it to respond to gesture commands and connect to the digital world.
---
April 28, 2016
Visitors to national parks are half as likely to see wolves in their natural habitat when wolf hunting is permitted just outside park boundaries, according to a new study.
---
April 21, 2016
Jerry Franklin, a professor of environmental and forest sciences, was honored by the Pinchot Institute for Conservation for his lifelong work in forest ecology, conservation and policy.
---
April 18, 2016
A new University of Washington study shows that impacts associated with shoreline armoring can scale up to have cumulative, large-scale effects on the characteristics of Salish Sea shorelines and the diversity of life they support.
---
April 14, 2016
Local author and Seattle Times reporter Lynda V. Mapes is the featured speaker in this year's School of Environmental and Forest Sciences annual Sustaining Our World Lecture, 6 to 7 p.m. Thursday, April 21.
---
April 4, 2016
Global carbon dioxide emissions are triggering troubling changes to ocean chemistry along the West Coast that require immediate, decisive actions to combat through a coordinated regional approach, a panel of scientific experts has unanimously concluded.
---
April 1, 2016
Most of the world's wild fisheries could be at healthy levels in just 10 years, and global fish populations could greatly increase by 2050 with better fishing approaches, according to a new study co-authored by University of Washington researchers.
---
March 25, 2016
Construction started this month on the Washington Park Arboretum's new Arboretum Loop Trail, one of the largest improvement projects to date in the Seattle public garden.
---
March 16, 2016
UW researchers have developed a new method to track how wetlands in Eastern Washington behave seasonally, which will also help monitor how they change as the climate warms.
---
March 11, 2016
The UW's School of Environmental and Forest Sciences is hosting its second-annual contest for undergraduate and high school students in Washington to create videos about what climate change means to them, in three minutes or less.
---
March 4, 2016
A University of Washington team won first place in a science communication video contest that culminated during the recent Ocean Sciences Meeting.
---
February 26, 2016
The cherry trees in the Quad at UW will likely be in full bloom the week of March 14.
---
February 25, 2016
Just like a strong financial portfolio contains shares from different companies, the diverse subpopulations of herring from different bays and beaches around Puget Sound collectively keep the total population more stable, a new study finds.
---
February 22, 2016
The University of Washington is one of the top producers of Fulbright students for 2015-16, according to lists released Monday in the Chronicle of Higher Education.
---
February 12, 2016
As the Arctic continues to change due to rising temperatures, melting sea ice and human interest in developing oil and shipping routes, it's important to understand belugas' baseline behavior, argue the authors of a new paper.
---
February 2, 2016
A University of Washington study looked at potential risks associated with growing vegetables in urban gardens and determined that the benefits of locally produced vegetables in cities outweigh any risks from gardening in contaminated soils.
---
January 20, 2016
First-time visitors and regulars to Washington Park Arboretum can now learn the names and origins of plants as well as save favorites while strolling through the grounds.
---
January 13, 2016
A new University of Washington study finds that urban crops in Seattle could only feed between 1 and 4 percent of the city's population, even if all viable backyard and public green spaces were converted to growing produce.
---
January 11, 2016
Along the West Coast, ocean acidification and hypoxia combine with other factors, such as rising ocean temperatures, to create serious challenges for marine life, a new study finds.
---
December 21, 2015
Forests help remove carbon dioxide from the atmosphere by storing it in trees, but a sizeable amount of the greenhouse gas actually escapes through the soil and into rivers and streams, a new paper finds.
---
December 16, 2015
A new University of Washington study confirms that composting food scraps is better than throwing them away, and also calculates the environmental benefits associated with keeping these organic materials out of landfills.
---
December 14, 2015
A University of Washington graduate student saw green-starved Ballard as an opportunity to call attention to areas in the neighborhood that have restoration potential. Her new report, the "Ballard Green Spaces Project," identifies 55 sites that could be restored as natural areas for people and wildlife, increasing the neighborhood's total amount of accessible green spaces.
---
December 3, 2015
Each year, hundreds of volunteers spread across Washington's forests and grasslands to look for the state's rarest, most sensitive plant species. Many of these endangered populations live in remote valleys or along unseen slopes and haven't been seen in a decade or more. That's where the University of Washington's Rare Plant Care and Conservation program…
---
November 18, 2015
Ocean acidification is top of mind for many Pacific Northwest scientists, shellfish farmers and even seafood chefs, but a new initiative seeks to know how an unsuspecting audience — kids and teenagers in the Northwest's urban and rural areas — is impacted by this issue. EarthEcho International, Philippe Cousteau, Jr.'s environmental education and youth leadership…
---
October 29, 2015
The UW School of Law will bring together many of the world's leading experts on ocean acidification in its first-annual Environmental Law Symposium Nov. 6. The day-long event will be held in the William H. Gates Hall on the UW campus and will include panels detailing the latest findings from scientists, current ocean acidification lawsuits…
---
October 28, 2015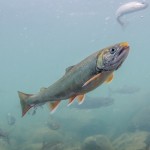 A new study in Ecology shows that Alaskan Dolly Varden trout, once they reach about 12 inches in length, can retire permanently from going to sea. They rely on digestive organs that can massively expand and contract and a unique relationship with sockeye salmon.
---
October 21, 2015
The equipment used to farm geoducks, including PVC pipes and nets, might have a greater impact on the Puget Sound food web than the addition of the clams themselves. That's one of the findings of the first major scientific study to examine the broad, long-term ecosystem effects of geoduck aquaculture in Puget Sound.
---
October 14, 2015
An international team of experts in fisheries management, spearheaded by UW professor Ray Hilborn, is trying to lead the conversation about sustainable fisheries using a less traditional approach — reaching the general public directly through a new website and social media outreach. The initiative is called the Collaborative for Food from Our Oceans Data, or…
---
October 9, 2015
How long would it take to walk the entire shoreline of Puget Sound? Which species are at risk here, and to what depths can the most adept bird and mammal divers reach? How much population growth can we expect in the next decade? A new resource published this week explores these questions and many more…
---
October 7, 2015
A group of young marine-disease researchers from around the country has contributed key information about sea stars' immune response when infected with a virus that is thought to cause a deadly wasting disease. It's the first time researchers have tracked how genes behave when encountering this naturally occurring pathogen, which could help explain how sea stars attempt to fight the virus and why they develop lesions and appear to melt.
---
Previous page
Next page