UW News
---
January 17, 2017
Conditions suitable to support complex life may have developed in Earth's oceans — and then faded — more than a billion years before life truly took hold, a new University of Washington-led study has found.
---
The UW Dance Program will team with the "vertical dance company" BANDALOOP for part of its annual Dance Faculty Concert, to be held Jan. 20 – 22 in Meany Hall.
---
January 12, 2017
UW School of Law professor Sean O'Connor has filed a brief in the famous "Blurred Lines" music copyright case, arguing for full composition credit for those who worked in the "aural tradition" and did not use traditional musical notation.
---
January 3, 2017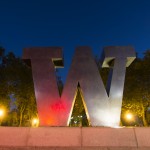 A new multi-institution study led by the UW shows more clearly than ever that urbanization is affecting the genetic makeup of species that are crucial to ecosystem health and success.
---
December 21, 2016
Joe Janes' latest Documents that Changed the World podcast is about Sir Ronald Fisher, the man who set the mark of "statistical significance" for ages afterward at 5 percent, no more no less.
---
December 12, 2016
Charles Johnson, University of Washington professor emeritus of English, discusses his latest book, "The Way of the Writer: Reflections on the Art and Craft of Storytelling."
---
December 1, 2016
UW astronomer and astrobiologist Woody Sullivan discusses recent work and future plans in a multifaceted career that's changing gears, but far from winding down.
---
November 28, 2016
The UW Undergraduate Theater Society will perform the high-energy parody "The Complete Works of William Shakespeare (Abridged) [Revised]," Dec. 1-11 in the Cabaret Theatre in Hutchinson Hall.
---
November 14, 2016
Washington state's housing market remained strong in the third quarter of 2016, according to the UW's Runstad Center for Real Estate Studies.
---
November 9, 2016
UW Libraries will host an open house from 1 to 5 p.m. on Veterans Day, Friday, Nov. 11, in conjunction with the current World War I-themed exhibit, "Washington on the Western Front: At Home and Over There."
---
November 4, 2016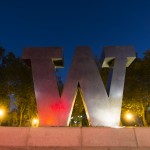 The Evans School of Policy & Governance will look back at the 2016 election in a discussion on Nov. 10 at Parrington Hall.
---
November 2, 2016
Prof. Devin Naar of the Jackson School and the Department of History discusses his new book, "Jewish Salonica: Between the Ottoman Empire and Modern Greece,"
---
October 27, 2016
"The Institutions Curse," a new book by UW political scientist Victor Menaldo, finds a new explanation for the "resource curse" problem — the idea that resource-rich countries tend to be burdened with corrupt governments and underdeveloped economies.
---
October 25, 2016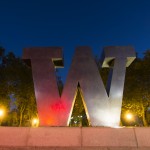 A UW panel discussion Oct. 27 will look at immigration-related questions from philosophical, sociological and historical perspectives. It's part of a two-day international conference on immigration.
---
October 21, 2016
Communication professor Leah Ceccarelli discusses the work that brought her the National Communication Association's Douglas W. Ehninger Distinguished Rhetorical Scholar Award for 2016.
---
October 18, 2016
Minda Martin had not lived in Seattle long before, on a walking tour, she noticed the famously truncated "ramps to nowhere" in the Washington Park Arboretum. A filmmaker and faculty member at UW Bothell, she was fascinated — and inspired. "I was stunned by these giant freeway stumps covered in ivy along land that didn't…
---
October 12, 2016
Automobiles — and the planning and infrastructure to support them — are making our cities sick, says an international group of researchers now publishing a three-part series in the British medical journal The Lancet.
---
October 5, 2016
A new proposed draft Campus Master Plan for 2018 sees the University of Washington's Seattle campus growing up rather than out — building a little higher, filling in with more density, not expanding its borders, helping to ease transportation flow and creating big new green spaces. 2018 draft Campus Master Plan — opportunities for public…
---
Prof. Devin Naar of the Jackson School's Stroum Center for Jewish Studies discusses the book "A Hug from Afar: One Family's Dramatic Journey Through Three Continents to Escape the Holocaust," by Claire Barkey Flash, for which Naar wrote the foreword.
---
October 4, 2016
The UW's Seattle Civil Rights and Labor History Project has an important new component — the LGBTQ Activism in Seattle History Project. There will be a public launch at 7 p.m. Monday, Oct. 10, in Room 340 of the HUB.
---
September 30, 2016
UW Libraries is inviting the public to Suzzallo Library at lunchtime on Oct. 7 to listen to — or participate in — the annual reading of the United States Constitution.
---
September 23, 2016
Charles Johnson, UW professor emeritus of English, wrote a statement to accompany an item to be displayed in the new National Museum of African American History and Culture in Washington, D.C. What he wrote also was featured in a special issue of Smithsonian Magazine.
---
September 20, 2016
"Denial," a new movie about an American historian's lengthy court battle with a British Holocaust denier, has a UW connection — Deborah Lipstadt, the film's protagonist, taught at the UW early in her career.
---
September 14, 2016
A new exhibit in the UW's Allen Library explores South Asia through art, artifacts, manuscripts, music and more. "Envisaging South Asia: Art, Images, and Scholarship" will be on view through Oct. 31.
---
September 6, 2016
World Suicide Prevention Day, Sept. 10, is a reminder that we all have a role to play in preventing suicide. Forefront: Innovations in Suicide Prevention, based in the UW School of Social Work and led by Professor Jennifer Stuber, is offering a film and two suicide prevention workshops on Sept. 10.
---
August 29, 2016
David Domke, chair of the UW Department of Communication, will discuss the wild 2016 presidential campaign and its implications for the country in a luncheon Sept. 7 for the William D. Ruckelshaus Center.
---
The world's attention is now on Proxima Centauri b, a possibly Earth-like planet about 4.22 light-years away. It's in its star's habitable zone — but could it in fact be habitable? If so, the planet evolved very different than Earth, say researchers at the University of Washington-based Virtual Planetary Laboratory.
---
August 25, 2016
A new report from the UW School of Law's Cannabis Law and Policy Project identifies factors that make food attractive to children. Commissioned by the state Liquor and Cannabis Board, the report studied research on what makes food appeal to children and the role that marketing and branding play.
---
August 24, 2016
Washington state's housing market remained strong in the second quarter of 2016. Home sale prices and the number of sales were up, although new building permits were down compared with a year ago, according to the Runstad Center for Real Estate Studies at the UW.
---
August 19, 2016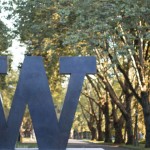 Faculty members from the UW College of Built Environments, Jackson School of International Studies and departments of French and Italian studies and history will team up in 2017 to give a new, three-week course for university and college instructors on urban environmental humanities.
---
August 12, 2016
The editorial cartoons filling a ground floor exhibit in Suzzallo Library through November are hard-hitting, but they fairly depict the wild campaign of 2016, and the serious issues the year has brought as well.
---
August 9, 2016
What does it mean for a city to "think like a planet"? Marina Alberti of the UW College of Built Environments discusses her new book, "Cities that Think Like Planets," published by UW Press.
---
August 8, 2016
Simon Stevenson of the United Kingdom's University of Reading will be the next director of the University of Washington's Runstad Center for Real Estate Studies, in the College of Built Environments.
---
August 4, 2016
A wild-eyed television preacher, uncensored public access nuttiness, even a young Ellen DeGeneres featured on a local comedy show segment — when Stephen Groening had students explore the history of local television for a class, they sure found a lot of good stuff.
---
July 28, 2016
A new study from the UW's Runstad Center for Real Estate Studies suggests that Seattle and Washington state could invite development of more affordable housing by easing the legal risk — or the appearance of risk — in condominium development, construction, liability and insurance.
---
July 25, 2016
The lot of Seattle's lowest-paid workers improved following the city's minimum wage increase to $11 in 2015, but that was more due to the robust regional economy than the wage hike itself, according to a research team headed by the UW Evans School.
---
July 12, 2016
When editors at Time magazine compiled a list of expert picks for "25 Moments that Changed America," UW Bothell's Dan Berger was among the historians they reached out to for a contribution. An assistant professor in Bothell's School of Interdisciplinary Arts and Sciences, Berger was asked to choose a "moment" — trends and social movements…
---
July 8, 2016
"Excitation" is not just a scientific term or perfect Beach Boys lyric, it's also the topic of this year's cross-disciplinary Summer Institute in the Arts and Humanities, an intensive summer research program for undergraduate students.
---
June 22, 2016
The outsourcing of workers at Portland International Airport has increased in recent years while those workers serve ever-more passengers and their wages remain low, according to a recent report from the UW's Harry Bridges Center for Labor Studies.
---
June 15, 2016
Public-private partnerships can be important financing tools, but public officials overseeing them must understand the risks well, says the Evans School's Justin Marlowe, author of a multivolume Guide to Financial Literacy.
---
Previous page
Next page