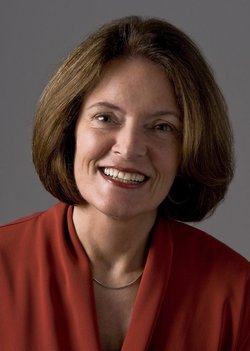 Photo by Mary Levin
"My role is to help, to facilitate, to advocate, to encourage and to mentor,"



Jill McKinstry
Nancy Wick, University Week
Jill McKinstry is the director of Odegaard Undergraduate Library. But a couple of hours every week, you'll find her on the reference desk, answering student questions.
"When you do a lot of administrative work, it's therapy to be on the reference desk," she said. "It is extremely satisfying because it's so direct. You can help someone get what they need immediately."
The students in question probably don't know they're being served by the library's director, but that suits McKinstry. "My role is to help, to facilitate, to advocate, to encourage and to mentor," she said.
She's done all those things well, leading to her being honored with a David B. Thorud Leadership Award.
McKinstry started her career here as a part-time temporary reference librarian in the Fisheries/Oceanography Library — a job she arrived at by a circuitous route. Her first UW degree was a bachelor's in Spanish language and literature. She went on to get a master's and had started a doctoral program when she thought to herself, "I don't think I'm a very talented literary critic." She was also at a point in her life when she was ready to have children, so she dropped out of academic life for a while.
When she came back a few years later, it was to study classical Greek, just because she loves languages. "I thought, I love this but I have to work and this is probably not going to lead me to a job. And it just dawned on me, librarianship," McKinstry said.
Once enrolled in library school, she began working on the Suzzallo reference desk, and it was a match made in heaven. "I love the hunt in librarianship," she said. "Students come in with a question and you have no idea what question is going to come to you. Also, you're constantly learning and you get to be around such bright, interesting people."
McKinstry made the most of the opportunity at the Fisheries/Oceanography Library, and eventually became assistant director there.
Up until that point, McKinstry had been doing the library work of reference, collection development and instruction. But that changed in 1990, when she applied for and got a new position as assistant to then-Libraries Director Betty Bengston. She was plunged into administration, but also into technology. When the library decided to go to a new online system in 1992, she was called upon to head the interface working group.
More assignments involving technology followed, as the libraries moved forward into the online world with each new development. The experience stood McKinstry in good stead when, in 1997, she was named to head Odegaard, where bookshelves were being removed to make room for networked computers in a so-called "learning commons" and "collaboratory."
In her nomination letter for the Thorud Award, Libraries Dean Lizabeth (Betsy) Wilson wrote of McKinstry, "Under her leadership, OUGL has been transformed into a vibrant learning commons — an educational touchstone for the 12,000 students who daily pass through its doors. She has worked tirelessly to nurture effective relationships throughout the UW, and make catalytic connections that improve undergraduate teaching, learning and research."
To hear McKinstry tell it, some of that collaboration was the result of luck. "We had computers in classrooms," she said, "and we had space."
But Wilson thinks otherwise. "Candidates for UW positions often note that their motivation to apply was the opportunity to work with 'the fabulous Jill McKinstry,'" she wrote.
Some of McKinstry's collaborations have resulted in Odegaard being open 24 hours, a successful Common Book program with the Office of Undergraduate Academic Affairs (McKinstry served three years on the committee and co-chaired it twice), the location (with the College of Arts and Sciences) of a writing center in Odegaard that is open late, and the co-sponsorship of a lecture series, "Research Exposed," that brings UW researchers into the libraries to speak about their work.
McKinstry also established the Libraries Research Award for Undergraduates, and she and her husband endowed a fellowship to help underrepresented students pursue a career in academic librarianship.
"I try to help make things happen," she said. "I've got an amazing staff of nine librarians and they are out creating opportunities. So I see my role as helping them get those innovations started, and to be open to the next creative partnership."