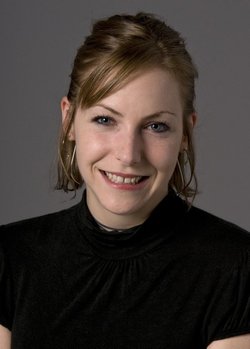 Photo by Mary Levin

Laura Hinton
Laura M. Hinton, who is receiving a bachelor's degree in anthropology, has been awarded a President's Medal for scholarship as a transfer student.
The UW awards a President's Transfer Medal to a student who entered the UW with at least 60 transfer credits from a Washington community college.
Hinton, who came to the UW from North Seattle Community College, was recognized not only for her grades but for overall scholarship. In addition to other academic honors, she has been selected as a member of Phi Beta Kappa, the academic honor society that recognizes excellence in the liberal arts.
Hinton says that what has impressed her most about the UW is the University's commitment to promoting civic responsibility. "When I entered the UW, I had volunteered very minimally. Today, as a consequence of my experience there, service has not only become integral to my identity, it has also fostered my self-perception as a member of my local and global communities. I now envision my place in the world as a person prepared and excited to cultivate social justice, a future I consider both a responsibility and a privilege."
Hinton has worked as a volunteer with the People's Harm Reduction Alliance, providing clients with sterile injection equipment, referrals to social health and social services, as well as information describing safe drug consumption practices and the health risks associated with drug use.
After graduation, she plans to complete the prerequisites to apply for a master of science in nursing program, with the eventual goal of promoting marginalized populations' access to health care.