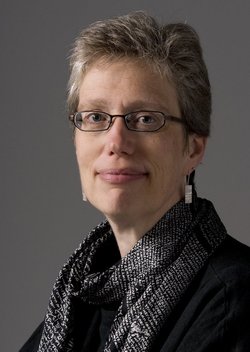 Photo by Mary Levin
"When I started out, I used to say that in 10 years I wanted 10 centers across the country competing with me for grants. We've surpassed that,"



Cindy Atman
Hannah Hickey, News & Information
If you had to design a public playground, where would you start? What information would you need? What factors would you consider?
When the UW's Center for Engineering Learning and Teaching asked this question of freshman engineers, it found that male students were more likely to consider budget and cost of materials. Female students were more likely to consider things like who lived in the surrounding neighborhood and whether the playground would be accessible to handicapped children. In time, however, these differences diminish.
This data is the kind that the center's founding director, Cindy Atman, is passionate about collecting. The winner this year of a David B. Thorud Leadership Award wants to help transform the way we teach engineering.
"If we get all our engineering students to graduate with the idea that problem definition is the key, then we've made huge progress," Atman says.
Atman says she's always been interested in the intersection of science, technology and education. She trained as an industrial engineer and worked in Washington, D.C., training U.S. senators and their staff on office automation software. But she was interested in broader issues and returned to earn a doctorate in Engineering and Public Policy, followed by a fellowship at the U.S. Agency for International Development and a faculty position at the University of Pittsburgh. She gravitated toward education, which she views as fundamental.
In 1998 she was recruited to create a center at the UW that would study engineering education, a field that she was instrumental in starting. She moved with her husband — then on the faculty at Carnegie Mellon — and two children to Seattle to try something new. Atman now holds the Mitchell T. Bowie and Lella Blanche Bowie Endowed Chair in the UW's Human Centered Design & Engineering.
"[Cindy] staked out a direction for her research and a trajectory for her career that many would say was highly risky in the tradition-bound field of engineering," wrote Jim Borgford-Parnell, now the center's assistant director, in his nomination letter. Others point to her as "willing to be a trailblazer," and ready to take on "personal risk."
Until Atman arrived at the UW, no College of Engineering had a center that was devoted to education research and to interacting with other faculty in the college to improve teaching. Atman made it work, nominees wrote, by cultivating a diverse staff, supporting their research, and earning a reputation for rigorous scholarship. The center has met with more than 60 percent of faculty in the UW College of Engineering to discuss teaching approaches. It also has published widely, becoming a national and international leader in the field.
"We were the first center in the country to do this. This was a whole new arena," Atman said.
As years passed, scholarship in engineering education has become more accepted, in no small part due to Atman's efforts. In 2003 Atman became principal investigator and founding director of the Center for the Advancement of Engineering Education, a national collaboration of scholars from five universities funded by the National Science Foundation.
"When I started out, I used to say that in 10 years I wanted 10 centers across the country competing with me for grants," Atman said. "We've surpassed that," she said, with three university departments now focused exclusively on engineering education.
A typical day for Atman could include facilitating a conference call with peers across the nation, guiding a research team, writing a grant proposal, advising a faculty colleague on course design and planning a report for national policy-makers.
Through the years, Atman says she's learned to judge situations, to know when to take a leap and when to take baby steps. This could be the time for a leap. As the federal government boosts funding for science and engineering research, she hopes to also see an increase in support for engineering education.
"The academic community is just now realizing that the educational system designed for 20th century engineering does not work well for this century's students," Matthew O'Donnell, dean of the UW College of Engineering, wrote in his nomination letter. "Cindy was ahead of the curve by at least a decade."