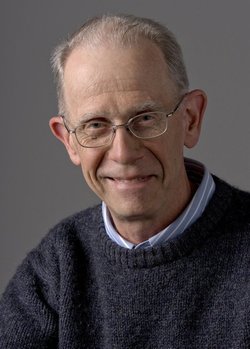 Photo by Mary Levin
"I've come to understand that there is learning, and then there is really learning — the kind you remember the rest of your life. The trick is how you get from one to the other."



John Webster
Peter Kelley, University Week
One of the hardest things for a teacher to learn, says John Webster, is how to listen — really listen — to students. Until you learn that, "you probably won't ever be as good a teacher as you could be."
Webster, associate professor of English, says he took his own time learning this, but it stuck. Now he's the recipient of a 2009 Distinguished Teaching Award, backed by such high praise as that of Gary Handwerk, his department chairman, who wrote, "I say with full confidence and total conviction that John Webster is the best teacher I have ever met on this campus."
In a long and varied UW career — he got here in 1972 — Webster has been committed to helping students learn. "I've come to understand that there is learning, and then there is really learning — the kind you remember the rest of your life," he said. "The trick is how you get from one to the other."
Webster also has become a campus leader in the teaching of writing, notably serving since 2003 as director of writing for the College of Arts and Sciences. In that role he helped create the Odegaard Writing and Research Center, which has provided thousands of mentoring sessions to support students and faculty in improving writing campuswide.
Webster's other writing-related innovations include the 4 x 4 Initiative, which brings together faculty from disparate disciplines to help better integrate writing into classwork, and the Writing Ready program for students entering college with low confidence in writing.
Unusual for a fellow who actually started college wanting to be a chemist? Maybe. But Webster said: "I think of my career as a series of reinventions of myself in various ways. It's a big part of what has made it fun."
As for teaching, though he'd taught at the UW for years, Webster said, "I don't think I had a clue for most of the first 15 years I was here." Then in 1986 he became director of the Expository Writing Program for the Department of English, and that changed everything.
The work was far from his own research, on Shakespeare and the early modern period. But they needed someone and he was looking for a change.
What resulted? "The biggest part of running the First-Year English Program is mentoring new TAs," Webster said. "And that really forced me to start learning about teaching."
Then in 2000 Webster became UW director of the Puget Sound Writing Project, a national program that works with K-12 teachers to improve their instruction of writing.
This, too, was career-changing, and made him "start over as a writer," he said. He was reminded of both the difficulty and delight of writing. "It's both a delivery device and an interrogatory device. Having to sit down and write is how you begin to understand what you're talking about in the first place."
And writing's not always easy. "I want (students) to be able to see that they are investing themselves in a complex act in which not quite getting it right at a certain point is almost requisite," he said. "I wouldn't ask them to do something that was easy and they'd be bored if I did."
This brings him, and us, back to the idea of listening to students, and helping them connect with learning personally, not just academically. "It's my job to create a place where students can bridge the gap between their life and their schooling," he said.
That's why Webster said he works to create assignments like "The Romantic Survival Project." When teaching about the age of romanticism, he asks students to write about places in the current culture where elements of romanticism remain. "What students really do is show me parts of their lives," he said. One even found romanticism in "a brilliant essay" on the odd Coen Brothers film Barton Fink.
And where did the idea for the project come from? "From working with those K-12 teachers and seeing them engage students in ways I didn't know how to as a university teacher."
There may be a book about teaching ahead for Webster, who's eager to follow up on some of his writing mentoring during the years. Meanwhile, he said he is deeply enjoying that charmed stage of a long career where disparate experiences all seem to come together."
"I feel very fortunate," he said, about the award and the series of reinventions that got him here.