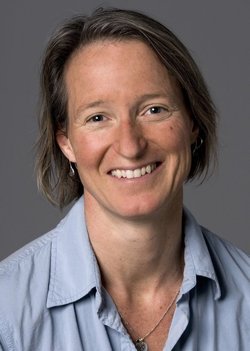 Photo by Mary Levin
"I'm always looking for ways to relate what we're learning back to their own bodies — to have the students come up with the answers, so they stay engaged and take that next step in the learning process,"



Catrin Pittack
Clare Hagerty, Health Sciences News
Dr. Catrin "Cat" Pittack speaks the language of anatomy.
"I'm an anatomy geek," she said proudly. "I think it's the coolest subject on the planet."
It comes across in her teaching — in how she's able to engage her undergraduate and first-year medical, nursing and dental students to learn the finer points of human anatomy in a whole new way.
Hands-on classroom demonstrations range from bringing in a variety of hand-crafted models — hinge-joint models made from drain pipes and duct tape, middle ear models made from candy boxes and yo-yos, umbrellas for demonstrating heart valve function — to collections of bones.
Pittack also temporarily turns students into "living" uteruses: "We'll drape a big sheet over them and their arms become the uterine tubes," she explained. "This is, after all, their language — the language of anatomy — and they need to perfect it to do their work. It's subject matter they're already very interested in — the human body."
Pittack's passion for the material she teaches and her creativity in presenting it to Health Sciences students across many disciplines are only part of why she is the recipient of a Distinguished Teaching Award. From her students' perspective, Pittack is committed to their success. Her responsiveness to their individual goals and learning styles, combined with her innovative ideas and much-appreciated sense of humor, are what make her, in their words, "a remarkable professor."
"In our entire undergraduate careers, we have never encountered a professor so able to relate to students and easy to approach," wrote former students Amber Chambers and Nick Shalygin in their award nomination letter. "The impact of her incredible teaching style, personality, and the relationship we formed while in her class will last many years. This is a true sign of a remarkable professor."
Susan Lim, a first-year student in the UW School of Nursing, agreed. "I was inspired by Dr. Pittack's passion for human anatomy," she wrote, "and often left class in awe of the complexity of its structures and the amazing synchronous mechanisms that keep us alive."
Molly Tollefson called Pittack "one of the most talented and committed professors" she's encountered. "Her commitment to her students is paramount and it is clear that she truly cares that we not only learn, but retain and use the material — now and in our future careers."
For Pittack, it's all about creating a thriving learning environment in which students get excited and stay engaged. "I'm always looking for ways to relate what we're learning back to their own bodies — to have the students come up with the answers, so they stay engaged and take that next step in the learning process," she said.
Pittack, who joined the UW Department of Biological Structure as a senior lecturer 10 years ago, teaches a variety of anatomy classes for undergraduates, nursing, dental and medical students and residents. She is known for introducing new technology in her classes to keep pace with her tech-savvy students, including the creation of Web pages and 3D models that help explain complicated relationships during human development.
Dr. John Clark, who chairs the Department of Biological Structure and has worked with Pittack since 1999, calls her "one of the most creative and personable educators in the Health Sciences curriculum" as well as "one of the finest educators" at UW.
Kate Mulligan, a senior lecturer in biological structure, said Pittack "fully deserves" the recognition.
"Cat acts as a catalyst for her students and for her colleagues," Mulligan said, "and her knack for balancing family, work and play always provides a healthy perspective."
That perspective is evident in Pittack's ability to juggle teaching with a busy family life — she and her husband have a 10-year-old son and an 8-year-old daughter — and plenty of sports.
A runner for the past 22 years who also enjoys skiing and mountaineering, Pittack is an ultimate frisbee four-time world champion. Before relocating to Seattle in 1989, she competed on a world-champion team in Boston, then, in 1990, helped to form Seattle's first elite women's ultimate frisbee team, "Women on the Verge." In 2002, Pittack joined the newly formed "Seattle Riot" team, which went on to win both world and national championship titles.
Pittack's athleticism clearly feeds her enthusiasm for teaching the intricacies of human biological development.
"I am always striving to be better when it comes to my teaching methods," she said with a smile. "I guess it's working!"