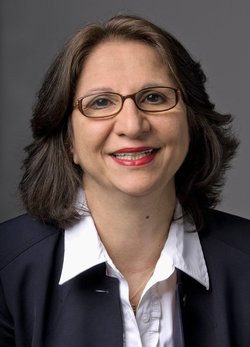 Photo by Mary Levin
"I always enjoy the questions I'm asked, especially the ones I don't know."



Dolphine Oda
Steve Steinberg, School of Dentistry
Dr. Dolphine Oda's UW Distinguished Teaching Award this year may have surprised somebody somewhere — but certainly nobody at the School of Dentistry. A faculty member there since 1985, Oda has been chosen outstanding teacher by the students 20 times.
"In my experience, her record of teaching effectiveness is unparalleled," wrote Dr. O. Ross Beirne, her department chair, in a letter supporting Oda's nomination for the UW award.
Students' evaluations of her oral pathology classes make it clear why she's so highly regarded. "Dr. Oda is an amazing teacher, lecturer and mentor. Every lecture is extremely organized to follow her syllabus," one student wrote. "There are no surprises on her exams."
Wrote another: "This is the best course I've taken at dental school."
Oda's aptitude for teaching follows from an abiding love of learning. She said, "I always enjoy the questions I'm asked, especially the ones I don't know."
She plans to begin lessons in piano and French this year. She'd also like to learn Hebrew, so she can speak all the Semitic languages; she already knows Arabic and Assyrian.
Oda was born in the Iraqi city of Kirkuk, the site of the ancient capital of Assyria. Her family moved to Baghdad not long after her father died in a car accident in 1953, and she attended dental school there. Her mother finished raising the family's six children with the help of a large extended family, friends and neighbors.
After dental school came a residency at the University of Manitoba, where Oda obtained her master's degree in pathology. Canada's climate, she said, came as an extreme shock.
"One good thing about the cold weather — nothing grows. The viruses died too, so nobody got colds," she said with a laugh. Another good thing: She taught gross anatomy at Manitoba and enjoyed it immensely. "That's how I found out I love to teach," she said.
After Canada came stints as a postdoctoral fellow in cancer research at the University of California, San Francisco and at the Indiana University School of Dentistry, where she earned a certificate in oral pathology.
Then it was on to the UW as a professor of oral biology. She became a professor of oral and maxillofacial surgery in 1997. "Ever since dental school, I knew I would end up in academia," she said. "I was always inquisitive, and I was not interested in private practice."
One of her former UW students, Anacortes oral surgeon Pardeep Brar, said Oda's connection with students is unmatched. "I think she really cares about her students, and she really loves what she's doing. She does a lot of things on her own time that go above and beyond. She'll review cases with students at any time," he said.
Nor does the connection end at graduation, Brar said: "In private practice, if there's a case I'm concerned about, I can call her anytime, and if she's not available, she'll get back to me within the day."
Oda's concern for people also extends well beyond the UW campus. In 2006, she and her husband, George, started the nonprofit Assyrian Children's Fund, to which she has donated all her continuing education speaker's fees to support children of needy families in Iraq.
"The war in Iraq left a lot of families with nothing," she said. "There are many families who have nothing, hardly have a decent meal maybe once a week." The money goes to all struggling families with young children. Before 2006, she donated her speaker's fees to a variety of causes, mostly for research and educational purposes but some for local organizations and churches.
She and her husband, an ardent amateur historian and linguist, have two children: a daughter at Harvard, and a son about to graduate from Seattle's Garfield High School who will attend Johns Hopkins University as a premed student.
When her son leaves for college, Oda would like to volunteer as a math tutor in primary or middle school. She'd also like to teach or do clinical work in developing countries a few weeks of the year. She said it would also be nice to have more time for her hobbies, which include plenty of reading — especially science, religion and politics — and long walks around her Magnolia neighborhood.
But she has no plans to slacken her pace at the School of Dentistry, where she has donated extensively to an endowment fund. "I promised myself, the day I feel bored, I'll retire," she said. "I like to stay excited about what I do."