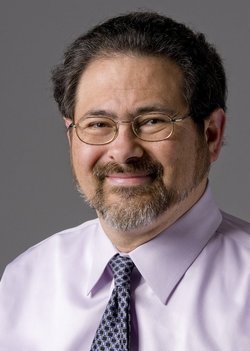 Photo by Mary Levin
"I want my students to have a belief in themselves, their power to make a difference and be a difference. I emphasize in the beginning of a class that I look at my students as future colleagues."



Gino Aisenberg
Joel Schwarz, News & Information
The old baseball player and manager Leo Durocher was wrong when he uttered his famous remark, "Nice guys finish last."
Gino Aisenberg, an assistant professor of Social Work and a winner of a 2009 Distinguished Teaching Award, exemplifies just how wrong Durocher was. A former chaplain and one-time hospital emergency room worker, Aisenberg turned to social work in an effort to bring change to the residents of South Central Los Angeles, where he was raised.
"Growing up there I saw the Watts riots, and the police and tanks in the streets. I was on the corner the night before where the violence over the Rodney King trial broke out," he said. "I remember researchers would come into the community to collect data and later I would be angered reading their papers that crunched numbers but did nothing to promote meaningful change for the people in the community. I felt as an insider I could bring ideas to help people."
And that's something he certainly has brought to the UW since he arrived in 2002, earning praise from his colleagues and students alike.
"Gino is much more than an extraordinary instructor. He is a life mentor, a role model for excellence, and the embodiment of the compassionate, generative and powerful social work scholar-educator-practitioner. Gino's impact on all of our students, but particularly students of color and especially Latino students, has been nothing short of transformational," said Edwina Uehara, dean of the School of Social Work.
"In short he is a phenomenon. In the seven years he has been with us, he has contributed more to the teaching mission of the school and the professional education of all students — particularly students of color — than any other individual I know."
Susan Kemp, a former Distinguished Teaching Award-winner, noted that as a colleague, "I am honored (and cursed!) to teach in courses parallel to those he teaches. He sets a very high bar for teaching excellence, and the students we share set their expectations accordingly…Students' comments indicate great appreciation for his compassion, humanity, responsiveness, investment in their learning and support for their ongoing development."
Even with those kinds of reviews, Aisenberg doesn't consider himself to be the top dog when it comes to teaching in his family. That honor goes to his wife Grace, who is an elementary school teacher.
"She is the natural teacher. I work at it, while teaching just flows from her."
But he adds, "I'm very comfortable sharing my life experiences in class and they inform my teaching. These experiences are part of me and it enriches a way of engaging with diverse communities," said Aisenberg.
Two of the things he tries to imbue his students with are a belief in their own power and to be good listeners.
"I want my students to have a belief in themselves, their power to make a difference and be a difference. I emphasize in the beginning of a class that I look at my students as future colleagues. Many students will be clinicians and I will make referrals to them and they will diagnose that referral. I want them to know when they graduate from our program and end up with a referral that it will be done well," he said.
"It sounds simple, but I also want my students to be better listeners. A lot of social work is listening and being able to engage cultural, age and gender differences. Social work also involves justice and to be an advocate who engages policy and organizational issues. So learning isn't compartmentalized."
In addition to his classroom skills, Aisenberg has involved his students by helping to organize a Latino/Latina social work student organization, collaborating with students to write a social work practice book for working with people of color and marginalized groups, and engaging students to do field placement work in the multicultural White Center Learning Project with refugee and immigrant populations.
"Winning this award is humbling, but the recognition is not just about me. There are so many people who are a part of it," Aisenberg said. "I stand on the shoulders of those who mentored me and I hope others can stand on my shoulders. I take the most satisfaction from having student take what they've learned and running with it. I love that look in their eyes when they own a project and will take a leadership role."