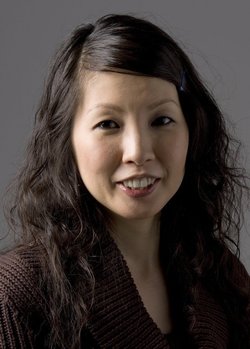 Photo by Mary Levin
"It's crazy and great that students take on such a difficult language. They get my respect because they are doing something challenging."



Sachi Schmidt-Hori
Catherine O'Donnell, News & Information
Sachi Schmidt-Hori moves easily, almost like a sylph, around her classroom in Parrington Hall. She smiles, she gestures. Speaking together, she and her students fill in the blanks of a textbook dialogue in basic Japanese.
Deadly dull stuff in lots of classrooms, but in Schmidt-Hori's, there is both easy laughter and relaxed focus on the job at hand.
Things move quickly as Schmidt-Hori takes her students from the dialogue to a series of hand-drawn pictures on formal and informal verb tenses, to a review game much like Jeopardy — all in the course of a 50-minute class.
When it's over, the students lean back in their chairs. They've worked but liked it.
For outstanding work as a teacher, Schmidt-Hori has won a 2009 Excellence in Teaching Award. It follows a 2003 award for Outstanding Teaching Assistant in Asian Languages & Literature.
"She is clearly one of the most outstanding of the 20 or so teaching assistants employed in our department," as evidenced by reports from both students and supervisors, said Michael Shapiro, chairman of Asian Languages & Literature.
Schmidt-Hori, 36, teaches because she loves it. Along the way, she's working on a doctorate in classical Japanese literature.
Schmidt-Hori confirmed her interest in becoming a scholar as she watched her husband, Roy Cleasto Schmidt, study for a master's degree in business administration at the University of Oklahoma.
She audited first- and second-year Japanese courses for a year to begin learning how one's native language is taught.
The Oklahoma professor teaching the courses saw Schmidt-Hori's passion for study and teaching so he told her about an adjunct lecturership in Japanese.
She had studied English since seventh grade in her native Japan and held a bachelor's degree in American Studies from Obirin University in Tokyo.
As her husband finished his MBA, Schmidt-Hori was accepted at the UW. In 2003, she received a master's degree in Japanese linguistics, gradually becoming fascinated by the history of the language, and that experience led her to classical Japanese literature.
Modern minds find truth in science, but ancient Japanese people often found it in Buddhism, Shintoism or Confucianism. Literature provides a window into that thinking, Schmidt-Hori said.
The minds of her students fascinate her as well, including those that struggle with Japanese. "I think, why do you choose to take Japanese? It's so distant from English."
It's "crazy and great" that students take on such a difficult language, Schmidt-Hori said. "They get my respect because they are doing something challenging."
"Sachi has distinguished herself in our department by being the only TA (not just in Japanese, but in any language) who has taught all levels from first through fourth year," said Amy Snyder Ohta, an associate professor of Japanese.
In 2001, Schmidt-Hori studied Korean on a fellowship, then the following year served as Lead TA in her department, in charge of mentoring other TAs. She also took a year off when her daughter, Momoka Joy, was born five years ago — but missed the classroom.
Schmidt-Hori entered the doctoral program believing she didn't know enough, and continues believing it. "No matter how much I learn," she said, "I feel my knowledge is inadequate."
But Judy Okada, a lecturer who supervises her teaching, said Schmidt-Hori "is one of the most knowledgeable TAs I have worked with in my 20-plus years of teaching."
Audrey Wijaya studied first-year Japanese with Schmidt-Hori. "Being in her class was the best memory I have from studying at the UW," she said.
Wijaya remembers the handmade picture cards Schmidt-Hori brought to class. They took time to prepare, but Schmidt-Hori always came prepared.
"I love that Schmidt-sensei ("sensei" is an honorific for "teacher") was also a bit strict in teaching and giving out marks," Wijaya said. "She set a standard a little higher than other TAs."
Schmidt-Hori is preparing a dissertation proposal about social outcasts in medieval Japanese literature. Time and again in Japanese stories, she sees social outcasts who network, travel and create their own cultures to deal with challenges, particularly from the highborn. They use their wits in creative ways.
For Schmidt-Hori, the dissertation, the teaching and the family commitments require juggling, but as far as she's concerned that's fine.
"I love what I do, period."