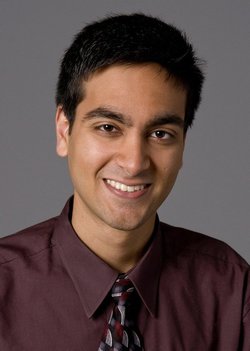 Photo by Mary Levin

Pavan Vaswani
Pavan Vaswani has been selected as a President's Medalist for the Class of 2009. The selection is made based on overall academic achievement but is not limited to grade point average.
Vaswani is majoring in computer science, neurobiology and biochemistry. His decision to come to the UW was heavily influenced by the assurance that he could become involved in research the day that he arrived on campus. Indeed, his experience working with faculty in a research setting caused him to broaden his degree ambitions, which had begun with computer science.
Vaswani is a Goldwater Scholar, a Mary Gates Scholar and a Washington Scholar. He also has received the Research Fellowship for Advanced Undergraduates and is a Space Grant Scholar. He is currently working in a laboratory in the Department of Neurological Surgery, where he is developing a device to measure brain pressure non-invasively using ultrasound.
After completing his undergraduate degree, Vaswani plans to attend The Johns Hopkins University, in an M.D.-Ph.D. program. He is ultimately planning a career in medical research.
He says doing research has provided his most memorable experiences at the UW.
"Conducting research has allowed me to find and explore what I love doing: to hone my skills and sharpen my understanding of all that medical research involves; to apply the knowledge I am gaining in my classes, giving my lectures perspective, depth, and import; and finally to meet and work alongside doctors and researchers who are experts in their fields, learning from their wisdom and perspective."