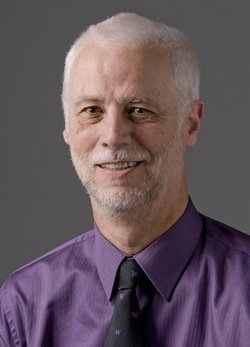 Photo by Mary Levin
"One of my goals is that there be more deaf scientists and engineers. It's happening, but too slowly."



Richard Ladner
Hannah Hickey, News & Information
Richard Ladner's phone just keeps ringing. And on the other end of the line are people in the deaf and blind communities who have interesting projects to propose.
At least that's how he explains his continuing involvement at age 65 in accessibility research and activism, which is still ramping up.
"It is kind of interesting at this point in my career. You would think I would be winding down," says Ladner, the Boeing Professor in Computer Science & Engineering and this year's winner of the Outstanding Public Service Award. But instead of making plans for retirement, he has a pile of cell phones on his desk that he's adapting to make them accessible, a project to bring American Sign Language to the UW campus, and ongoing relationships with groups on campus and around the country.
Ladner is a hearing child of deaf parents. He joined the UW faculty in 1971, first pursuing a research career in theoretical computer science. In the early 1980s he decided to learn sign language properly. Soon he was tutoring high school students in math as a way to practice his skills.
He slowly grew more involved with the Seattle deaf community and became an active volunteer. He also helped the newly active local deaf-blind community organize a national conference in 1984. At that time he first became involved with the Abused Deaf Women's Advocacy Services, for which he later co-chaired a committee raising $8.6 million for an abused housing center that opened in 2006.
"There are some things that are just worth doing," Ladner says.
For a while he was less active, mainly while he and his wife raised their two children. But then the phone started ringing again and he took on new projects.
And another transition took place: his day job and his community service began to merge. In 2002 the Department of Computer Science & Engineering received an application from a blind student who wanted to do a doctorate. Some academics were skeptical that a blind person could pursue a doctorate. A doctoral student in the sciences would need to read graphs and diagrams. Ladner responded by taking on the student and launching a research project to develop a tactile graphics tool.
"My whole career changed from doing theoretical computer science to accessibility technology," Ladner says.
These days, Ladner and another UW professor, Eve Riskin, lead a research project to transmit American Sign Language over cellular networks. Another graduate student of Ladner's has developed a tool that lets blind people use public computers through a Web-based screen reader. And he's just helped write a grant proposal for another $25 million project in accessibility.
"The spectrum of Dr. Ladner's work has been broad, ranging from the technical to the very personal," read a nomination letter for the service award by Gus Kravas, special assistant to Provost Phyllis Wise.
Ladner has worked to support people with disabilities in the UW community and around the nation. For more than a decade Ladner led a summer workshop for DO-IT, a program which brings Washington state high school students with disabilities to campus each summer for exposure to college life. More recently, he has begun a national program bringing deaf high school and college students to the UW for a nine-week intensive program in computer science.
"One of my goals is that there be more deaf scientists and engineers. It's happening, but too slowly," he says.
Lindsay Yazzolino, a blind student who worked with Ladner through high school, credits him as a mentor. She writes that Ladner truly believes "that anyone intellectually capable of pursuing careers in the sciences should be able to do so regardless of disability."
In 2005 Ladner was named a recipient of the Presidential Award for Excellence in Science, Mathematics and Engineering Mentoring. He also serves on the Board of Trustees of Gallaudet University, the only liberal arts university for deaf people, where his parents once were students.
In recent years he has become increasingly involved with the National Federation for the Blind. The NFB Executive Director writes in his nomination letter: "Through our work with Dr. Ladner, we have found a true partner who is dedicated to utilizing the full potential of technology development to improve opportunities, independence and employability for all people."