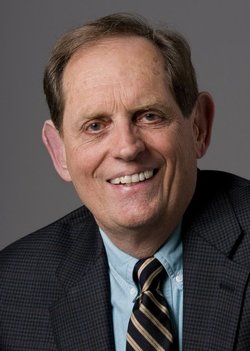 Photo by Mary Levin

Kern Ewing
Sandra Hines, News & Information
Finding ways to make a rambling corner lot in Laurelhurst more inviting for birds and neighbors. Removing a 10-foot wall of blackberries in order to reclaim a streamside area for native plants in the UW Botanic Gardens. Turning a Tacoma gravel pit into a forage area attractive to elk and other wildlife.
These are just a few of the projects tackled by teams of five and six students as part of a UW community-partnership project in restoration ecology that has completed 50 such projects in the last 10 years.
One of the leaders, Kern Ewing, has been named winner of this year's S. Sterling Munro Public Service Teaching Award.
The Restoration Ecology Network is a three-campus program conducting classes and research on restoration ecology. Among its offerings is a capstone experience for students consisting of a yearlong series of courses and real-world experience working with local parks and agencies, utilities, nonprofits and private firms, says Ewing, a professor of forest resources with the UW Botanic Gardens.
The Restoration Ecology Network is "an incredible, three-campus experiment in teaching, research, practice and community engagement," wrote Forest Resources' Thomas Hinckley, the Program on the Environment's Julia Parrish and the Wilburforce Foundation's David Secord, who is a former director of the Program on the Environment, in their letter of nomination.
Half a dozen faculty members from the UW's three campuses obtained funding to launch the program 10 years ago with a Tools for Transformation grant from the UW, "but Kern provided the original conceptual, focal (interdisciplinary and client oriented), experiential and practical foundations," they wrote.
Another trio of colleagues who currently work with Ewing on Restoration Ecology Network activities wrote that "Kern has pioneered a model of hands-on student learning in restoring damaged ecosystems that engages local communities."
UW Bothell's Warren Gold, who has been with the network since its inception, and forest resources Jim Fridley and Rodney Pond, say Ewing's community collaborations are effective because "student teams work in direct collaboration with community partners on the design and implementation of their projects, each learning from the other.
"But in the design of these projects, Kern has made sure that the impact on the community does not stop with the end of the academic project. Built into the process is the creation of a community stewardship plan and training session where students work with their community partners to craft a realistic vision for the future of the project site. Community members from K-12 classes, 'friends of' groups, homeowners associations and others are recruited into roles of caring for and learning from the project site into the future to enhance long-term success of the project and community engagement with the site."
Ewing, for example, says one of the first projects the network did was at the Evergreen School near the University District, where UW students weeded, planted trees and rehabilitated a detention pond area. Not only did they involve the school kids in the process, teachers went on to incorporate water sampling and collecting insects from the pond into their science lessons. And the area is taken care of by parent volunteers to this day, Ewing says.
"One nice thing about working on urban sites is there are so many users," he says. Users who are willing to take on the task after the students have initiated work at a site.
Those who go through the capstone course go on to be project managers and overseers for the city, county, nonprofits and more.
"As an undergraduate in UW's Program on the Environment, I was paired with six other students from two UW campuses and five academic majors to work with the Snoqualmie Indian Tribe on a one-acre forest restoration project on their reservation," wrote Nathaniel Hough-Snee. "Our tribal liaisons . . . were coincidentally graduates of the REN program in years prior. The REN program allowed me to develop my problem-solving, project management and leadership skills.
"After my REN service-learning project, I stayed engaged with environmental issues in the greater Snoqualmie Watershed, eventually becoming an ecological restoration planner for the tribe."
The Restoration Ecology Network has been such a national standout that the journal Science featured it and only 11 other community-partnership programs in the course of the year, one each month in 2006. See: http://www.sciencemag.org/cgi/reprint/312/5782/1880.pdf.