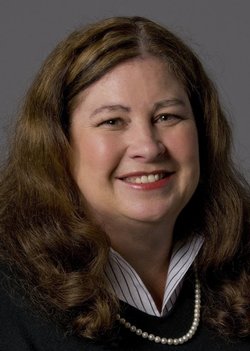 Photo by Mary Levin
"I develop my classes with the adult learner in mind. Since I have more than 14 years of work experience and 13 years of teaching experience, I am able to combine the 'real' world with the theory of textbook learning into my curriculum."



Oleta Beard
Alison Koop, Educational Outreach
"It's a challenge for my adult students, who work a full day and then go to class in the evening," says Oleta "Leta" Beard, a full-time lecturer for the Foster School of Business and instructor for the Marketing Management certificate program administered by Educational Outreach.
Yet these students routinely wow the local nonprofits and small businesses they're paired with for practicum projects guided by Beard. Many cite Beard's dedication and encouragement as a foundation for their success in class and after the program's end. Her skill in connecting with adult learners and keeping them engaged has earned her the 2009 award for Distinguished Contributions to Lifelong Learning.
Most of Beard's certificate program students are working professionals looking to make substantial changes in their lives and careers. Her classes are a mixture of diverse backgrounds: international students and MBA graduates come together with career changers of all stripes including teachers, engineers and, this year, a school principal. In a class of 40 students, ages range from 24 to 50, with the "average" student in the early to mid 30s.
Beard takes all that work and real-life experience and uses it to advantage. Class discussion is an absolutely integral part of the program for her evening certificate students, who are "more pointed" and wide ranging than traditional students in their questions and comments. "I'm a firm believer that the students can learn just as much from each other as they can from an instructor," Beard said.
That approach helps bind together these diverse students not only as a class, but into the highly successful teams formed every year for the certificate program practicum. Each team produces a detailed marketing plan for a Puget Sound organization selected by Beard. Most organizations receiving the services of a certificate program team are small businesses and nonprofits that cannot afford to engage a marketing agency — and the results have been stunning.
"The student team that worked with us put together an excellent, functional tool to market our program …. Their professionalism was outstanding. They presented us with a detailed [plan] that has become our bible," said the head of one organization. Another business owner credited the implementation of a practicum course marketing plan for helping to increase sales by more than 6 percent year over year. The Washington State Patrol Fire Academy (2006) was so impressed with its document that it was included in the budget proposal to the governor. These are just a few examples of the scores of organizations that have benefited from the knowledge and skills that Beard has imparted to her students over the years.
Having prepared her students fall and winter through a "fire hose" of knowledge, Beard coaches them every step of the way through the spring practicum. She connects so effectively that one team has formally dedicated its plan to her. Not only do her students gain the real-world, practical knowledge and experience particularly valued by adult learners, they also take pride in helping to share UW expertise with the community.
"I develop my classes with the adult learner in mind," said Beard. "Since I have more than 14 years of work experience and 13 years of teaching experience, I am able to combine the 'real' world with the theory of textbook learning into my curriculum."
But that's not the only key to her effectiveness as an instructor of lifelong learners. "She is truly interested in the post-education success of her students," says a recent program graduate. For example, Beard's coaching and encouragement outside of class gave one alumnus the courage to start her own branding professional services company.
"I stay in touch with many of my former students," said Beard. "I guess the idea is that the teaching and mentoring doesn't stop when the class ends."
It doesn't stop at borders, either. During the summer of 2006, Beard volunteered to teach marketing management to executives in Ho Chi Minh City and Hanoi, Vietnam. She also taught retailing, "a challenge because they don't use credit in Vietnam and so can't purchase off the Internet. It was extremely rewarding for me because they were so eager to learn and absorb everything they could about marketing." Her host, Royal Education Vietnam, informed her that she had received the highest student ratings ever.
Beard's passion for teaching adult learners has not only helped to connect the UW to the Puget Sound community — it's also made her a global ambassador for the UW.