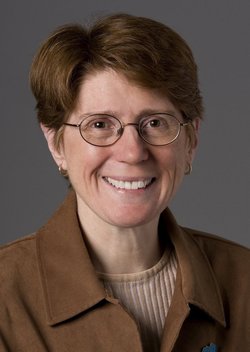 Photo by Mary Levin
"Being a reference librarian, I'm on everybody's side. I'm in the reference office, you come in, you want to find information — I want you to find information! It's terrific."



Mary Whisner
Devon Mills, University Week Intern
Reference librarian Mary Whisner says her job is all about the thrill of the hunt — for information, that is.
"I like it when students come in and they say, 'Geez, I'm really stumped about this,' and I can show them a way to find it — a database they didn't know about, a book that they didn't know would have exactly what they needed," Whisner said. "It's fun to help them on their way."
For 21 years, Whisner has worked at the Marian Gould Gallagher Law Library, doing what she says is her calling — helping students and faculty find the information they need, and teaching future lawyers how to be effective researchers. Whisner's passion for her work has paid off, since she is this year's recipient of the Distinguished Librarian Award.
Letters of support from Whisner's colleagues burst with praise for her knowledge, enthusiasm, humor and creativity. They call her a "genius," a "reference 'goddess,'" and "the ultimate extra-mile person."
But finding her niche in reference librarianship wasn't easy for Whisner. When she was an undergraduate at the UW, she loved libraries but had no idea she'd end up working in one, let alone here on this very campus.
"When I was an undergrad, I wasn't the sort of young person who planned ahead very far," Whisner said. "I was an undeclared major for three years, and finally declared a major when I couldn't put it off anymore."
She ultimately graduated with a philosophy degree, and later earned a law degree at Harvard Law School. After two other law jobs, she had a fellowship that allowed her to work with a public interest group in Washington, D.C., and she periodically visited Georgetown University to meet with other fellows and audit classes.
"I found that I really liked being around the academic setting much more than I liked being in litigation," Whisner said. "When you're litigating, your job is to disagree with people."
She recalled one instance in which she had worked tirelessly on a brief that argued her client's case, and then sent it to the opposing side's lawyers. Their reply, of course, attempted to tear down all of her carefully crafted arguments.
Whisner said: "I just remember that moment of reading their brief and feeling so discouraged and downhearted. I realized that it took a toll on me. That's not really what rings my bells."
She began talking to law librarians that she met through connections at Georgetown and realized librarianship — which involves helping others, rather than disagreeing with them — was a more appealing career path. Whisner earned her MLIS at Louisiana State University and, within a year, found herself right back where she started: the UW.
"Being a reference librarian, I'm on everybody's side," Whisner said. "I'm in the reference office, you come in, you want to find information — I want you to find information! It's terrific. I like seeing people, I like going into the classroom, I like being in the reference office and I like working with our law librarianship students. There are just a lot of rewarding, interpersonal aspects to the job for me."
Whisner's work rewards others, too. Her job is one of "lifelong learning" and "her thinking is relevant, practical, and looks ahead," wrote Penny Hazelton, associate dean for Library and Computing Services at the law school, in a letter of support.
Since 1999, Whisner has written a regular column, "Practicing Reference," in the quarterly publication Law Library Journal. In it, she tackles different components of reference research from humorous or interesting angles; for instance, her most recent column explores the question of why It is illegal to remove mattress tags as a way of showing how to research federal and state regulations.
She is also a co-author of Washington Legal Researcher's Deskbook, and has written blogs and research guides.
The award itself has already helped Whisner continue her lifelong learning: In celebration, she treated herself to a Kindle 2, the latest version of Amazon's portable electronic reading device.
Whisner uses it to read for both research purposes and for pleasure, but she said that for her, there isn't a sharp distinction between the two.
"Sometimes I'm reading law or librarianship or serious nonfiction because I find it interesting, and it's nice that it helps my job," she said. "I think it's really lovely when you have a profession where you can have that overlap."