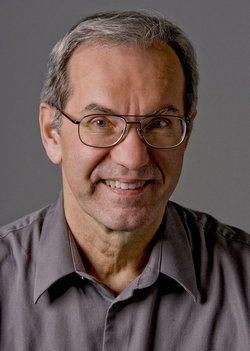 Photo by Mary Levin
"Students turn up a lot of things that I never would have expected. One of the great things about being on the graduate faculty is what you learn from your students."



Richard Strathmann
Vince Stricherz, News & Information
Richard Strathmann considers himself pretty fortunate. He works at a world-renowned natural biology lab set in one of the most picturesque parts of Washington, the San Juan Islands.
But don't expect the fact that he recently retired as a UW biology professor and resident associate director of Friday Harbor Laboratories to slow his work.
"I retired to have more time for teaching and research," Strathmann said with a laugh.
He has done a lot of both during his 35 years at the lab, and the graduate students who came under his direction were direct beneficiaries. So it seems appropriate that he is the 2009 recipient of the Marsha L. Landolt Distinguished Graduate Mentor Award.
"One demonstration of the effectiveness of Richard's mentoring is the large number of former students and (postdoctoral researchers) that continue to return to FHL on a regular basis to conduct their own research, and to teach and collaborate with Richard," Friday Harbor Labs Director Kenneth Sebens and former Director A.O. Dennis Willows wrote in their nominating letter.
Playing a guiding role in students' lives clearly is important to Strathmann.
"Mentoring is one of the most fun things, and the decrease in mentoring is one of the most difficult things about retiring because students are fun to work with," he said. "It is a wonderful opportunity to help people find their way."
Dawn Vaughn believes her wonderful opportunity was in being mentored by Strathmann. She began her doctoral work in 2003 at the age of 40; then in 2005 she found herself dividing time between the Northwest and Indiana when her husband accepted a faculty position at Purdue University. It helped that Strathmann understood the difficult choices she was facing and encouraged her to find balance between her personal and professional life.
"Richard is always available to his students," Vaughn wrote in a letter supporting his nomination. "He is a tireless editor, experiment designer and collaborator of ideas, methodology and data analysis. As the associate director … his obligations have been many and often stretch well beyond those of a researcher, teacher and mentor. Nevertheless, it is clear that his students and their research are a priority."
As a mentor, Strathmann believes his most important job is to help students discover what strongly interests them, what they are good at and what they will be able to make interesting and relevant to others in their field.
"If they can have all that, then they will go on and be very creative individuals on their own," he said.
Strathmann earned his doctorate at the UW in 1969 and worked at the University of California, Los Angeles, and the universities of Hawaii and Maryland before returning to the UW in 1973. He has published more than 90 research papers on various aspects of the biology of larvae of marine organisms, such as sea urchins and sand dollars, and he is one of the recognized founders of the field of larval ecology.
While at Friday Harbor, he mentored 12 students who completed their doctoral degrees and four who completed master's degrees. He also served as mentor to more than 30 postdoctoral researchers at Friday Harbor, as well as numerous UW undergraduates.
"… There is no living person in the world who has so profoundly and positively influenced graduate students in the field of marine invertebrate development, larval biology and life history evolution," wrote Richard Emlet, a biology professor at the University of Oregon and a doctoral student of Strathmann's in the early 1980s.
"Some faculty have had greater numbers of students pass through their labs, others have written books, but no one has been as effective … at stimulating growth of ideas and information in this area of ecological and evolutionary biology and attracting graduate students to work in this area."
Strathmann's own view is that mentoring draws on many resources and benefits many people. Many people have a hand in the process, and mentors tend to profit from the experience as well.
"Students turn up a lot of things that I never would have expected," he said. "One of the great things about being on the graduate faculty is what you learn from your students."