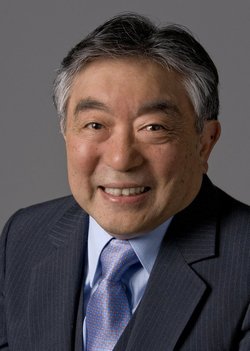 Photo by Mary Levin
Find ways to get students personally involved in class. Students like to see that what they have done goes beyond the classroom and the school.



Tetsuden Kashima
Catherine O'Donnell, News & Information
Tetsuden (Tetsu) Kashima believes it is never too late for justice, and that the best teaching engages students in real-world situations.
For work that grows out of those beliefs, Kashima is the 2009 winner of the James D. Clowes Award. Established in 2003, the award recognizes a UW faculty or staff member for innovative contributions to teaching and learning.
Kashima, a professor of American ethnic studies and adjunct professor of sociology, played a vital role in The Long Journey Home, a ceremony held May 18, 2008. The UW bestowed honorary degrees on 449 Japanese Americans — 66 years after they were dismissed from the University because of their ancestry.
In February 1942, President Franklin D. Roosevelt signed an executive order that led to the internment of nearly 120,000 Japanese Americans living on the West Coast. Two-thirds were American citizens. The U.S. had entered World War II three months earlier, and there were fears — unfounded even then — that Japanese Americans would be disloyal.
Lauro Flores, chairman of the Department of Ethnic Studies, said The Long Journey Home reflects Kashima's "extraordinary ability to encourage others, to bring students, faculty and community leaders together."
Kashima learned the power of teaching when he was an undergraduate at the University of California, Berkeley, and Stanford Lyman, a distinguished professor of sociology, noticed his work.
"When you get to know someone who takes a classroom interest in you, the classroom becomes alive," Kashima said. "I assume that students are taking my class because it in some way interests them. After that, it is the professor's responsibility to nurture that feeling and truly make the class interesting.
"Find ways to get students personally involved in class," he added. "Students like to see that what they have done goes beyond the classroom and the school."
Kashima's students have produced works used in public and permanent ways. For a class on internment camps in North America, students compiled a bibliography on the Minidoka incarceration camp in south central Idaho. Published by the National Park Service with the students' names, it will be available at a visitors center.
Emily Hanako Momohara, an assistant professor at the Art Academy of Cincinnati, said Kashima's class on Japanese American internment inspired her to visit almost all 10 camps and create a documentary. She co-founded Friends of Minidoka, has led pilgrimages to the camp and has assisted the Park Service in Minidoka affairs. Writing of Kashima, Momohara said, "I am privileged to have taken his class, and been the recipient of his mentorship for so many years."
Other Kashima students created DVD documentaries of the Eagledale ferry terminal on Bainbridge Island, where the U.S. military moved the first Japanese Americans on their way to camps. The raw-video footage is available to videographers, assuming credit is given to the students.
Kashima was 1 year old when his family "went to camp." Like other Japanese Americans, they didn't use words like "internment" or "incarceration." And for years afterward, Japanese Americans who had been held in the camps either did not talk about their experiences or focused on more psychologically manageable topics such as their camp gardens or poor food served in mess halls. That reticence may be part of coping, part of Japanese values inherited from the immigrant generation, including honor earned by quiet endurance, Kashima said.
"The older generation tried not to pass on the hurt, the uncertainty, the negative things about 'camp' to the next generation."
So Kashima didn't think deeply about Japanese Americans and World War II until Lyman gave him a copy of No-No Boy, a 1957 novel by John Okada. Widely read in Asian American literature classes, it concerns the price a young Japanese American man pays for deciding not to serve in American armed forces during the war.
Kashima began asking questions, eventually becoming a sociologist specializing in Japanese American socio-history. "I try," he says, "to engage my students in areas I think interesting and important to sociology, American society, and the University of Washington."
Kashima is married to Cecilia Kanako Kashima, and they have two sons, Daniel Tetsunori and James Tetsuro.