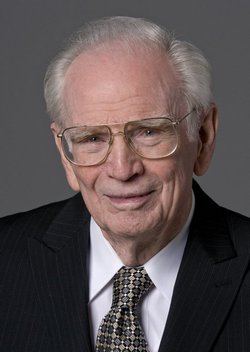 Photo by Mary Levin
"I taught [physicians] a little about engineering and they taught me a little about medicine."



Wayne Quinton
Adapted from a Columns story by Shannon O'Leary
For his prolific, groundbreaking work as instrument designer for the UW's medical school, and for his singular role in marrying the fields of engineering and medicine, Wayne Quinton, a 1959 graduate, has been named the UW's 2009 Alumnus Summa Laude Dignatus — the "alumnus worthy of the greatest praise." It is the highest honor that the UW can confer upon a graduate.
It wasn't the most likely of career trajectories for a child born to Depression-era Idaho farmers. But Quinton always showed a mechanical aptitude, and a natural curiosity about how things worked. When he was a little boy, he spent weeks deconstructing and reassembling the metal toys he got for Christmas. He worked over one windup Model T car so often it got metal fatigue. So he taught himself how to solder, then repaired it.
When he was in high school, his father suffered a heart attack and was ordered to years of bed rest — an event that fired Quinton's lifelong interest in medicine. After graduating from Rigby High School with science honors in 1939, he attended Ricks College (later renamed Brigham Young University) and Montana State College, but didn't graduate from either one.
After the 1941 attack on Pearl Harbor, he was hired by The Boeing Co. as a master-layout draftsman for the B-29 bomber. He managed to pursue an informal continuing education program there by hopscotching through as many departments as possible. In Boeing's tool-planning group, Quinton found a rich training ground indeed.
Quinton got his first job at the UW as an electronics technician in 1949. His improbable charge: to develop heat-measuring equipment for an Arctic acclimatization study. "I don't know exactly how I managed to get that job; I was totally unqualified," said Quinton, who at the time was still lacking a college degree. When the study ended two years later, however, the always-assertive Quinton applied for and was hired to head the medical school's brand new instrument shop.
There, he designed some 40 gadgets for the UW, from a hydraulic gastrointestinal tract biopsy device to a one-of-a-kind bubble oxygenator that enabled the first open-heart surgery in the Pacific Northwest. One of Quinton's most pioneering contributions was a shunt he co-designed with UW physicians Belding Scribner and David Dilliard that allowed kidney patients to be easily reconnected to dialysis machines.
During his tenure in the instrument shop, Quinton also found time to earn a mechanical engineering degree from the UW and to launch a business in his basement. He presciently parlayed many of his medical devices that the UW declined to manufacture into Quinton Instruments. The business was very successful, and Quinton sold it in 1984.
Quinton's most influential invention is probably the lightweight cardiac treadmill. Before Quinton, treadmills were too cumbersome to fit into a medical setting. His streamlined model, fitted with a two-horse-power motor, became the diagnostic standard — not only revolutionizing the approach to cardiac disease diagnosis, but fueling the aerobic exercise boom.
Of his career-long collaboration with physicians, Quinton said, "I think because I kept asking the question 'Why?,' I taught them a little about engineering and they taught me a little about medicine."