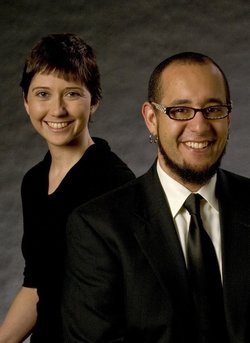 "My first idea was to create a support network for underrepresented students, to get them in a room and have them talk with one another."



Fernanda Oyarzun & Chris Himes
The UW typically presents the Outstanding Teaching Award to teaching assistants for their work in existing classes. But this year, two graduate students are being recognized in part for actually creating new curricula.
Chris Himes and Fernanda Oyarzun, TAs in the Department of Biology, realized about two years ago that too many students were unsuccessful in Biology 180, the undergraduate gateway course for the life sciences. Most disturbing to them was the low success rate among underrepresented minorities and students from disadvantaged backgrounds.
"My first idea," says Himes, "was to create a support network for underrepresented students, to get them in a room and have them talk with one another." Oyarzun was at that first session with graduate students from the department, and the two began discussing strategies for helping the students.
"A study of Biology 180 showed that students who did poorly in this class were often doing poorly overall," Oyarzun says. "It was clear that they had generally poor study skills." So Himes and Oyarzun created a series of workshops open to anyone taking Bio180. In addition to doing some readings on educational philosophy and pedagogy, they relied on their own educational experiences.
Himes had dropped out of college at age 19. "I was the first in my family to attend a four-year school, and I really didn't know what I wanted to do," he says. He returned to school at age 24, becoming interested in research when he began working in a lab that he thought would better prepare him for a job after getting his bachelor's degree. He considered a career as a teacher, and then as a McNair fellow in his senior year, he was exposed to and energized by the prospect of graduate education.
Oyarzun, who came to the UW from Chile, became interested in research when she volunteered weekends at the marine laboratory of her university. She taught a great deal as an undergraduate, which is common in Latin American universities. She remembers fondly her undergraduate adviser in Chile and people at the UW who have pushed her to achieve. "I'm very lucky to have had all these people help me, by believing in me," she says. "And I've become concerned about those who don't have all that. So this is my way of giving back."
Himes and Oyarzun began the workshops with a discussion of learning styles. They learned from their own experience that, as students became hip to their own preferred ways of learning, they could develop strategies to succeed in a variety of settings.
As the workshops grew in popularity, they became a quarter-long class with its own course number, Biology 113D, "Learning to Learn in the Biological Sciences." The course has acquired support from the department and a second generation of TAs now leading it. It focuses not exclusively on skills valuable in Biology 180, but also on basic college survival strategies — helping students manage their time, take useful notes, develop good study habits and exposing them to research done by graduate students in the department. Students are encouraged to learn from one another in the class, form study groups and discuss what strategies work best for them.
Although they are still working on the assessment of the class, it seems that Himes' and Oyarzun's hopes have been vindicated: Students who take Biology 113D tend to perform better than expected in Biology 180.
In addition to their innovative work on Biology 113D, both have received accolades for their teaching prowess. Professor Toby Bradshaw describes Oyarzun as a "hardworking, creative and inspiring teacher. She has a knack for understanding what each student needs to do well in the class, and adjusting her teaching style to accommodate differences among students." One former student, lauding Himes as a teacher and mentor, says, "Chris exhibits the qualities one always hopes to find in an instructor. He is patient, knowledgeable, approachable, and he deeply cares about the success of his students."