Contents
In This Issue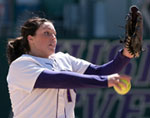 Danielle Lawrie, National Player of the Year

UW Softball Team Plays for National Championship
Led by National Player of the Year Danielle Lawrie, a member of the 2008 Canadian Olympic Team, Washington's softball team advanced to the NCAA finals for the third time in school history. The No. 3 Huskies go for their first national title against top-ranked Florida in a best-of-three series beginning Monday, June 1. Games 2 and 3 (if necessary) are June 2 and 3, respectively, with each contest airing live on ESPN2 beginning at 5 p.m. PST). Lawrie, who hit a grand slam and won her 40th game in the UW's 9-3 semifinal win over Georgia, is the first Husky softball player to win any kind of National Player of the Year award. Read more...


Former UW Student Shakes Up British Government
If the British tabloids knew about the sex-advice column Heather Brooke wrote for the University of Washington Daily nearly two decades ago they might run with it as a salacious news item. Something like "sex writer rocks Parliament." But that information hasn't reached them, it seems, and Brooke has proven to an entire nation she is a journalist of another ilk. In doing so, the former Seattleite has shaken up the British parliamentary leadership and perhaps changed forever the relationship between the British press and the House of Commons. Read more...


UW Students Vote To Fund HUB Overhaul
University of Washington students agreed May 22 to spend $128 million on a complete overhaul of their main campus gathering spot, the Husky Union Building. The vote by a seven-member student committee represented the culmination of four years of discussion and planning. Also included was an additional $26 million to renovate a health clinic and a cultural center. UW regents, who backed the initial stages of the project, are expected to sign off on the renovations at a July meeting. Read more...


Atlantis, Crew Land in Calif. After Hubble Mission
Space shuttle Atlantis and its seven astronauts—including UW alumnus Gregory Johnson, '77—returned safely to Earth, detouring from stormy Florida to sunsplashed California to end a 13-day mission that repaired and enhanced the Hubble Space Telescope. "Now and only now can we declare this mission a total success—the astronauts are safely on the ground," NASA sciences chief Ed Weiler told a Florida press conference May 24. Read more...


University of Washington Press in Kindle Deal with Amazon
The University of Washington Press plans to sell books on Kindle—the first time it has made content available on Amazon.com's electronic reader—and also plans to shift publishing of 100 books to Amazon's print-on-demand service, BookSurge. The UW Press is starting with a 25-book Weyerhaeuser Environmental Series on Kindle, and will look at whether to add other titles. "We decided rather than to jump in with both feet, we would use this series as our entry and do an analysis of it," said Pat Soden, director of the UW Press. Read more...


Brain Cell Mechanism for Decision Making Also Underlies Judgment About Certainty
Countless times a day people judge their confidence in a choice they are about to make—that they now can safely turn left at this intersection, that they aren't sure of their answer on a quiz, that their hot coffee has cooled enough to drink. University of Washington researchers who study how the brain makes decisions are uncovering the biological mechanisms behind the belief that a choice is likely to be correct. Their most recent results were published in the May 8 edition of Science. "Choice certainty," noted one of the researchers, Roozbeh Kiani, "allows us to translate our convictions into suitable actions." Several other research projects have shown that choice certainty is closely associated with reaction time and with decision accuracy. Read more...


One Step Closer to Birth Control Shot for Men
Most people in the United States accept the notion that it takes two to tango in bed. But ever since the birth control pill received government approval 50 years ago, women have been waiting for the other shoe to drop—when men get a pill, patch or injection to bear the burden of birth control. UW research published May 4 in the Journal of Clinical Endocrinology and Metabolism indicates that science may be bringing us closer to a male "pill," although the idea of hormones for male birth control still stokes a heated debate among doctors. Read more...


Investing Hope: The Ernest I. J. Aguilar Scholarship Dinner and Auction
Join the Aguilar Scholarship Committee, the Latino community and the University of Washington July 18 in the Conibear Shellhouse for an evening of fine dining and spirited auctioning. Proceeds will benefit the first endowed scholarship for Latino students in the M.B.A. program at the UW Foster School of Business. The scholarship endowment recognizes Ernest I. J. Aguilar, the founder of the Washington State Hispanic Chamber of Commerce and numerous other community and business organizations. Visit the official Web site for more information, and to register.


Check It Out
Offbeat and/or outstanding UW-related links:
June 2009 UW NewsLinks Trivia Contest
Heather Brooke, whose push for greater transparency from elected officials in England led to the resignation of the Speaker of the House of Commons last month, is only the latest writer to make a big name for herself using skills honed at the UW Daily. Which of the following journalists is not a veteran of the Daily?
1. Charles R. Cross, journalist and biographer of Kurt Cobain and Jimi Hendrix
2. David Postman, longtime Seattle Times political reporter
3. David Horsey, Pulitzer Prize-winning political cartoonist
4. Jim Caple, ESPN senior writer
5. Evelyn Iritani, Pulitzer Prize-winning reporter for the Los Angeles Times
Answer this month's question

Last Month's Answer
In last month's trivia question, we asked which of five political figures had never spoken at a graduation on any of the three UW campuses. See the answer.

Trivia Contest Rules

Resources
About UW NewsLinks

UW NewsLinks is a free, monthly e-newsletter for alumni and friends about the University of Washington. Prepared by the editors of Columns, it features the same mix of campus news and features but also provides links to fascinating (and unusual) UW-related Web sites and a monthly trivia contest.

If you do not wish to receive UW NewsLinks or want to change your contact information, see details at the bottom of this e-mail about updating your preferences.

Contact Us

UW Alumni Association
1415 NE 45th St.
Seattle, WA 98105
206-543-0540 or 1-800-AUW-ALUM or
uwalumni@u.washington.edu

Statements and quotes do not necessarily represent the official position of the University of Washington or the UW Alumni Association. Use of this list by commercial organizations is prohibited by the State of Washington.

Copyright 2009 UW Alumni Association. All rights reserved.