Contents
In This Issue

UW Gives Details of $73M in Budget Cuts
The University of Washington released details April 29 of how it intends to slash its budget by $73 million over the next fiscal year. The cuts range from 9 percent in the College of Arts and Sciences to 16 percent in President Mark Emmert's office. Read more...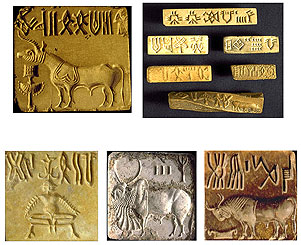 Examples of the Indus script. The four square artifacts with animal and human iconography are stamp seals that measure one or two inches per side. On the top right are three elongated seals that have no iconography, as well as three miniature tablets (one twisted). The tablets measure about 1.25 inches long by 0.5 inches wide. Photos courtesy of J.M. Kenoyer/Harappa.com

Artificial Intelligence Cracks 4,000-Year-Old Mystery
An ancient script that's defied generations of archaeologists has yielded some of its secrets to artificially intelligent computers. Computational analysis of symbols used 4,000 years ago by a long-lost Indus Valley civilization suggests they represent a spoken language. Some frustrated linguists thought the symbols were merely pretty pictures. "The underlying grammatical structure seems similar to what's found in many languages," said University of Washington computer scientist Rajesh Rao. Rao, a machine learning specialist who read about the Indus script in high school and decided to apply his expertise to the script while on sabbatical in India, may have solved the language-versus-symbol question, if not the script itself. Read more...





UW Researchers Identify Autism Genes in Study
A research team that includes a group of current and former University of Washington researchers has connected some of the pieces of the autism puzzle. The group says it has identified genes with important contributions to autism. Read more...




Robert Gates

Secretary of Defense Robert M. Gates To Be UW Commencement Speaker
Robert M. Gates, who has served as the 22nd United States Secretary of Defense since December 2006, will be the University of Washington's Commencement speaker in ceremonies at Husky Stadium June 13. Read more...




People's Misperceptions Cloud Their Understanding of Rainy Weather Forecasts
If Mark Twain were alive today he might rephrase his frequently cited observation about everyone talking about the weather but not doing anything about it to say, "Everyone reads or watches weather forecasts, but many people don't understand them." He'd do that because new research indicates that only about half the population knows what a forecast means when it predicts a 20 percent chance of rain, according to researchers at the UW. Read more...


Six in UW Community Named Fellows of the American Academy of Arts & Sciences
Six members of the UW community—active and retired—are among 210 new Fellows named this week to the American Academy of Arts & Sciences. The UW tied for first among public universities for new academy fellows. David Baker, biochemistry; William Gerberding, president emeritus; Andrew Meltzoff, psychology; Ed Miles, marine affairs; James Truman, biology (emeritus) and Gunther Uhlmann, mathematics, join one of the nation's most prestigious honorary societies and a center for independent policy research. The UW is tied (with UCLA) for first among public universities in the number of Fellows elected. Members of the academy are leaders in the sciences, the humanities and the arts, business, public affairs and the nonprofit sector. Read more...




An Irresistible Pitch: See the Mariners, Save Money, Support Students
Hey baseball fans, here's a stand-up double: Purchase discounted tickets to two upcoming Mariners games and you'll be helping support students scholarships. On June 6, celebrate Latin American Beisbol Day at Safeco Field as the M's take on the Minnesota Twins. Purchase discounted tickets today. A generous portion of every ticket sold will benefit the Martinez Foundation, established by former Mariners star Edgar Martinez and his wife, Holli, to support students of color who want to become teachers.

Then, on July 10, it's Husky Summer Celebration Night with the Mariners. UW alumni, faculty, staff and students can pick up discounted tickets to the M's/Rangers game. A portion of each sale goes to student scholarships.


Check It Out
Offbeat and/or outstanding UW-related links:
May 2009 UW NewsLinks Trivia Contest
Defense Secretary Robert Gates is only the latest high-profile political figure to be named the UW's commencement speaker. Which of the following politicians has never spoken at a graduation on any of the three UW campuses?
1. Former Supreme Court Justice Sandra Day O'Connor
2. Former Secretary of State Madeline Albright
3. Former Secretary of the Treasury Robert Rubin
4. Former Washington Governor Gary Locke
5. Former U.S. Speaker of the House Tom Foley
Answer this month's question

Last Month's Answer
In last month's trivia question, we asked which of five eminent American poets had never taught at the University of Washington. See the answer.

Trivia Contest Rules

Resources
About UW NewsLinks

UW NewsLinks is a free, monthly e-newsletter for alumni and friends about the University of Washington. Prepared by the editors of Columns, it features the same mix of campus news and features but also provides links to fascinating (and unusual) UW-related Web sites and a monthly trivia contest.

If you do not wish to receive UW NewsLinks or want to change your contact information, see details at the bottom of this e-mail about updating your preferences.

Contact Us

UW Alumni Association
1415 NE 45th St.
Seattle, WA 98105
206-543-0540 or 1-800-AUW-ALUM or
uwalumni@u.washington.edu

Statements and quotes do not necessarily represent the official position of the University of Washington or the UW Alumni Association. Use of this list by commercial organizations is prohibited by the State of Washington.

Copyright 2009 UW Alumni Association. All rights reserved.