Contents
In This Issue

Obama Stimulus Plan May Generate $300M Research Windfall, UW Says
The Northwest's biggest research center is going to get a lot bigger in a hurry. The University of Washington expects it will rake in a $300 million windfall of research money in the next six months as part of President Obama's economic stimulus plan, according to Linden Rhoads, the UW's vice provost of technology transfer. Read more...


Computer Science Is a Major Major Again
IT is it. After several years of declining enrollments nationwide, computer science is once again growing as a major. At the UW, where admission to the undergraduate program is capped at 160 students, more would-be majors are being turned away than ever before.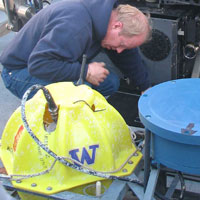 DEIMOS consists of an echosounder—encased in a 17-inch diameter sphere of thick glass and then in a yellow plastic cover—and a transducer set in a metal frame. Here Knut Brekke, a pilot of the remotely operated vehicle that will deploy DEIMOS, checks the set up.

DEIMOS Joins MARS and Its Satellite of Instruments on Seafloor
The planet Mars has a moon named Deimos, so it seems only appropriate that the ocean observatory MARS in Monterey Bay have its own DEIMOS. This DEIMOS, however, is an underwater acoustic package designed to monitor movements of fish and zooplankton.

MARS, which stands for Monterey Accelerated Research System, consists of a node the size of two compact cars that serves as both a power strip and a high-speed internet connection for scientific instruments. Connected to the California coast by a 35-mile-long cable carrying power and data, MARS went live late last fall 3,000 feet below the surface in Monterey Bay.

Most recently connected to the node is the University of Washington-designed DEIMOS, which stands for Deepwater Echo Integrating Marine Observatory System. DEIMOS uses an echo sounder to transmit and receive an acoustic signal used to reveal what's in a narrow cone of water above the instrument. DEIMOS can discern everything from zooplankton to whales. Read more...


Support for Racial Equality May Be a Victim of Obama's Election
Ironically, Barack Obama's election could turn out to have negative consequences in addressing racial injustices in the United States, according to new research. Social psychologists from the University of Washington and Tulane University who surveyed a group of students before and after last November's election found that belief in the need for future racial progress and support of policies that address racial inequality fell in the week following the election. However, their beliefs about the rate of racial progress made in the U.S. and support for the so-called Protestant work ethic—the idea that anything is possible with hard work—increased in the same time period. Read more...


Foreign Languages Take Hit in Higher-Ed Budget
Foreign-language study is taking a big hit this year at the state's community colleges and universities, as those institutions scramble to save money in the face of state budget cuts. The University of Washington, thanks to a change in its language requirement, plans to reduce the number of seats offered in first-year Spanish, Italian and French by up to 2,500 this fall. Read more...


UW Named Government Agency of the Year for Its Work With Minority-Owned Businesses

From left: Barbara Valdez, supplier diversity program director for Nordstrom; Ruth Johnston, associate vice president for Strategy Management in Facilities and Finance; Lynn Beck and Shaun Spearmon of the Business Diversity Program; Michael Verchot, director of the Business and Economic Development Center of the Foster School; and Darryl Russell, president of the Russell Group LLC and chair of the Minority Business Enterprise Input Committee (MBEIC), the advisory body of the Northwest Minority Supplier Development Council.

The University of Washington was recognized recently as the 2009 Government Agency of the Year by the Northwest Minority Supplier Development Council. The UW bested the cities of Seattle and Tacoma, King County, Sound Transit, and the Office of Minority and Women's Business Enterprises in garnering the award. Read more...


Brain Abnormality Found in Boys With Attention Deficit Hyperactivity Disorder
Researchers trying to uncover the mechanisms that cause attention deficit hyperactivity disorder and conduct disorder have found an abnormality in the brains of adolescent boys suffering from the conditions, but not where they expected to find it. Boys with either or both of these disorders exhibited a different pattern of brain activity than normally developing boys when they played a simple game that sometimes gave them a monetary reward for correct answers, according to a new study by a University of Washington research team. Read more...


Recession's Symptoms Include Sleepless Nights, Stolen Bikes
A severe economic downturn makes itself felt in all sorts of ways. In recent months, the number bike thefts has doubled on the UW Seattle campus. And UW researchers recently showed that a declining economy leads directly to a rise in sleeplessness.


Blumenfeld To Retire as Alumni Association Director
Charles "Chuck" Blumenfeld, executive director of the UW Alumni Association, will retire from that post at the end of May, following his 65th birthday. Blumenfeld has strong and longstanding ties to the UW. He grew up in the Montlake neighborhood and received both his B.A. and J.D. degrees from the University. He went on to become one of the first environmental lawyers in Seattle, and was active in the Alumni Association for over a decade before taking the directorship in 2007. He will be succeeded by Paul Rucker, 39, who was previously director of alumni relations for the UWAA and assistant vice president for constituent relations for the University.


Check It Out
Offbeat and/or outstanding UW-related links:
April 2009 UW NewsLinks Trivia Contest
Throughout the 20th century, a number of eminent American poets made their way to Seattle to serve as visiting or permanent faculty at the UW. Which of the following poets never taught at the University of Washington?
1. Louise Bogan
2. Stanley Kunitz
3. Robert Lowell
4. Elizabeth Bishop
5. Theodore Roethke
Answer this month's question

Last Month's Answer
In last month's trivia question, we asked what feature of the UW Seattle campus celebrated its 30th anniversary in August, 2008. See the answer.

Trivia Contest Rules

About UW NewsLinks

UW NewsLinks is a free, monthly e-newsletter for alumni and friends about the University of Washington. Prepared by the editors of Columns, it features the same mix of campus news and features but also provides links to fascinating (and unusual) UW-related Web sites and a monthly trivia contest.

If you do not wish to receive UW NewsLinks or want to change your contact information, see details at the bottom of this e-mail about updating your preferences.

Photo credit:
*DEIMOS: Photo by D. Kreisberg.

Contact Us

UW Alumni Association
1415 NE 45th St.
Seattle, WA 98105
206-543-0540 or 1-800-AUW-ALUM or
uwalumni@u.washington.edu

Statements and quotes do not necessarily represent the official position of the University of Washington or the UW Alumni Association. Use of this list by commercial organizations is prohibited by the State of Washington.

Copyright 2009 UW Alumni Association. All rights reserved.