Contents
In This Issue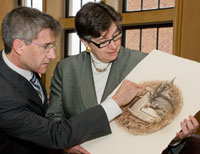 Francisco Javier Fernandez Alvarez, mayor of Leon, and Ana Mari Cauce, dean of the College of Arts and Sciences, look at a fish-eye drawing of Leon, given to the University by the city of Leon.
UW To Open Second European Campus in Leon, Spain
A royal palace in Leon, Spain will become the second European campus of the UW. A 10-year agreement signed Feb. 10 at the UW provides for a 9,000-square-foot facility, rent free, in the Palace of the Conde de Luna, which dates to the 10th century and has housed the royal families of Leon. UW President Mark Emmert will participate in opening ceremonies for the new center in May, when the city of Leon is scheduled to complete a $30 million renovation of the palace. Read more...


New State Climate Report Indicates Coming Decades Will Be Challenging
The most detailed report ever on how climate change could affect Washington paints a stark picture, but it should help the state avoid being surprised by climate-related changes coming down the road. The assessment, which provides information critical to planning for climate change in the next 50 years, is built on global scenarios, one of low greenhouse-gas emissions and the other of medium emissions. The global scenarios were then tailored to reveal climate changes and consequences for Washington, something few other states have accomplished for themselves, says Edward Miles, University of Washington professor of marine affairs and head of the UW Climate Impacts Group, which led the study. Read more...
Also see:
The Olympian: "Climate report has bleak outlook"
KING5.com: "UW study predicts major climate changes in next decade"
The Seattle Times: "Report: Climate change to wallop state"
KUOW.org: "Climate Change May Squeeze Hydropower, but Boost Winter Wheat"
UW News: "Some of Earth's climate troubles should face burial at sea, scientists say"


A western lowland gorilla sitting at the Woodland Park Zoo, Seattle. This species is found in western equatorial Africa.

UW Study Measures Number of Education Jobs Saved by Stimulus
UW researchers estimate that 574,000 jobs would be lost if states cut education spending by 15 percent, as they might have been forced to do without the federal economic recovery plan passed last month. Read more...
Also see:
The New York Times: Nicholas D. Kristof - "Our Greatest National Shame"


African Great Ape Ancestor Genome Changed Rapidly
The genome of the evolutionary ancestor of humans and present-day apes underwent a burst of activity in duplicating segments of DNA, according to a UW-led study published in Nature Feb. 12, the 200th anniversary of Charles Darwin's birthday. Read more...


Proposed 2009-11 UW Budget Cuts Would Cost 600-800 Jobs
If the budget cuts proposed in December by Gov. Chris Gregoire for 2009-11 were implemented, University of Washington employment would be cut by about 600 jobs. If those cuts were 50 percent larger, employment would shrink by about 800, according to estimates from the UW Office of Planning and Budgeting. Read more...
Also see:
KING5.com: "UW may lose 600 jobs through budget cuts"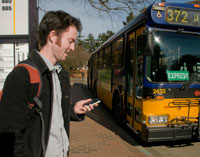 Brian Ferris, a doctoral student in computer science and engineering, uses his iPhone to check the status of a late bus. Ferris created OneBusAway, a free service that lets bus riders use phones, computers or iPhones to get real-time updates on bus arrivals.

Bus Left You Waiting in the Cold? Use Your Cell Phone To Track It Down
It's a question heard at countless bus stops: "Have you seen the number 48 go by?" Cold, impatient bus riders stamp their feet, check their watches, and wonder if that bus is ever going to come. But in Seattle, a cell phone and the ingenuity of two University of Washington students has come to the rescue. Read more...
Also see:
KOMONEWS.com: "Where's that bus?!? Sweat no more"


UW Terminates Licensing Agreement With Apparel Maker Russell Corporation
The University of Washington has terminated its agreement with Russell Corp. to produce clothing carrying UW logos, effective immediately. In a letter to Russell dated Feb. 13, the UW cited reports issued by the Workers Rights Consortium and the Fair Labor Association, which alleged abuse of workers' rights and anti-union sentiment were significant factors in a decision to close one of the company's plants in Honduras. Such actions violate the University's Code of Conduct for companies licensed to produce goods bearing UW trademarks. Read more...
Also see:
Seattle Post-Intelligencer: "UW cancels contract for apparel"


University of Washington Undergraduate Earns Prestigious Scholarship
Undergraduate Sam Sudar is the most recent UW student selected for the prestigious Gates Cambridge Scholarship. The highly competitive scholarship supports graduate study at the University of Cambridge, England, and brings recognition of accomplishments and future promise. This year, 37 students from across the United States were selected from an original applicant pool of more than 700. Sudar is the fourth UW student to be named a Gates Cambridge Scholar since the awards were first made in 2000. Read more...

Coffee Break: UWAA Lectures Look at the Grand Achievements of a Humble Bean
From its humble roots as an energy bar in ancient Africa to its current status as the emblem of our modern, global and fast-paced world, coffee has dominated and shaped entire cultures. And it's done so through a surprisingly simple mechanism--keeping us awake. Join us for "Coffee: From the Grounds Up," a savory public speaker series taking place right here in Seattle, the coffee capital of the United States. Complementing a major coffee exhibit at the Burke Museum of Natural History and Culture, "Coffee: From the Grounds Up" is a series of eight lectures and panel discussions featuring some of the world's leading coffee experts and practitioners. Get more information and register online.
Check It Out
Offbeat and/or outstanding UW-related links:
March 2009 UW NewsLinks Trivia Contest
What feature of the UW Seattle campus celebrated its 30th anniversary in August, 2008?
1. Meany Hall
2. The R. Bronsdon Harris Alumni House
3. Barnett Newman's sculpture, "Broken Obelisk"
4. The Burke-Gilman Multi-Use Trail
5. The bronze Husky statue outside Hec Ed Pavilion
Answer this month's question

Last Month's Answer
In last month's trivia question, we asked about attractions on the Pay Streak—the famous midway area of the 1909 Alaska-Yukon-Pacific Exposition. See the full question and the answer.

Trivia Contest Rules

Resources
About UW NewsLinks

UW NewsLinks is a free, monthly e-newsletter for alumni and friends about the University of Washington. Prepared by the editors of Columns, it features the same mix of campus news and features but also provides links to fascinating (and unusual) UW-related Web sites and a monthly trivia contest.

If you do not wish to receive UW NewsLinks or want to change your contact information, see details at the bottom of this e-mail about updating your preferences.

Photo credits:
*Alvarez and Cauce: Photo by Kathy Sauber.
*Lowland gorilla: Photo by Allison Gray.

Contact Us

UW Alumni Association
1415 NE 45th St.
Seattle, WA 98105
206-543-0540 or 1-800-AUW-ALUM or
uwalumni@u.washington.edu

Statements and quotes do not necessarily represent the official position of the University of Washington or the UW Alumni Association. Use of this list by commercial organizations is prohibited by the State of Washington.

Copyright 2009 UW Alumni Association. All rights reserved.