Contents
In This Issue
Half of World's Population Could Face Climate-Induced Food Crisis by 2100
Rapidly warming climate is likely to seriously alter crop yields in the tropics and subtropics by the end of this century and, without adaptation, will leave half the world's population facing serious food shortages, new research from the UW and Stanford University shows. To compound matters, the population of this equatorial belt—from about 35 degrees north latitude to 35 degrees south latitude—is among the poorest on Earth and is growing faster than anywhere else. "The stresses on global food production from temperature alone are going to be huge, and that doesn't take into account water supplies stressed by the higher temperatures," says David Battisti, a University of Washington atmospheric sciences professor. Battisti is lead author of the study in the Jan. 9 edition of Science. Read more...
Also see:
Time: "Why Global Warming Portends a Food Crisis"
USA Today: "Study warns of dire overheating of crops, food crisis by 2100"
The Seattle Times: "Food crisis is global warmings biggest threat, say UW, Stanford scientists"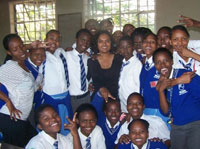 UW graduate student Chami Arachchi is surrounded by Botswana girls in the leadership training class she organized.

UW Continues to Lead U.S. Universities in Contributing Peace Corps Volunteers
UW graduate students Shella Biallas and Chami Arachchi found multiple reasons to join the Peace Corps. Apparently, too, there are multiple reasons why, for the last three years, the UW has led U.S. universities in producing Peace Corps volunteers. In 2008, the Peace Corps had 104 UW alumni serving as volunteers—more than the University of Colorado, Boulder, which ranks second with 102, or Michigan State University, which is third, with 89. Read more...
Also see:
The Seattle Times: "UW tops list for Peace Corps"
The Chronicle of Higher Education: "U. of Washington Again Leads in Peace Corps Volunteers"


UW Seattle Temporarily Closes Doors to Spring Applicants
In an effort to lower faculty and facility costs, UW Seattle officials decided not to accept new students for the 2009 spring quarter. Nearly 325 letters were sent to applicants who would have been accepted under ordinary circumstances, explaining they had the choice of freezing their application for fall consideration, applying for a $55 application fee refund or attending either the Bothell or Tacoma branch campuses.
Also see:
The Seattle Times: No new students at UW in Seattle this spring
The Chronicle of Higher Education: "Admissions Officials Anticipate a Spring of Uncertainty"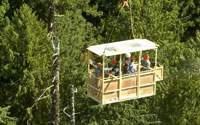 Researchers ride in the gondola of the 28-story Wind River Canopy Crane being used to study, among other things, tree mortality in the Gifford Pinchot National Forest in southwest Washington.

Tree Death Rate in Pacific Northwest Doubled in 17 Years
Trees are dying twice as fast as they did three decades ago in older forests of the western United States and scientists suspect warming temperatures are a contributing factor. In the Pacific Northwest and southern British Columbia, the rate of tree death in older coniferous forests doubled in 17 years. That rate of increase is about 1.5 times faster than California forests, where mortality rates took 25 years to double. California, however, still had the highest tree mortality rates at the end of the study. Mortality has been lowest for forests in the interior states and the rate of change was slower, taking 29 years to double. "This suggests that one, or several, northwestern tree species are sensitive to whatever is going on," says Jerry Franklin, a professor of forest resources at the University of Washington and one of 11 co-authors of a report in the Jan. 23 issue of Science. Read more...
Also see:
The Seattle Times: "Northwest tree die-off likely due to warming trend, study says"
Washington Post: "Study Ties Tree Deaths To Change in Climate"


Compostable Coca-Cola Cup Launched at University of Washington
The University of Washington is the pilot site for the first compostable paper cup designed specifically for soft drinks and made from renewable resources. The cup, developed for Coca-Cola® fountain drinks, was created by International Paper in cooperation with the UW and Cedar Grove Composting. With the addition of the compostable cup, there is a potential for 150,000 fewer cups to go to landfills annually, and the university's impact on the environment will be lessened. Read more...
Also see:
KING5.com: "Coca-Cola goes compostable at UW"


Two UW Faculty Receive Presidential Early Career Award for Scientists and Engineers
Two faculty members at the University of Washington have received the 2007 Presidential Early Career Award for Scientists and Engineers. Maya Gupta, assistant professor in the Department of Electrical Engineering and adjunct in the Department of Applied Mathematics, and Michael J. MacCoss, UW assistant professor in the Department of Genome Sciences, were among those honored Dec. 19 at a White House ceremony where 67 researchers were presented with the prestigious award. The award is the highest honor given by the U.S. Government to scientists and engineers beginning their careers. The award comes with $1 million in research funding for each recipient. Read more...


President Obama's Dreams from My Father Named Common Book for 2009
The UW's next Common Book will be President Barack Obama's 1995 memoir, Dreams from My Father: A Story of Race and Inheritance. It's the UW's fourth Common Book—volumes that are chosen each year to be studied by incoming freshmen and celebrated with campus discussions and activities. The aim of the Common Book project is to introduce freshmen to the University's academic community through a shared reading experience and events related to the book. "The story is that of a search for identity, identity as an individual and identity as a citizen," says Gene Edgar, professor of education and one of two co-chairs of the 18-member Common Book Committee. Read more...


Brandon Fandom: Feb. 20 Is Husky Night with Brandon Roy and the Portland Trail Blazers
Paint the Rose Garden purple and cheer on former Husky All-American and NBA All-Star Brandon Roy as the Portland Trail Blazers take on the Atlanta Hawks Feb. 20 in Portland. UWAA members get discounted tickets and access to a private post-game Q&A with Brandon Roy. Get more information and register online.
Check It Out
Offbeat and/or outstanding UW-related links:
February 2009 UW NewsLinks Trivia Contest
This year marks the 100th anniversary of the Alaska-Yukon-Pacific Exposition, a seminal event in Seattle's and the UW's history, which ran from June 1 to Oct. 16, 1909. The first world's fair ever held in the Pacific Northwest, it attracted more than 3 million visitors. It's midway area, known as the Pay Streak, ran from Northeast 40th Street to the shore of Lake Union. Which of the following was not an attraction featured on the Pay Streak?
1. The Salmon Grab Amusement
2. The Captive Balloon Amusement
3. The Educated Horse Amusement
4. The Hindoo Mystery Amusement
5. The Human Laundry Amusement
Answer this month's question

Last Month's Answer
In last month's trivia question, we asked how many tornadoes were reported over Washington State between 1950 and 2005, according to UW Professor Cliff Mass' new book The Weather of the Pacific Northwest. See the answer.

Trivia Contest Rules

Resources
About UW NewsLinks

UW NewsLinks is a free, monthly e-newsletter for alumni and friends about the University of Washington. Prepared by the editors of Columns, it features the same mix of campus news and features but also provides links to fascinating (and unusual) UW-related Web sites and a monthly trivia contest.

If you do not wish to receive UW NewsLinks or want to change your contact information, see details at the bottom of this e-mail about updating your preferences.

Photo credits:
*Wind River Canopy Crane: Photo by Mary Levin.

Contact Us

UW Alumni Association
1415 NE 45th St.
Seattle, WA 98105
206-543-0540 or 1-800-AUW-ALUM or
uwalumni@u.washington.edu

Statements and quotes do not necessarily represent the official position of the University of Washington or the UW Alumni Association. Use of this list by commercial organizations is prohibited by the State of Washington.

Copyright 2009 UW Alumni Association. All rights reserved.