Contents
In This Issue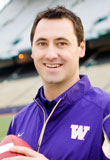 Steve Sarkisian

Sarkisian Era Begins with Extreme Makeover
Steve Sarkisian, the UW's recently hired head football coach, wasted little time constructing his new coaching staff, making several key appointments by mid-December. Sarkisian will replace every member of outgoing coach Tyrone Willingham's staff. The former BYU quarterback, who at 34 has enjoyed an unusually swift rise through the coaching ranks, comes to the UW from USC, where he was assistant head coach and offensive coordinator.
Also see:
Seattle Post-Intelligencer: "Sarkisian cleans house at UW"
Seattle Post-Intelligencer: "Sarkisian fills out coaching staff"
The Seattle Times: "New UW football coach Steve Sarkisian makes a quick rise in profession"
Spokesman Review (John Blanchette): "Only Time Will Tell for Sarkisian"
The Olympian (Don Ruiz): "To win with Huskies, Sarkisian will need to find better players"
Seattle Post-Intelligencer (Art Thiel): "Anti-Ty's mission: Restore passion"


Lean State Budget Hits Higher Education Right in the Wallet
When Gov. Chris Gregoire introduced her 2009-11 budget, she warned that many people were "going to hate it," and she was right. Advocacy groups and state legislators have voiced strong opposition to the austere budget, with its combination of freezes and cutbacks on spending for education and social services. UW President Mark Emmert said in a statement that cuts to the University amounting to $116 million may be "pennywise but pound foolish," and pledged to work with the Legislature to arrive at a budget that "does not do the kind of damage from which it may take years and years to recover." The budget has also been lauded for its frugality by some observers.
Also see:
President Mark Emmert's Statement Regarding Gov. Gregoire's Proposed Budget
Puget Sound Business Journal: "Tough budget forces hard choices on UW"
Seattle Post-Intelligencer: "Frugal budget wins few friends"
The News Tribune: "Gregoire's budget: Freeze, cut"
The Daily News: "Advocacy groups voice opposition to proposed budget"
HeraldNet: "Gregoire's budget plan: Painful but responsible"


Snohomish County Campus Delayed
Disagreements among Snohomish County lawmakers over where to build a new UW campus have kept the plan from moving forward. The state Higher Education Coordinating Board was expected to announce a location in early December, but legislators failed to settle on either of two favored sites—near Marysville or in downtown Everett. Now, with budget cutbacks affecting all areas of the UW, some fear that the window of opportunity to approve startup money for the new campus may have closed.
Also see:
The Seattle Times: "UW north campus plans delayed again"
The Seattle Times: "Put a Snohomish County campus into writing"
HeraldNet: "Report advises unity on UW branch campus in county"


Global Childhood Immunization Coverage Growing at Only Half the Officially Reported Rate
A new study by the Institute for Health Metrics and Evaluation (IHME) at the University of Washington reveals troubling gaps between the number of children reported by countries to be immunized and numbers based on independent surveys in countries receiving aid money from the Global Alliance on Vaccines and Immunizations (GAVI) Immunizations Services Support (ISS) program. The study, "Tracking progress towards universal childhood immunizations and the impact of global initiatives," appears in the Dec. 13 issue of The Lancet. The study examines the number of children receiving diphtheria, tetanus and pertussis (DTP3) immunizations in 193 countries from 1986 to 2006. The analysis shows that while there have been continual improvements globally in the proportion of children immunized against DTP3, this has increased only gradually over time and not to the level suggested by countries' official reports. Read more...
Also see:
U.S. News & World Report: "Independent Audit of Global Child Immunizations Urged"
USA Today: "Study: Nations inflate vaccine numbers to get more aid"
The Seattle Times: "Report: Nations exaggerated numbers of vaccines in Gates-funded program"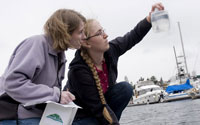 Jaqui Neibauer and Brittany Kimball of the University of Washington check a sample using a SoundCitizen water testing kit.

Spicing Up Your Holidays Is Recipe for Spicing Up Puget Sound as Well
'Tis the season and the waters of Puget Sound are "flush" with holiday spices and flavorings. Individuals and water managers alike are concerned about the antibiotics, painkillers, hormones and other substances that are swallowed, pass through us and become part of the treated sewage water that flows into Puget Sound. Measuring flavorings is a benign way of learning how substances may circulate, concentrate or dissipate in the Sound. The sampling also emphasizes just how connected our actions are to Puget Sound, according to Rick Keil, a University of Washington associate professor of oceanography. Read more...
Also see:
Scientific American: "Sewage Reveals Patterns of Illicit Drug Use"


Mass Appeal: UW Weather Expert Mass Correctly Forecasts His Own Book's Strong Sales
Cliff Mass, professor of atmospheric sciences at the UW and well-known expert on local weather, can add another successful prediction to his résumé. His book, The Weather of the Pacific Northwest, nearly sold out its initial printing of 15,000 copies after only two months on the shelves, creating a holiday shortage that Mass himself foresaw. "There are an amazing number of weather fanatics in the Northwest," he told the Seattle Post-Intelligencer.
Also see:
Seattle Post-Intelligencer: "Northwest climate book's sales snowball"
Seattle Post-Intelligencer: "UW professor gives an illuminating lesson on the Northwest's complex weather"
The Olympian: "Escape winter weather while learning about it"
Cliff Mass Weather Blog


UW Physicians, Researchers Tops on 2008 Lists
On the heels of news that Washington has moved up to the 10th healthiest state in the nation, according to the United Health Foundation, University of Washington physicians and researchers are also making their mark on some top health-related lists for 2008. Read more...


Career Discovery Week: For Those Who Refuse to Participate in a Recession
UW Career Discovery Week has never been bigger—or more necessary. Now in its 10th year, the annual three-campus career extravaganza includes more than 150 panel presentations, job fairs, networking events and more. At a time of low economic growth and high economic anxiety, it promises to offer much-needed sources of support and guidance to not only UW students, but alumni at all stages of their careers. Sponsored by Chipotle and presented by the UW Alumni Association, UW Career Center and numerous other partners across all three campuses, Career Discovery Week runs from mid-January through mid-February, with the largest concentration of events occurring Jan. 26-30. Find out more on the CDW Web site.

Check It Out
Offbeat and/or outstanding UW-related links:
January 2009 UW NewsLinks Trivia Contest
The Pacific Northwest is not known for twisters, but the occasional tornado does put in an appearance in this corner of the country. According to UW Professor Cliff Mass' new book, The Weather of the Pacific Northwest, how many tornadoes were reported over Washington state between 1950 and 2005?
1. 5
2. 17
3. 49
4. 94
5. 164
Answer this month's question

Last Month's Answer
In last month's trivia question, we asked which of five people associated with the recently concluded presidential campaign had briefly attended the UW. See the answer.

Trivia Contest Rules

Resources
About UW NewsLinks

UW NewsLinks is a free, monthly e-newsletter for alumni and friends about the University of Washington. Prepared by the editors of Columns, it features the same mix of campus news and features but also provides links to fascinating (and unusual) UW-related Web sites and a monthly trivia contest.

If you do not wish to receive UW NewsLinks or want to change your contact information, see details at the bottom of this e-mail about updating your preferences.

Photo credits:
*Neibauer and Kimball: Photo by Mary Levin.

Contact Us

UW Alumni Association
1415 NE 45th St.
Seattle, WA 98105
206-543-0540 or 1-800-AUW-ALUM or
uwalumni@u.washington.edu

Statements and quotes do not necessarily represent the official position of the University of Washington or the UW Alumni Association. Use of this list by commercial organizations is prohibited by the State of Washington.

Copyright 2009 UW Alumni Association. All rights reserved.