Contents
In This Issue
Did You Know?
Two UW professors are serving as part of President-elect Obama's transition team. Find out who they are...
Sour Economy Means More Students at the UW
The economic downturn has meant an enrollment uptick at the University of Washington. The University's student body is about 1,100 bodies larger than it was projected to be, which has increased class sizes and put a strain on some resources. Officials are attributing much of the overenrollment to the contracting economy, with more young people choosing the safety of school over the uncertainty of the job market. Read more...
Also see:
The Olympian: "Colleges told to prepare for funding crunch"
Seattle Post-Intelligencer: "State deficit hits colleges"
Seattle Post-Intelligencer: "Crisis batters UW investments"
The Seattle Times: "Washington's higher ed prepares for cuts up to $600M"
Seattle Post-Intelligencer (Marguerite Roza and Robin Lake, guest columnists): "Schools: Look for ways to get better results for less money"
The Seattle Times: "UW president won't take pay raise this year"


John Vinson Selected as UW Chief of Police
John N. Vinson, who currently is undersheriff for the Isabella County Sheriff's Department in Mount Pleasant, Mich., has been selected as the chief of police at the University of Washington. His appointment will be effective in February 2009. Read more...
Also see:
The Seattle Times: "UW names new campus police chief"
Seattle Post-Intelligencer: "New UW police chief comes from Michigan"


A Ku Klux Klan gathering in downtown Seattle's Crystal Pool in March 1923.

Web Site Exposes Previously Undocumented KKK Activity in Washington
University of Washington scholars have shined new light on one of the darkest chapters of Washington history—the days when the Ku Klux Klan was a temporary force in the state. It was a brief era when the Klan had tens of thousands of members. KKK rallies once drew crowds estimated at 50,000 as the Klan entered floats in parades, held weddings and Christmases and even published its own newspaper, The Watcher in the Tower, in Seattle. Historians have created a special section about KKK activities in the state during the 1920s as part of the Seattle Civil Rights and Labor History Project, headed by James Gregory, UW professor of history and director of the Harry Bridges Center for Labor Studies. Read more...
Also see:
Seattle Civil Rights and Labor History Project site
KIRO TV: "UW Scholars Find Previously Undocumented KKK Activity In State"


School of Drama Peeks Behind the Iron Curtain with Powerful Comedy, "The Quick-Change Room"
The UW School of Drama continues its 2008-09 season with The Quick-Change Room: Scenes from a Revolution, Nagle Jackson's hilarious and powerful backstage comedy about a Russian theater group transforming itself from the Communist economy to capitalism. The Quick Change Room previews Monday and Tuesday, Dec. 1 and 2, and opens Wednesday, Dec. 3. It runs through Dec. 14 in the Penthouse Theatre. The cast features the MFA Acting Class of 2010. Read more...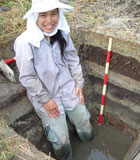 Kruawun Jankaew led a team of geologists who unearthed evidence that tsunamis have repeatedly washed over a Thai island during the last 2,800 years.

Scientists Find Evidence of Tsunamis on Indian Ocean Shores Long Before 2004
A quarter-million people were killed when a tsunami inundated Indian Ocean coastlines the day after Christmas in 2004. Now scientists have found evidence that the event was not a first-time occurrence. A team working on Phra Thong, a barrier island along the hard-hit west coast of Thailand, unearthed evidence of at least three previous major tsunamis in the preceding 2,800 years, the most recent from about 550 to 700 years ago. That team, led by Kruawun Jankaew of Chulalongkorn University in Thailand, included Brian Atwater, a University of Washington affiliate professor of Earth and space sciences and a U.S. Geological Survey geologist. Read more...
Also see:
The Seattle Times: "Scientists discover a historical record of massive tsunamis"
Seattle Post-Intelligencer (AP): "Killer tsunami's lessons for the Northwest?""


Like Rest of Society, Doctors Implicitly Favor Whites Over Blacks
In the first large study to explore possible unconscious bias among physicians, researchers have found that doctors mirror the attitudes of the majority in society and implicitly favor whites over blacks. "This supports speculation that subtle race bias may affect health care, but does not imply that it will," saiys University of Washington researcher Janice Sabin, who presented the study in San Diego Oct. 28 at the American Public Health Association's annual meeting. "This research is too preliminary to know if there is a direct relationship between physicians' implicit, or unconscious, racial attitudes and the quality of medical care." Read more...
Also see:
The New York Times: "In Bias Test, Shades of Gray"
The Washington Post: "Doctors Show Bias Against Black Patients: Study"
Seattle Post-Intelligencer: "Study finds race bias among doctors"


New Book Will Tell Much You Didn't Know About Northwest Weather
If you've ever wondered what the heck a convergence zone is, what a rain shadow is or just where the Seattle area ranks in terms of annual rainfall, you'll find answers in a new book from a University of Washington expert on Pacific Northwest weather. The Weather of the Pacific Northwest, by UW Atmospheric Sciences Professor Cliff Mass, explains many weather phenomena of Washington and Oregon, from snowstorms that hit only a tiny area to powerful windstorms that have ripped through the entire region. Read more...
Also see:
Seattle Post-Intelligencer: "UW professor gives an illuminating lesson on the Northwest's complex weather"


In a Contracting Economy, an Expanding Career Discovery Week
It's a good thing UW Career Discovery Week is continuing to grow, because the economy certainly isn't. Now celebrating its 10th year, CDW has become the largest event of its kind in the country—a three-campus extravaganza with more than 150 workshops, panel presentations, networking events and fairs. And it's no longer merely a service to students, either. Alumni at all stages of their careers can attend sessions designed specifically for them, whether they're interested in learning where opportunities may lie, how to market themselves, how to make a mid-career transition in a tightening economy, or all of the above. Career Discovery Week runs from mid-January to mid-February, with the largest concentration of events coming Jan. 26-30. Find out more on the CDW Web site.

Check It Out
Offbeat and/or outstanding UW-related links:
December 2008 UW NewsLinks Trivia Contest
Of the following people associated with the recent presidential campaign, which one briefly attended the UW?
1. Todd Palin, husband of vice-presidential candidate Sarah Palin
2. Libertarian presidential candidate Bob Barr
3. Joe Wurzelbacher ("Joe the Plumber")
4. Michael Goldfarb, spokesman for John McCain
5. Madelyn Dunham, Barack Obama's recently deceased grandmother
Answer this month's question

Last Month's Answer
In last month's trivia question, we noted that the longest unbeaten streak in college football history—the 63 games the UW won between 1908 and 1916—was not, in fact, a winning streak. We asked how many victories the UW had strung together before a 0-0 tie with Oregon State broke the streak in 1914. See the answer.

Trivia Contest Rules

Resources
About UW NewsLinks

UW NewsLinks is a free, monthly e-newsletter for alumni and friends about the University of Washington. Prepared by the editors of Columns, it features the same mix of campus news and features but also provides links to fascinating (and unusual) UW-related Web sites and a monthly trivia contest.

If you do not wish to receive UW NewsLinks or want to change your contact information, see details at the bottom of this e-mail about updating your preferences.

Photo credits:
*KKK: Washington State Historical Society photo
*Kruawun Jankaew: Photo by Brian Atwater.

Contact Us

UW Alumni Association
1415 NE 45th St.
Seattle, WA 98105
206-543-0540 or 1-800-AUW-ALUM or
uwalumni@u.washington.edu

Statements and quotes do not necessarily represent the official position of the University of Washington or the UW Alumni Association. Use of this list by commercial organizations is prohibited by the State of Washington.

Copyright 2008 UW Alumni Association. All rights reserved.