Contents
In This Issue
Willingham Resigns as UW Football Coach
Tyrone Willingham will step down as the University of Washington's head coach at the end of the season, he announced October 27. The Huskies are 0-7 this year and 11-32 since Willingham joined the program in 2005. The mid-season announcement gives the UW time to conduct a thorough search for a replacement, says Athletics Director Scott Woodward. Willingham was admired for his recruiting, his discipline and his love of the sport. But his teams had trouble winning games, and continually suffered setbacks just as they seemed ready to turn a corner.
Also see:
The Seattle Times: "UW coach Tyrone Willingham forced to resign"
Seattle Post-Intelligencer: "Willingham out as UW coach"
ESPN.com: "Willingham to step down as Huskies coach at season's end"
The Seattle Times: "Ty Willingham says he wrestled with decision to finish season"
Seattle Post-Intelligencer (Art Thiel): "Another messy exit for a UW coach"
Seattle Post-Intelligencer (Jim Moore): "Classy till end, Ty won't cry over his dismissal"
The Seattle Times (Jerry Brewer): "UW seeks savior as Ty Willingham heads toward exit"



Chet Moritz, left, and Eberhard Fetz in their UW lab.

Positive Movement: UW Research Breakthrough Offers Hope for the Paralyzed
UW researchers made international headlines in late October with the announcement that they had restored muscle movement to paralyzed monkeys. Their findings, published in the journal Nature, give hope to people suffering from paralysis as a result of spinal injury, stroke and other trauma. The research team, led by UW faculty members Chet Moritz and Eberhard Fetz, showed that an artificial connection between the brain cells of monkeys and their wrist muscles, which had been temporarily paralyzed with an anesthetic, allowed the monkeys to regain movement and control—enough to play a simple video game.
Also see:
UW News: "Brain nerve cells can directly control stimulation of paralyzed muscles through an artificial connection"
The Guardian: "The playing, paralysed monkeys that offer hope to spinal injury victims"
NPR: "Monkey Studies Could Help Paralyzed Humans"
USA Today: "Brain cell stimulates muscle to work, gives hope to humans"
NBC Nightly News: "New research may break hold of paralysis"


Regents Approve Early Step Toward Stadium Renovation
Both the economy and the football team are struggling, but the University of Washington is pushing ahead with plans to renovate Husky Stadium. On October 16, the Board of Regents authorized the University to negotiate with a contractor for the project, which will cost about $300 million. The next step is getting the state to pay for about half of that with tourist-tax revenue, which may be a tough sell at a time of governmental belt-tightening. UW President Mark A. Emmert and Athletics Director Scott Woodward hope to persuade the legislature that the renovation project would be a boon to the region's economy, and potentially less expensive to do now because construction spending is down across the state.
Also see:
Seattle Post-Intelligencer: "UW moves forward with Husky Stadium plans"
The Seattle Times: "UW regents approve first steps in stadium remodel"
KING5: "UW regents approve cash for stadium renovation"


What's the Big Idea? Five UW Scientists Get Grants for "Grand Challenges"
UW Professor Keith Jerome received a $100,000 grant from the Bill & Melinda Gates Foundation to test what he calls a "crazy idea"—he thinks he can develop an AIDS cure by training a protein to attack cells infected with HIV. The grant was one of 104 that the foundation handed out in late October as part of its Grand Challenges Explorations program, which supports biomedical research projects that fall outside the dominant paradigms and might not get funded otherwise. "This is certainly off the beaten track," Jerome told The Seattle Times. "We now have a year to try to show that this crazy idea just might work." Four other UW scientists also received Grand Challenges grants.
Also see:
UW News: "Five UW researchers receive $100,000 Gates Foundation Grand Challenges Explorations grants for innovative global health research"
The Seattle Times: "UW researcher gets Gates grant to test HIV cure"
Seattle Post-Intelligencer: "Gates Foundation awards $10 million in grants for 'crazy' ideas"


Food Chain: New System Will Rank Foods by Nutritional Value
Comparing apples and oranges has gotten a bum rap. There are times when it would be useful to know which of the two is healthier, which has more nutritional value for the buck, and so on. That's where the Nutrient Rich Foods Coalition comes in. Led by UW Professor Adam Drewnowski, the group is working on a simple coding system that would rate the comparative nutritional values of all sorts of foods. Read more...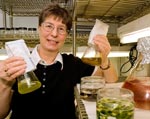 Rose Ann Cattolico displays some of the varieties of algae she studies in her UW laboratory. Different types of algae can produce different types of biofuels.

The Latest Source of Green Energy? Algae.
If, in 15 years, you're driving a car powered by pond scum, you'll probably have Rose Ann Cattolico to thank. The UW biology professor thinks algae is the most promising source of alternative energy out there, because it grows so fast and produces so much vegetable oil. And the people at Allied Minds, a Boston-based venture capital firm, agree. Through the UW Office of Technology Transfer, they've partnered with Cattolico to create the UW's first biofuels startup. Known as AXI, it will develop prolific and hardy strains of algae from which other companies can extract fuel oil.
Also see:
Seattle Post-Intelligencer: "Algae fueling the green revolution"
UW News: "Whether brown or red, algae can produce plenty of green fuel"




Stephanie Smallwood

UW Prof's Book Wins Frederick Douglass Prize
Stephanie E. Smallwood, an associate professor of history at the UW, has received the most generous prize in her field. She won the 2008 Frederick Douglass Book Prize for her book Saltwater Slavery: A Middle Passage from Africa to the American Diaspora. Presented by Yale University, the $25,000 prize honors the best book of the year on the subject of slavery or abolitionism.
Also see:
University Week: "UW professor wins 2008 Frederick Douglass Book Prize"
Seattle Post-Intelligencer: "UW professor wins Frederick Douglass Book Prize"


A Note of Thanks
As Thanksgiving approaches, we at the UW Alumni Association would like to express our thanks to a group of people who make everything we do possible: our members. From the amazing lectures and campus events we put on to the more than $200,000 we raise every year for student scholarships—none of it would happen without you. You're 50,000 of the best friends an alumni association could ask for, and we're profoundly grateful to you. To learn more about the UWAA and what we do, visit UWalum.com. Not a member? We'd love to have you join the UWAA.

Check It Out
Offbeat and/or outstanding UW-related links:
November 2008 UW NewsLinks Trivia Contest
The UW still owns the longest unbeaten streak in college football—63 games, beginning in 1908—but only the second longest winning streak. The Sun Dodgers' string of victories was spoiled by a tie with Oregon State in 1914. How many consecutive games had the UW won at that point?
A. 33
B. 39
C. 44
D. 45
E. 47
Answer this month's question

Last Month's Answer
In last month's trivia question, we noted that UW Earth and Space Sciences Professor David Montgomery had won a $500,000 fellowship from the MacArthur Foundation and asked how many MacArthur "genius grant" recipients the UW now has on its faculty. See the answer.

Trivia Contest Rules

Resources
About UW NewsLinks

UW NewsLinks is a free, monthly e-newsletter for alumni and friends about the University of Washington. Prepared by the editors of Columns, it features the same mix of campus news and features but also provides links to fascinating (and unusual) UW-related Web sites and a monthly trivia contest.

If you do not wish to receive UW NewsLinks or want to change your contact information, see details at the bottom of this e-mail about updating your preferences.

Photo credits:
*Moritz & Fetz: Photo by Clare McLean.
*Rose Ann Cattolico: Photo by Mary Levin.

Contact Us

UW Alumni Association
1415 NE 45th St.
Seattle, WA 98105
206-543-0540 or 1-800-AUW-ALUM or
uwalumni@u.washington.edu

Statements and quotes do not necessarily represent the official position of the University of Washington or the UW Alumni Association. Use of this list by commercial organizations is prohibited by the State of Washington.

Copyright 2008 UW Alumni Association. All rights reserved.