Contents
In This Issue
University of Washington Ranked 11th Best Public University by U.S. News
The University of Washington was ranked the 11th best public university in the most recent edition of America's Best Colleges released by U.S. News & World Report. The UW was ranked 41st overall among national universities both public and private. No other school in the Pacific Northwest was ranked among the top 100 national universities. Read more...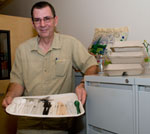 Michael Meyering, project manager for Housing and Food Services, shows a range of biodegradable, compostable cutlery for use at the UW. HFS is working with Cedar Grove Recycling to find cutlery that's compostable and yet holds up to hotter foods.

UW Leads the Way in Use of Compostable Tableware
In January, a citywide ban on foam and plastic containers will take effect for all businesses that serve food. But the UW is already in compliance, having switched to compostable containers in 2007. After some initial difficulties, the policy is a clear success. Read more...




Hanson Hosein

Two Views of Katrina from Two UW-Connected Filmmakers
A UW professor and a UW graduate each premiered documentaries last month that focus on Hurricane Katrina and its long-term effects on New Orleans. Communication Professor Hanson Hosein takes a look at small-business owners struggling to rebuild in Independent America: Rising from Ruins. And UW alumnus Rustin Thompson, '81, together with his wife, Ann Hedreen, trained their lens on a group of Seattle volunteers helping to rebuild the Blessed Seelos Catholic Church in The Church on Dauphine Street. Read more...

Bugs Put the Heat in Chili Peppers
If you're a fan of habanero salsa or like to order Thai food spiced to five stars, you owe a lot to bugs, both the crawling kind and ones you can see only with a microscope. New research shows they are the ones responsible for the heat in chili peppers. The spiciness is a defense mechanism that some peppers develop to suppress a microbial fungus that invades through punctures made in the outer skin by insects. The fungus, from a large genus called Fusarium, destroys the plant's seeds before they can be eaten by birds and widely distributed. "For these wild chilies the biggest danger to the seed comes before dispersal, when a large number are killed by this fungus," said Joshua Tewksbury, a University of Washington assistant professor of biology. "Both the fungus and the birds eat chilies, but the fungus never disperses seeds—it just kills them." Read more...
Also see:
The Seattle Times: "Chilies' spicy flavor wards off seed-killing fungus"
Science Daily: "Bugs Put The Heat In Chili Peppers"
National Geographic: "Fungus Puts the Heat in Chili Peppers, Study Says"
The New York Times: "The Greater the Threat, the Hotter the Chili"
Los Angeles Times: "Chile peppers' spice is a built-in pesticide"

What's Next for the Henry?
Seattle Times art critic Sheila Farr chats with Sylvia Wolf, the new director of the Henry Art Gallery. Previously, Wolf was head of photography at the Whitney Museum in New York. Read more...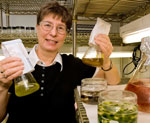 Rose Ann Cattolico displays some of the varieties of algae she studies in her University of Washington laboratory. Different types of algae can produce different types of biofuels.

Whether Brown or Red, Algae Can Produce Plenty of Green Fuel
Having studied the physiology of algae for more than 30 years, Rose Ann Cattolico is convinced the plant life found in oceans and ponds can be a major source of environmentally friendly fuels for everything from cars and lawn mowers to jet airplanes. She's not the only one. Recently Allied Minds, an investment company that works with universities to commercialize early-stage technology, invested in the UW biology professor's work, forming a startup company called AXI. Read more...
Also see:
The Seattle Times: "UW spins off first biofuels startup"
Seattle Post-Intelligencer: "Technology Briefing: UW spins out new clean technology firm"
KOMO News: "Could pond scum break our oil dependency?"

In "Liberal" Pacific Northwest, It's Evangelical Churches that Flourish
James K. Wellman, chair of the UW's Comparative Religion Program, did extensive research on regional churches for his new book Evangelical vs. Liberal: The Clash of Christian Cultures in the Pacific Northwest. One of his most interesting discoveries, he writes, is that while many liberal or "mainline" churches face declining attendance, the evangelical churches are thriving. Read more...


Orin Smith Tapped for Evans School Speaker Series
Orin Smith, past president and CEO of Starbucks Corporation and chief of policy and finance for two Washington state governors, will present "Driving Change in the Government, Starbucks, and Beyond" October 6 in Kane Hall. It's the first installment in the new Leadership at the Crossroads lecture series hosted by the Evans School of Public Affairs and the UW Alumni Association. Read more...

Check It Out
Offbeat and/or outstanding UW-related links:
September 2008 UW NewsLinks Trivia Contest
The University of Washington ranked 41st among national universities in the recently released rankings from U.S. News & World Report. Where did the UW place in the same rankings last year?
A. 40th
B. 41st
C. 42nd
D. 43rd
E. 44th
Answer this month's question

Last Month's Answer
In last month's trivia question, we noted that the UW School of Social Work offered nine endowed scholarships prior to the start of Campaign UW, and asked how many it now offers. See the answer.

Trivia Contest Rules

Resources
About UW NewsLinks

UW NewsLinks is a free, monthly e-newsletter for alumni and friends about the University of Washington. Prepared by the editors of Columns, it features the same mix of campus news and features but also provides links to fascinating (and unusual) UW-related Web sites and a monthly trivia contest.

If you do not wish to receive UW NewsLinks or want to change your contact information, see details at the bottom of this e-mail about updating your preferences.

Photo credits:
*Meyering of HFS: Kathy Sauber
*Cattolico: Mary Levin

Contact Us

UW Alumni Association
1415 NE 45th St.
Seattle, WA 98105
206-543-0540 or 1-800-AUW-ALUM or
uwalumni@u.washington.edu

Statements and quotes do not necessarily represent the official position of the University of Washington or the UW Alumni Association. Use of this list by commercial organizations is prohibited by the State of Washington.

Copyright 2008 UW Alumni Association. All rights reserved.