Meet the Staff
Pauline Ranieri
Director

Pauline in Bhutan
Pauline Ranieri has directed the UW Alumni Tours program for more than 20 years. Under her leadership, the program has grown into one of the largest and most successful alumni travel programs in the U.S. Prior to joining the UW Alumni Association, Pauline served as tour manager and operations supervisor with Contiki America and as tour manager with Contiki Europe. She holds a Bachelor of Arts degree in journalism from the University of Montana. Her travels have taken her to the Galapagos Islands, all over Europe, Vietnam, South Africa, Egypt, China, Australia, New Zealand, Peru, India, Botswana, Myanmar and Zanzibar.
Susan Cathcart
Assistant Director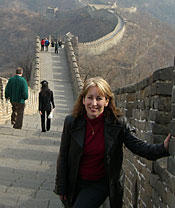 Susan on the Great Wall
Susan is a graduate of the University of Washington with a degree in History and Sociology. She is fortunate to have traveled the world, having explored Europe, Asia, Africa, Russia, and Australia for pleasure and for work. Susan has been a member of the UW Alumni Tours travel team for over 3 years and oversees smaller specialty trips such as Kayaking, Oregon Shakespeare Festival and other niche tours. Prior to joining the UWAA team she was involved in the non-profit arts community with a focus on membership and travel planning.
Mika Mochida
Mika Mochida graduated in December 2010 with a masterís degree in political science from the University of Hawaii at Manoa. She loves to travel and has been to Japan, Australia, Samoa and all over Europe. A favorite destination of hers is Germany where, in addition to multiple family trips, she spent a summer abroad in Berlin during her undergraduate studies. She is excited to be a part of the UW Alumni Tours team!