Message from the Director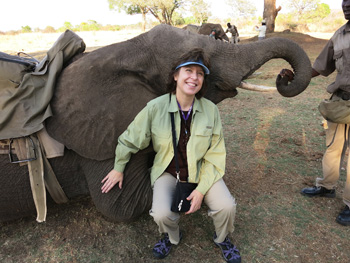 There's a lot to love about working for UW Alumni Tours, but one of my favorite tasks is researching trips that will either enrich our program by reaching new audiences or attracting past travelers to another trip. Next year, we are offering three specialized trips that I'm excited about.
Costa Rica: UW Professor Emeritus James Karr will accompany this birding and light adventure trip. (A brochure won't be mailed for this trip; see our website for details.)
Tanzania: Women to Women Cultural Exchange: This educational and enchanting itinerary will focus on the lives of women in Tanzania.
Ecuador & Galapagos Family Adventure: This tour's content is designed to appeal to children of all ages. Full information is coming soon!
While researching new trips is great fun, I love to leave the office behind and host a tour. I get to experience a tour firsthand, but more importantly, I spend time with travelers like you. It's always a welcome opportunity to discuss why you signed up for a particular tour, what types of trips you want us to offer, and what you look for in a tour. I'm thrilled to have two tours on my calendar and invite you to join me on one of these adventures: Myanmar (Nov. 2013) or the aforementioned Tanzania: Women to Women Cultural Exchange (March 2014).
Wildlife and natural beauty are at the heart of two exciting trips. Room for two just opened up on our Uganda tour (Nov. 11 – 27), accompanied by UW Professor Emeritus James Karr. Enjoy this exotic intersection of savannas, jungles, and rainforests while discovering a variety of big game animals. Another exciting trip is our Machu Picchu and the Galapagos itinerary, which has been incredibly popular this year — so popular that we're offering four departures. There are still openings on the November tour, so cross these one-of-a-kind destinations off your bucket list and join us!
For final details on these trips and the most updated information on all of our tours, please check out our website or email us at uwaatour@uw.edu.
Susan and I hope that you are enjoying lovely spring weather, wherever you are.
Happy travels,

Pauline Ranieri
Director, UW Alumni Tours
---
Featured Tours
Mysteries of Myanmar
Oct. 29-Nov. 11, 2013 and Jan. 31-Feb. 13, 2014

Uncover the enigmatic country of Myanmar while learning about its people and religious history. You'll tour the Shwedagon Pagoda, learn about Burmese Buddhism, visit traditional farming villages, and experience the Five-Day market at Inle Lake.

Cuba—The People, Culture and Art
Nov. 11-18, 2013 and Feb. 3-10, 2014

Explore this fascinating Caribbean country, rich with culture, architecture, and history. You'll explore the Museo de la Revolucion, discover Old Havana, learn about Cuba's legendary cigar industry, and more.
Treasures of Peru
Nov. 11-21, 2013

Connect a rich past with the fascinating present on our immersion in Peruvian culture. Spend time exploring the ruins at Machu Picchu, walking the cobblestone streets of beautiful city of Cuzco, and so much more.

Panama Canal
... aboard the Crystal Serenity
Jan. 5-18, 2014

Escape winter's chill by enjoying the pristine Grand Cayman Islands, the rich history of Colombia, the beautiful bays of Mexico, and the marvelous Panama Canal. Special pricing is available until June 5!
Eastern & Oriental Express
Jan. 22-Feb. 3, 2014

Explore southern Asia's mix of colors, landscapes and cultures via train with this unforgettable journey. From bustling Bangkok to breathtaking Bali, you'll discover ancient beauty and modern gems. Special pricing is available until June 5!

And that's not all! More tours, including our full schedule of 2014 programs, are available on our website. Our website is updated weekly, so continue to check back; if you're interested in a specific tour and want to be contacted when more details are available, send us an email at uwaatour@uw.edu.
---
Welcome Back!
Welcome Back UW Travelers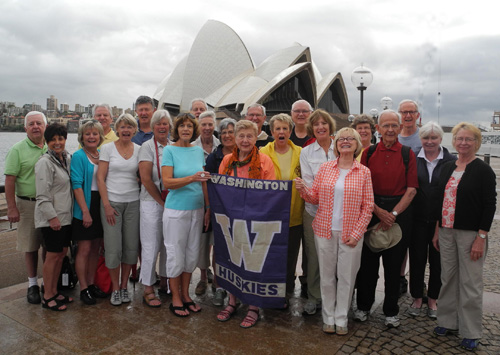 Australia and New Zealand
February 23–March 15, 2013
*Note: This tour had such a long waitlist that we are repeating it next year: February 12-March 5, 2014!
---
Announcements
UWAA Sports Travel
The UW Alumni Association has teamed up with Premiere Global Sports to offer football fan travel packages to both the Arizona State and Stanford games in 2013. Looking ahead to 2014, we are excited to offer new travel packages to both the Masters (April 9 – 12) and the Kentucky Derby (May 1 – 4). These two packages are also open to other collegiate alumni associations, so space is limited. Learn more about these opportunities!
---
UW Alumni Association


1-800-AUW-ALUM
uwalumni@uw.edu