Message from the Director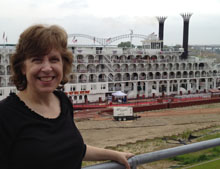 Steamboatin' on the Mississippi is back!
I recently spent three nights on the inaugural cruise of the American Queen, the 463-passenger paddle wheeler that has been brought back to life by the Great American West Steamboat Company. It was quite exciting to be part of the christening ceremony, listening to the ship's godmother, Priscilla Presley, talk about the boat's significance to the city of Memphis, along with listening to Judy Whitney Davis sing Old Man River and Joyce Cobb sing America the Beautiful. It was my first time back on the river since 1996 and I was quickly reminded of what a wonderful experience it is to cruise America's heartland. Our first UW alumni cruise on the American Queen is taking place this fall—Old-Fashioned Holidays on the Mississippi River, November 30–December 9. For 2013, we've confirmed space on a civil-war themed itinerary, April 5–14. We hope you can join us on one of these upcoming cruises.
In future emails from us, you'll want to keep an eye out for the 'paperless savings' opportunities offered by our long time travel partner, AHI Travel (formerly Alumni Holidays). These promotions offer an additional $250 per person savings, if the advertised tour is booked by a specific date. Act quickly to take advantage of the current 'paperless savings' for our Southeast Asia trip as it expires on May 29. Click here for details.
Did you know that the UW Alumni Association is sponsoring a travel package, with or without air, to the LSU versus UW football game? If you're planning to travel to Louisiana for the September 8 game and haven't yet made your travel plans, please click here for details on our travel package.
Our 2013 tour schedule is up on our website and both Susan and I think it includes some of our most interesting itineraries to date. Also in the works is a new Costa Rica program focusing on light adventure and birding. UW Emeritus Professor and ornithologist James Karr, is lined up to accompany this March trip. I'll also post details on an early winter tour to Cuba as soon as the information is final.
For details on these trips and the most up-to-date information on all our tours, please continue to check out our website or e-mail us at uwaatour@uw.edu.
Best,

Pauline Ranieri
Director, UW Alumni Tours
---
Featured Tours
Southern Africa
...aboard the six-star Silver Sea
January 14–26, 2013
Special pricing applies if booked by June 28
The combination of a six-star, all-suite small ship and a unique itinerary along the southeast coast of South Africa, makes this an exciting trip for anyone looking for a different cruise experience. Ports of call include Port Elizabeth, Maputo (Mozambique), Richards Bar, Durban and East London.


Ecuador
February 5–16, 2013
A warm climate, incredible natural beauty, an indigenous and Colonial culture— these and much more are awaiting your discovery on our 10-night exploration of Ecuador. Throughout the trip, you'll enjoy educational lectures and special excursions, all adding up to a fabulous adventure in this small equatorial country.

A 'paperless savings' of $250 per person is available if you book by June. 28. Click here for details.

Provence—Adventures in International Living
March 30–April 28, 2013
Spend a month in the small town of Aix and immerse yourself in all things French! Live in an apartment in the center of Old Town and spend your days learning all about the local lifestyle through pre-arranged educational programs and by individual exploration. Springtime in Provence—what could be better!

A 'paperless savings' of $250 per person is available if you book by June. 28. Click here for details.
---
Space Available
Space is Also Available on These Upcoming Alumni Tours
National Parks: Yellowstone & Grand Teton National Parks September 1-10
Turkey: Istanbul, Ephesus, Antalya September 11-25
Southern Italy & Sicily: Taormina, Matera, Sorrento, Pompeii October 7-21
Africa's Wildlife: Botswana, Zambia, Victoria Falls October 28-November 11
Polar Bears: Churchill November 3-8
India: Pushkar Camel Fair, Dehli, Jaipur, Agra November 19-December 8
Mississippi: Memphis, Vicksburg, Baton Rouge November 30-December 9
See all of our tours, including our current list of 2013 offerings, on our website at UWalum.com/tours
---
Welcome Back!
Welcome Back Vietnam Travelers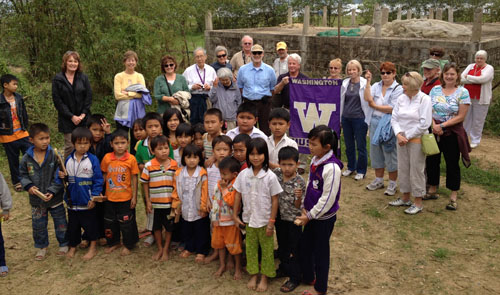 Vietnam
February 2-17, 2012
*Note: We're repeating this popular Vietnam itinerary February 7-22, 2013
---
Announcements
UW Night with the Mariners!
Join me for UW Night with the Mariners on Friday, July 13 and let the UW Alumni Association take you out to the ball game. The UWAA has discounted seats for UW alumni, faculty, staff and friends, and a portion of every ticket sold goes toward UW student scholarship programs. All attendees will also receive a free UW Night with the Mariners t-shirt at the game. Don't miss the Mariners vs. Texas Rangers, and grab your tickets today!
Too Many Travel Brochures?
Yes, there have been many tour brochures popping up in mailboxes lately – it's that time of year! If you would prefer to receive only our bi-annual catalog in the mail and hear about individual tours through e-mail announcements, please let us know and we'll update your record. Contact us at uwaatour@uw.edu.
---
UW Alumni Association


1-800-AUW-ALUM
uwalumni@uw.edu