Message from the Director
The UW Alumni Association has a new home. Actually, we've been installed in the UW Tower—formerly the Safeco Bldg. at 45th & Brooklyn—since August 2009. But when we moved from the old Alumni House to our current location, we lost a dedicated space to host our visitors and friends. Now, after several months of drywall, drills and Visqueen, the dust has settled to reveal the new Welcome Center at Washington Commons. Our new home officially opens this month, on Sept. 9, with a ribbon-cutting ceremony and more. We hope you'll drop by to see us and grab a tour soon!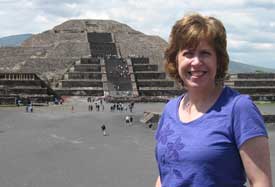 Have you been following the stock market lately? A Google map couldn't keep up with all its ups and downs. Something that is definitely not in free fall is the desire to travel, and we've been busy adding second departures to such popular trips as China, Vietnam, Costa Rica and Machu Picchu & the Galapagos. Check 'em out!
As I write this, I'm starting to get excited about the UW trip I'm hosting soon. I'll be accompanying 58 UW travelers on a fall foliage cruise to Canada and New England later this month. We'll start out in New York, then head north to Newport, Rhode Island, Boston and Bar Harbor, Maine, before entering Canada in Halifax, Nova Scotia. The cruise continues on to Prince Edward Island, and makes stops in Newfoundland and Quebec. I can't think of a better way to revel in the beauty of what is one of my most favorite seasons. To Oceania's surprise, this trip booked quickly. If you missed getting aboard this year, I'm thrilled to announce we've just added the same itinerary to our 2012 schedule. Consider joining us next year.
Finally, I wanted to let you know that Odysseys Unlimited, one of our longterm partners, was named a top 2011 tour operator and safari outfitter by Travel + Leisure. This is the fifth time Odysseys has earned a spot on Travel + Leisure's "World's Best" list. Frankly, we're not surprised. Odysseys' stellar reputation is one of the reasons we're sponsoring 15 trips with them next year. Take a look.
Wish I had more time to chat with you, but I've got to clean up my office before the ribbon-cutting ceremony, then there are the suitcases I have to pack for the cruise, and then. …See you on your next adventure!
Best,

Pauline Ranieri
Director, UW Alumni Tours
P.S.: Do you use Facebook? We do! We love being able to update our travelers with breaking news, or to share travel tips, photos and more. We'll be using Facebook a lot more in the future so please "like" us!
Highlighted 2011Tours
Canada & New England–NEW!
Oct. 7-19, 2012
Oceania's 2011 fall foliage trip sold out so quickly that the cruise line decided to reposition the Regatta to offer an encore of this popular trip. Don't miss an opportunity to experience autumn leaves in historic cities and picturesque ports in Rhode Island, Maine, Prince Edward Island, Newfoundland and more.
Morocco
Feb. 18-March 2, 2012
Imagine hearing Sam "play it again" when you explore Casablanca, Marrakech, Rabat, Fez and other stops on this fascinating tour through Morroco. Dig into a place where age-old cultures meet modern lifestyles, where vast desert gives way to hospitable people. We're returning to one of our favorite destinations!

Provincial French Countryside
April 20-May 4, 2012
There's more to France than Paris, as you'll see when you thread your way through the provincial regions, beginning in Toulouse, meandering through Languedoc, the Dordogne, the Loire Valley, Normandy and more. This is our first offering of this itinerary and we've already had a lot of advance interest. Don't get shut out!

Space Is Also Available on These Upcoming Alumni Tours
Egypt: Cairo, Nile River Cruise, Lake Nassar. Jan. 13–29
Costa Rica: Arenal Volcano, Monteverde Cloud Forest, San Jose. Jan. 19–30
Vietnam: Hanoi, Hue, Ho Chi Minh. Jan. 21–Feb.5
Cruise Through the Lesser Antilles: St. Lucia, Grenada, St. Barts. Jan. 27–Feb. 3
Mekong River: Vietnam, Cambodia, Laos. Jan. 31–Feb. 15
Hawaii: Maui to Kona cruise. Feb. 13–20
Antarctica: Buenos Aires, 9-night cruise. Feb. 15–28
... and many more for 2012...
See more tours on our website at uwalum.com/tours.

Welcome Back Portrait of Italy Travelers!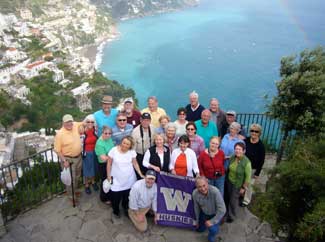 Portrait of Italy
April 30–May 16, 2011
"It was another fun time, with great people in a beautiful country! A highlight was visiting the beautiful little villages in Umbria and Tuscany and seeing them with new UW friends."
—Tom, '67, & Verna Hendrickson
Resources
About UW Alumni Tours E-News
The UW Alumni Tours E-news is a free E-newsletter produced by the UW Alumni Association's Tours department. The newsletter features the latest alumni tours, special deals and other announcements.