Message from the Director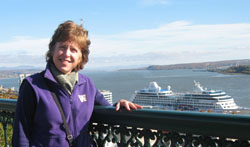 During my recent trip with a group of UW alumni and friends, I was reminded again how small the world truly is through a couple of serendipitous reconnections. Two fraternity brothers, each living in different states, unknowingly booked the same cruise. They had a wonderful time catching up and regaling us with 40-year-old UW stories. Student life was definitely different back then! On the same trip, a UW traveler discovered that a submarine commander he'd served under was on the trip—I can't even imagine the odds of something like that happening. This is one of the facts I love about traveling—you just never know what magical moments can happen.
Traveling to Rome in the future? Did you know that UW's Rome Center has a fabulous penthouse apartment that's available to rent? The Palazzo Pio was built on the ruins of a theater complex where Julius Caesar was assassinated on the Ides of March in 44 BCE. It comes with a terrace overlooking the Campo dei Fiori and is located in the heart of Rome's historic center. Stay in a wonderful location and tour a unique UW international facility that's been the home for many UW students' study aboard experience. For information and availability, contact Sheryl Brandalik at sbrandel@uw.edu.
We're offering tours to Cuba again! Our first trip is scheduled for this January and we're currently working on a second tentative June trip. If India is on your travel list, you may like to know we have just added a fascinating India tour to our 2012 fall schedule. Please continue to check our web site for up-to-date information on both trips.
Wherever your next trip may take you, I hope that you'll also discover a magical connection or two!

Pauline Ranieri
Director, UW Alumni Tours
Highlighted 2011Tours
Flavors of Northern Italy
June 16 - 24, 2012
Stay in a private villa outside of Verona and immerse yourself in the sensory delights of Italy. Taste rare handmade cheeses, dine in the homes of local chefs, tour centuries-old wineries and sample some of Italy's finest olive oils. With room for only 18 guests, space is bound to fill quickly.
National Parks of the West
June 23 – July 2, 2012
Explore the historic national parks of the West and bring the family! Visit Yellowstone, the Grand Tetons, the Badlands and Mt. Rushmore as you trace the legends and natural splendors of the American West. Enjoy 10 days of spectacular scenery and lodges, while creating memories to cherish.
Scandinavian Odysseys
June 21 – July 7, 2012
Witness the midnight sun as you journey from Copenhagen to Stockholm, enjoying the highlights of Norway, Sweden and Denmark. On this diverse itinerary, you'll experience the exhilaration of cosmopolitan cities to the quiet beauty of the countryside and its small villages. For those who would to extend their trip, a three night visit to Helsinki is also available.
Too Many Travel Brochures?

Yes, there have been many tour brochures popping up in mailboxes lately—it's that time of year! If you would prefer to receive just our bi-annual catalog mailings and travel offering via e-mail announcements, please let us know and we'll update your record. Contact us at uwaatour@uw.edu.
Space Is Also Available on These Upcoming Alumni Tours
China, Tibet & the Yangtze River: Beijing, Shanghai April 25–May 13
French Countryside: Toulouse, Dordogne, Paris April 20–May 4
Historic Reflections: Barcelona to Athens cruise May 13–24
Classic Greek Isles: Athens, Delos, Mykonos, Knossos May 28–June 9
Iberian Peninsula & Canary Islands: Barcelona to Lisbon (cruise) June 4–17
Great Journey through Europe: Lucerne, Basel, Heidelberg June 27–July 7
Russian River Cruise: Moscow, Uglich, St. Petersburg July 4–17
…and many more for 2012.
See more tours on our website at uwalum.com/tours.
Welcome Back Canada and New England Cruisers!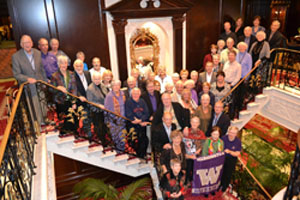 Canada & New England
September 30–October 12, 2011
Note: We're also repeating this same itinerary October 7–19, 2012
Resources
About UW Alumni Tours E-News
The UW Alumni Tours E-news is a free E-newsletter produced by the UW Alumni Association's Tours department. The newsletter features the latest alumni tours, special deals and other announcements.