Message from the Director
It's spring in North America but I'm already thinking about winter. Well, all of 2012 really, as we've now finalized the schedule for next year's tours and have posted them to our website. I'm particularly jazzed about next winter when we introduce some fabulous, first-for-us itineraries, including the Mekong Delta, the Lesser Antilles and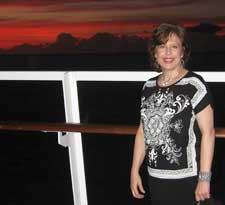 the Hawaiian Islands. All three tours are cruises or have cruising as a component; cruises can be a great way to see a country's more remote nooks and crannies.
After the tumult in Egypt earlier this year, you might think we'd forgo future departures. Not so! I'm happy to report that we are headed back to Egypt in January. The U.S. State Department has relaxed its travel warning for the country and the tour operator will, of course, monitor the political situation in advance of the trip. Egypt goes to the heart of civilization and abounds in the mysteries of the pharoahs, the pyramids, the Sphinx and more. It remains a fascinating place to visit, so if you're interested don't let recent events cause you to miss out. Call us to book your tour. (Note: We won't have a print brochure to mail out for this trip, but an electronic brochure will be available soon on our site.)
Back to 2011…we still have spaces available on our Alaska's Inside Passage tour in August. Imagine trading the Lower 48's summertime heat for a week of blue-white glaciers, rushing waterfalls, rainforest hikes, abundant wildlife and gourmet meals and fine wine, while comfortably cruising aboard a small, luxury ship. Where do I sign up??!
Finally, we've just added extra departures to two of our fall trips. A second departure of our Africa's Wildlife tour will take place Nov. 8-21 and an additional departure for Mystical India runs Nov. 13-30.
Seattle has seen more than its fair share of wet and gray skies this year, making us yearn for summer to show itself. Early would be nice. I wish you all a wonderful summer!
Best,

Pauline Ranieri
Director, UW Alumni Tours
P.S.: Do you use Facebook? We do! We love being able to update our travelers with breaking news, or to share travel tips, photos and more. We'll be using Facebook a lot more in the future so please "like" us!
Highlighted 2011Tours
Israel—Alumni Campus Abroad
Nov. 5-15, 2011
One of our more popular tours in 2009, we're heading back to Israel with an itinerary that combines a strong educational component—lectures by local experts, including NPR reporter Linda Gradstein—with tours to the historic and spiritual milestones you expect: cosmopolitan Tel Aviv, legendary Jerusalem, the Dead Sea, the Sea of Galilee, life on a kibbutz and more. Travel with a purpose…sign up now!
South India
Jan. 11-26, 2012
Have you seen and loved North India? Then this trip is for you! South India's rich cultural tapestry makes it a very different experience from the north. Discover fascinating temples, delectable regional cuisine and breathtaking scenery. Add colorful dance performances, incredible art and a tropical climate for a vacation destination like no other. Book now!

Mekong Delta
Jan. 31-Feb. 15, 2012
We're making our first foray along the Mekong River on a tour of Vietnam, Cambodia and Laos. Explore Ho Chi Minh City before embarking on a seven-night cruise with stops at Phnom Penh, Angkor Wat, Angkor Thom and key sights of Luang Prabang, including the Royal Palace of Luang Prabang. This is a golden opportunity…don't miss it!

Space Is Also Available on These Upcoming Alumni Tours
French Alps to Provence: Burgundy, Provence & Beaujolais. Sept. 22–Oct. 1
Turkey: Repeat of this popular two-week adventure. Sept. 29–Oct. 13
Colonial South: North & South Carolina, Georgia. Oct. 8–18
Egypt: Cairo, Nile River Cruise, Lake Nassar. Jan. 13–29
Kenya & Tanzania: Masi Mara, Amboseli, Ngorongora Crater. Jan. 18–Feb. 3
Costa Rica: Arenal Volcano, Monteverde Cloud Forest, San Jose. Jan. 19–30
Cruise of the Lesser Antilles: St. Lucia, Grenada, St. Barts. Jan. 27–Feb. 3
... and many more for 2012...
See more tours on our website at uwalum.com/tours.

Welcome Back Patagonia Travelers!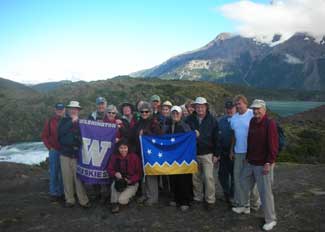 Patagonia
Feb. 14–March 3, 2011
Resources
About UW Alumni Tours E-News
The UW Alumni Tours E-news is a free E-newsletter produced by the UW Alumni Association's Tours department. The newsletter features the latest alumni tours, special deals and other announcements.