Message from the Director
When protests broke out in Cairo last month, we had two UW Alumni Tours groups in Egypt. As it happened Susan Cathcart, the other half of the UW Alumni Tours team, was leading one of those tours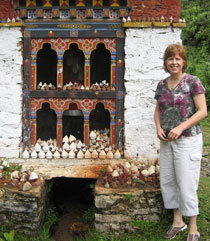 and thanks to her years as a experienced leader she peerlessly kept our travelers calm, cool and informed. In fact, our tour members took the entire history-making situation in stride and developed a rather unique "bonding" experience. Back at home, we've now heard from many of the travelers and we plan to post their collected stories and photos to our website soon. Do check back.
For you early bird globetrotters, we have selected the majority of our 2012 trips and continue to add details to our website. In addition to Costa Rica in January, China in March and the French Countryside in April, we're also heading to Amsterdam, the Greek Isles and Ireland. Complete details of these tours will be available soon.
Do you use Facebook? We do! We love being able to update our travelers with breaking news, or to share travel tips, photos and more. We'll be using Facebook a lot more in future so please "like" us!
Best,

Pauline Ranieri
Director, UW Alumni Tours
Highlighted 2011Tours
St. Petersburg
Oct. 13–21, 2011
Peter the Great wanted to build a Russian capital that would rival the great cities of Europe. Behold St. Petersburg! It's a masterpiece of design and ingenuity, defiantly opulent, extravagantly colorful and totally irresistible. Immerse yourself completely during a seven-night stay that allows you time to fully experience the highlights of this fabled city, including Catherine Palace, the State Hermitage Museum, the State Hermitage Theater and much, much more. Book now!
French Alps to Provence
Sept. 22–Oct. 1, 2011
What could be dreamier in early autumn than the enchanting south of France and the French Alps? Delight in the charms of Provence while walking Arles, Avignon and Old Lyon. Explore Beaujolais and Burgundy and taste what makes these regions famous. Want more? How about a five-night cruise on the Rhone River? Or optional extensions to Geneva and Aix-en-Provence? This is France in all its fabulousness and includes our first time to Annecy (heart of the French Alps). Don't miss out !

Space Is Still Available on These Fall 2011 Tours
French Alps to Provence: Burgundy, Provence & Beaujolais. Sept. 22–Oct. 1
Africa's Wildlife: Victoria Falls & game parks. Sept. 28–Oct. 12
Turkey: Repeat of this popular two-week adventure. Sept. 29–Oct. 13
Chianti & Italian Riviera: Alumni Campus Abroad. Oct. 4–13
Colonial South: North & South Carolina, Georgia. Oct. 8–18
Libya: Accompanied by UW Professor Jere Bacharach. Nov. 1–13
Israel: Alumni Campus Abroad. Nov. 5–15
India: Delhi, Jaipur, Agra, Khajuraho & Varanasi. Nov. 6–23
See more tours on our website at uwalum.com/tours.

Welcome Back Turkey Travelers!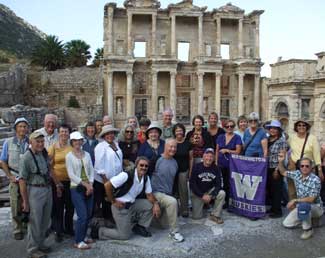 Turkey's Turquoise Coast
Oct. 9–23, 2010
"We will always remember traveling with a great group of people and our great tour director, Kaan. We were so fortunate to see a large part of Turkey and learn about the country's history. Loved Cappadocia!"
—Park, '46, '52 & Shirley Gloyd
Resources
About UW Alumni Tours E-News
The UW Alumni Tours E-news is a free E-newsletter produced by the UW Alumni Association's Tours department. The newsletter features the latest alumni tours, special deals and other announcements.