Message from the Director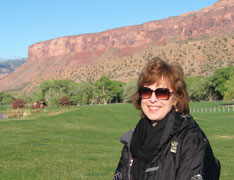 In this economy, it's no surprise that we're seeing many travelers waiting to make final vacation decisions. Thus, contrary to the proverb, he who hesitates may not be lost, as we still have space on some really incredible trips this fall: China, Turkey and Bhutan among them. Consider adding one of these destinations to your autumn to-do list.
Our full 2011 schedule is now online. We've got new tours (Guatemala), returning favorites (Vietnam) and places we haven't visited in some time (Copper Canyon & Sea of Cortez, last offered in 2003). So see the world with fellow Huskies and UW experts and enjoy red-carpet treatment traveling with us.
You've probably seen and heard about the Oceania cruises we sponsor. In the last E-newsletter I spoke about just how successful these offerings have been for us, with more than 100 UW travelers having booked for one of these first-class, high-seas adventures for 2010. We continue to be astounded by the popularity of these vacations for us and other universities. In fact, a couple of upcoming Oceania cruises will have ships that are 66% full with university groups! Join us with Oceania cruises in 2011.
Hope to have you traveling with us soon!
Best,

Pauline Ranieri
Director, UW Alumni Tours
Highlighted 2011Tours
Cradle of History
May 9-22, 2011
We've got another exciting Oceania cruise, this time visiting fascinating ports of call in Greece, Egypt, Israel, Cyprus and Turkey. Along the way we'll explore ancient Minoan and Byzantine villages in Crete, marvel at the ruins of ancient Ephesus, delight at seeing the Sphinx and the pyramids of Giza and more. Hosted by Laurie Sorensen and John Buller, space on this tour will sell quickly. Book by July 16 for special 2-for-1 pricing and free airfare from select major U.S. cities.
UW Lecturers on 2011 Tours
Egypt: Jan. 14-30 / Guatemala: Feb. 1-11 / Changing Tides of History: June 9-20
UW professors offer enriching insights to the places we visit and keep our connection to the University. We'll tap Professor Donald Reid's expertise when he accompanies us for a third time to Egypt. Professor Richard Furman will share his unique perspectives on our tour of Guatemala. And Professor Terje Leiren, a favorite of our travelers, guides us as we meet two historic world leaders on this cruise through Poland, Russia, Latvia, Denmark and Norway. Don't miss out!

Space Is Still Available on 2010 Tours
Turkey (Istanbul, Troy, Pergamum, Ephesus, Antalya): Sept. 18-Oct. 2 and Oct. 9-23
Croatia & the Dalmatian Coast (Zagreb, Dubrovnik, Split): Oct. 4-18
Cortona: Alumni Campus Abroad (Assissi, Florence, Siena): Oct. 6-14
China, Tibet & the Yangtze River (Beijing, Lhasa, Shanghai): Oct. 6-24
Bhutan (Thimpu, Bumthang, Paro): Oct. 16-28
Churchill Polar Bear Expedition (Churchill): Oct. 30-Nov. 2
Peru & Machu Picchu (Cusco, Sacred Valley, Lake Titicaca): Oct. 25-Nov. 4
Germany's Holiday Markets (Heidelberg, Koblenz, Colgone): Nov. 26-Dec. 4
See more tours on our website at uwalum.com/tours.

Welcome Back India Travelers!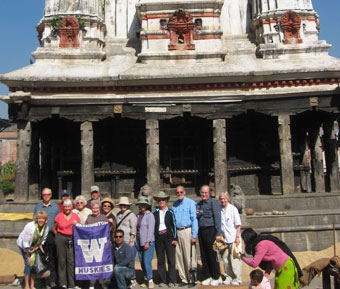 Mystical India
Jan. 16-Feb. 1, 2009
"Our journey through Northern India and Kathmandu, Nepal was a great adventure! I learned so much about the history, culture, customs, religions and the people. My global knowledge of this region was certainly expanded! The itinerary was exceptional. It offered a wonderful variety. We saw urban cities, rural farms and villages, Hindu Temples, Sihk Temples, Buddist stupas and many extraordinary World Heritage Sites. We traveled by plane, train, camel, elephant, camel cart, rickshaw, and, of course, bus."—Carol Batchelder, '55
Note: This tour will be offered again Nov. 6-23, 2011.
Resources
About UW Alumni Tours E-News
The UW Alumni Tours E-news is a free E-newsletter produced by the UW Alumni Association's Tours department. The newsletter features the latest alumni tours, special deals and other announcements.