Message from the Director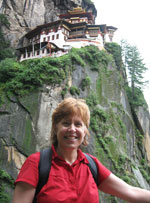 Once upon a time, "going somewhere" was exciting, from the moment you put on your best travel outfit to the plane, train or bus ride that carried you to a far-off land. Now, what with having to remove shoes, endure grumpy seat mates and other indignities, getting there isn't what it used to be. But we still go. Why? Because travel is all about experiences and creating memories with family and friends. And we have some great upcoming trips to do just that.
I'm excited to announce two new additions to our alumni travel program. Through Alumni Travel Concierge, you now have a trusted ally for adding special pre- or post-travel arrangements to a UW trip. Everything from flight arrangements to hotel stays to local guides can be secured through ATC to make every trip fit your needs. With our new partner Nomads, we'll offer our alumni annual travel opportunities using the Nomads private Boeing 727. Avoid long lines and the hassle of major airports by flying from Seattle in the comfort of business-class seats directly to the final destination. This fall, fly from Seattle directly into Churchill, Manitoba, Canada, for a polar-bear watching adventure on our first Nomads program.
In our fall E-newsletter, I mentioned working out the final details for a trip to Bhutan. Everything is in place and we're excited to bring you our very first program to this incredible kingdom where only a limited number of travelers are allowed to visit each year. Come discover a country where "gross national happiness" is a guiding principle for the Bhutanese way of life.
Hope to have you traveling with us soon!
Best,

Pauline Ranieri
Director, UW Alumni Tours
Just Added: NEW 2010 Tour!
Germany's Holiday Markets
Nov. 26-Dec. 4, 2010
You asked for it and here it is! After receiving numerous inquiries this past year about a European holiday markets tour, we've just secured space on a seven-night cruise along the Rhine River on the first-class M/S Amadeus Diamond. Step into the fairy-tale charm of Germany by exploring many Christkindlmarkts, each decorated with fragrant pine boughs and displaying unique, handcrafted decorations and gifts.
UW & Oceania Cruises
| | |
| --- | --- |
| | Offering cruises with Oceania Cruises has been an incredible success for our program. More than 100 UW travelers experienced these first-class cruises last year and more than 100 have signed on for one of our 2010 cruises. If you've yet to indulge in Oceania's country club-casual atmosphere, consider joining us on one of our 2011 winter cruises: Samba Rhythms or Asian Wonders. No matter where you go, you'll find cruising on an Oceania mid-size ship with its "two-for one cruise pricing" to be one of the best values available! |
Preliminary 2011 Trips
| | |
| --- | --- |
| | Already looking ahead to planning your 2011 trip schedule? You'll want to visit our Web site to see what we have planned. In fact, we have many trips confirmed to destinations such as Costa Rica (sold out quickly in 2010); Guatemala (new!), Copper Canyon & Sea of Cortez (last offered in 2003), and many more. Please check out our online schedule and don't forget to check back as we'll continue to confirm trips in the next few months. |
Space Is Still Available on 2010 Tours
Singapore to Dubai (Singapore, Phuket, Kochi, Mumbai, Dubai): April 24-May 12
Provence, Alumni Campus Abroad (Aix-en-Provence, Arles, Avignon): May 11-19
Russian River Cruise (Goritsy, Moscow, St. Petersburg, Yaroslavl): July 5-17
Ukraine: Dneiper River Cruise: July 14-26
Oregon Shakespeare Festival (Hamlet, Henry IV (part 1), The Merchant of Venice): Aug. 19-22
Danube River (Budapest, Bratislava, Prague, Vienna, Wachau Valley): (Sept. 7-18)
Sicily, Alumni Campus Abroad (Syracuse, Mount Etna, Palermo, Cefalu): Sept. 17-27
Dubai (Abu Dhabi, Fujairah): Sept. 18-26
Turkey (Istanbul, Troy, Pergamum, Ephesus, Antalya): Sept. 18-Oct. 2
See more tours on our Web site at uwalum.com/tours.

Welcome Back China Travelers!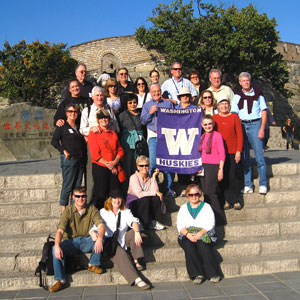 China, Tibet & the Yangtze River
Oct. 14-Nov. 1, 2009
"Every/all parts of the tour were first class: air connections, hotels, transportation and baggage transfer, tour guides and food. Everything was fine-tuned to work together without a hitch. One of the highlights was the many friends we made with a wonderful tour group!"—Rob, '65, and Mary, '64, Heinz
Resources
About UW Alumni Tours E-News
The UW Alumni Tours E-news is a free E-newsletter produced by the UW Alumni Association's Tours department. The newsletter features the latest alumni tours, special deals and other announcements.