Message from the Director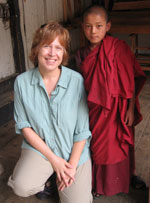 We're harnessing the power of 21st-century technology to go green and keep you up to date on travel activity. We're using our electronic communications (monthly e-mail, quarterly newsletters) to tell you about tour specials, discount pricing, new tours and more. So don't forget to open our e-mail promotions and continue to check our Web site for tours information, updates and our blog. We'll save trees and you could save big!
If you've called to book a tour recently, you may have noticed that many phone reservations are now being handled directly by our tour operators. We apologize for this change, as we've always enjoyed getting to know you, our alumni travelers, through these phone calls. Please know that you are still welcome to call us directly for assistance at any time. Contact us at: 1-800-289-2586 or (206) 685-9276.
There's good news at UW Alumni Tours! Bookings have rebounded since we confirmed our 2010 tour schedule last spring. As a result, we've added a few new trips to our roster: China, India, an Alaska Adventures cruise and Scandinavian Odyssey. Additionally, we're working hard to confirm both a trip to Bhutan and a Mediterranean and Greek Isles cruise with Oceania, both for the fall. Stay tuned!
We've got fabulous trips throughout 2010. Hope to have you traveling with us soon!
Best,

Pauline Ranieri
Director, UW Alumni Tours
Just Added: NEW 2010 Tours!
Scandinavian Odyssey
Aug. 5-21, 2010
Visit Scandinavia's majestic countryside at its loveliest, its cities at their liveliest and enjoy summertime's midnight sun. Accompanied by UW Professor Terje Leiren—a favorite of our alumni travelers—we have an exciting new itinerary that includes Denmark's capital city Copenhagen, Norway's Lofthus, Bergen, Geirangerfjord and Oslo, and Tallberg and Stockholm in Sweden. Don't miss this smorgasbord of a journey!
Alaska Adventures Cruise
Aug. 25-Sept. 1, 2010
Cruise in luxury and revel in the rugged, unspoiled beauty of Alaska aboard the six-star-rated Seven Seas Navigator, an all-suite ship where 90% of the cabins have balconies. Follow the Inside Passage to Ketchikan, then on to Juneau, Skagway, Sitka and more. All the while enjoy upscale amenities, attentive service and the finest cuisine at sea. Plus, special cruise rates are available through March 29, 2010. Don't delay!

Space Is Still Available on Winter/Spring 2010 Tours
Kenya & Tanzania (Mount Kilimanjaro, Rift Valley, Serengeti National Park): Jan. 1-22
Panama Canal (Aruba, Antigua, St. Lucia, Tortola): Feb. 3-14
India (Delhi, Jaipur, Agra, Varanasi): Feb. 21-March 10
South Africa (Cape Town, Robben Island, Johannesburg, Kruger National Park): March 2-16
Argentina & Chile (Buenos Aires, Pampas, Andes Mountains, Santiago): March 17-27
Costa Rica (San Jose, Irazu Volcano, Cuidad Quesada): March 25-April 5
Singapore to Dubai (Singapore, Phuket, Kochi, Mumbai, Dubai): April 24-May 12
Greece, Alumni Campus Abroad (Athens, Crete, Santorini): May 10-20
Provence, Alumni Campus Abroad (Aix-en-Provence, Arles, Avignon): May 11-19
European Coastal Civilizations (Portugal, Spain, France, Bilbao, Oporto): May 18-26
Seine River (Paris, Auvers-sur-Oise, Giverny, Rouen): May 31-June 8

Welcome Back Iceland Travelers!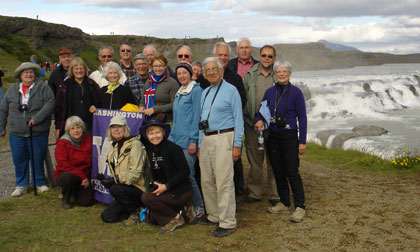 Exploring Iceland
July 18-28, 2009
"Fantastic scenery, interesting history and culture, great things to do, superb tour guide, a well-planned itinerary, overall an excellent and memorable experience."—Jim & Carol Woodward, '69