Message from the Director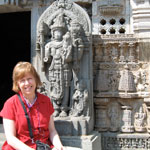 You may not be thinking about 2010 yet but we are, and we've got another amazing year of trips in store, including a new Argentina & Chile Alumni Campus Abroad vacation, a Panama Canal and Singapore to Dubai cruise, both aboard the six-star Crystal Symphony and featuring terrific traveler benefits, plus a Bavarian adventure with a stop in Oberammergau for a once-a-decade performance of the renowned Passion Play. Whew! We're still getting new and returning trips posted to our Web site, so keep checking back for more information.
If you're a single traveler, you know how limited single spaces can be—and how quickly they can be snatched up. So if you see a 2010 tour that you don't want to miss, just give us a call and we'll happily put a "courtesy" hold on a spot for you. Contact us at: 1-800-289-2586 or (206) 685-9276.
Want to go to Cuba? If the Obama Administration reopens the country to American tourists, we are ready! We have a tour itinerary on hold for April. Please call if you're interested in visiting Cuba and we'll make a note to contact you should the trip become confirmed.
Have you seen our new Tours blog? We've been looking for a way to stay connected to you with missives from the road or to pass along interesting and exciting news on a more regular basis. Voila, our blog! We hope to post weekly updates, so do check it out.
We've got wonderful trips slated for the rest of 2009 and all of 2010. I hope you can join us!
Best,

Pauline Ranieri
Director, UW Alumni Tours
Highlighted 2010 Tours
Egypt & the Eternal Nile
Jan. 13-29, 2010
Fulfill your lifelong dream of seeing the pyramids and the myriad antiquities of Egypt by joining the UWAA—accompanied by UW Professor Joel Migdal—as we journey to this storied land for the fourth consecutive year! Many travelers have said this truly was a trip of a lifetime. Departures in 2008 and 2009 sold out fast, so don't let this one get away!
Oceania: Splendors of Australia/New Zealand & Pearls of the Caribbean
Jan. 5-23, 2010 and Feb. 25-March 9, 2010
Leave winter behind for two weeks aboard the Nautica and discover sun and fun in the land "Down Under." Or, explore the stunningly beautiful islands of the Caribbean—including St. Barts, St. Lucia and St. John's—aboard the M/S Regatta. This is our second year cruising with the Oceania line and alumni love it. Both warm weather escapes are offered at incredible prices. Don't miss out!

Space Is Still Available on the Following 2009 Tours
Turkey (Istanbul, Ephesus, Antalya): Sept. 23-Oct. 8
Burgundy & Provence (Nice, Arles, Avignon, Beaune, Paris): Sept. 27-Oct. 8
Lucca (Pisa, Florence, Carrara, Viareggio): Oct. 6-14
Jordan (Amman, Jerash, Petra, Dead Sea): Oct. 23-Nov. 3
Galapagos Islands: Oct. 31-Nov. 9
Israel (Tel Aviv, Lower Galilee, Jerusalem): Nov. 7-16
Vietnam (Hanoi, Mekong Delta, Hue, Ho Chi Minh): Nov. 11-26

Welcome Back Egypt Travelers!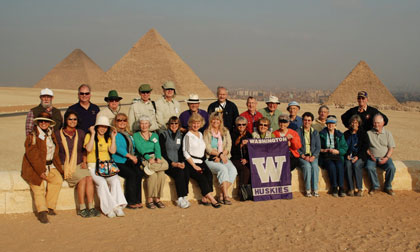 Egypt & the Eternal Nile
Jan. 16-Feb. 1, 2009
"The whole tour was a delight, but I particularly liked the way our Egyptologist built on the knowledge she gave us in increments so we were not overwhelmed. By the end of the trip, we had a great deal of information about Egypt, its history, antiquity, people, culture, religion, economy and modern life."—Helene Fowler, '00