Message from the Director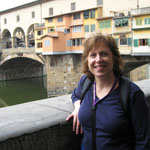 In any economic climate, travel is a great investment for the soul. Whether you're a frequent globetrotter or you've been saving for a dream trip for years, few things offer richer rewards than a voyage to new corners of the world. Our tours are selected for their variety and their value—compare our offerings with those of competing organizations and see for yourself. And as always, feel free to contact us at UW Alumni Tours for help in selecting your next destination.
In response to the current economic situation, several of our tour operators are now offering significant savings on tours—another reason why now is a perfect time to travel. Current discounts include:
I hope you can join us!
Best,

Pauline Ranieri
Director, UW Alumni Tours
Highlighted 2009 Tours
Nova Scotia & Prince Edward Island
Sept. 6-15, 2009
Discover Nova Scotia's majestic coastline as you explore quaint fishing villages, beautiful resorts and fascinating historical sites. Lovers of literature won't want to miss a tour of Prince Edward Island's Green Gables farmhouse, setting of the popular novel Anne of Green Gables. More …

Turkey: The Blue Voyage
Sept. 23-Oct. 8, 2009 & Sept. 26-Oct. 11, 2009
The "cradle of civilization" awaits among the riches of Istanbul and the ancient ruins of Troy, Pergamum and Ephesus, one of the world's best-preserved classical sites. You'll also have time to unwind during five days aboard a privately chartered yacht that cruises along the exquisite Turquoise Coast. More …
Mosel and Saar Rivers: Bike and Barge
Oct. 2-10, 2009
Discover a corner of Germany quietly celebrated for its natural beauty, wines and uncrowded ambience while aboard both bike and a comfortable passenger barge. Cycling tours will be available daily for adventures through the verdant landscape on well-kept trails and small roads. More …
Space is Still Available on the Following 2009 Tours
Amalfi Coast (Campania, Herculaneum, Pompeii, Capri, Sorrento): May 13-21
Bohemia (Cesky Krumlov, Jindrichuv, Hradec, Holasovice): May 19-27
Canadian Rockies (Vancouver, Banff, Lake Louise, Jasper): June 9-20
Scandinavia & St. Petersburg (Bruges, Helsinki, Copenhagen): June 14-29
Norway (Bergen, The Hardangerfjord): June 23-July 1
Iceland (Reykjavik, Borgarnes, Hella, Akureyri): July 18-28
Rhine River (Bonn, Worms, Heidelberg, Speyer, Strasbourg, Freiburg): July-Aug. 2

A Peek at 2010 Tour Offerings
It's an exciting time in our office right now as we compare tour itineraries and proposals in order to design another fabulous year of alumni tours. Upcoming destinations will include Costa Rica, Argentina, Seine River, Russia and many more! Fans of the Oberammergau Passion Play will be pleased to learn that we will have a tour that includes the once-every-10-year event.
Finally, we are continuing to work with Oceania Cruise Line and are now taking reservations for our Splendors Down Under cruise taking place Jan. 5-23, 2010. Prices have just been reduced for this cruise—see our Web site for more details.
Welcome Back Croatia & Dalmatian Coast Travelers!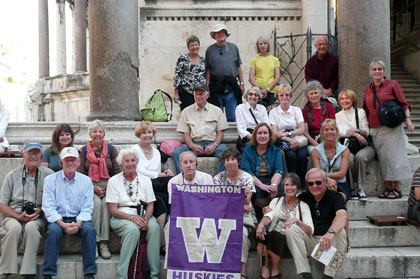 Oct. 2-16, 2008
"Get there before this all changes; it is strikingly beautiful and unspoiled. There are parts of this trip that will make you feel like you are walking in the very footsteps of a person from Medieval times."—Dick Olson, '65