Message from the Director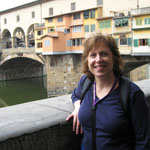 I've said it before: Travel is education in its purest form. It's also good for the soul, reviving the spirit as it clears away cobwebs in the mind. In today's economic climate, those who can travel will find time spent away from home discovering fascinating destinations to be wholly invigorating.

Speaking of education, I'm excited that we have three upcoming trips in 2009 featuring renowned UW faculty members:

As we close the book on 2008 and look ahead to a new year, I want to wish you all the best this holiday season. And, if you're stumped for a unique holiday present, consider bestowing the "gift of travel" when you purchase gift certificates good for any of our many tours.


Season's greetings!

Pauline Ranieri
Director, UW Alumni Tours
Highlighted 2009 Tours
Italy's Amalfi Coast: Alumni Campus Abroad
May 13-21, 2009
Revel in the delights of spring and the scenic grandeur of the Amalfi Coast while drinking in views that have inspired artists for generations. Wrap yourself in culture and history as you travel a stretch of coastline, from Naples to Paestum, that's been a destination for the rich and the royals for decades. More …
Spirit of the Rockies
June 9-20, 2009
Why "staycation" when you can enjoy some of the world's most spectacular scenery right in our own back yard? Experience the majesty of the Canadian Rockies on an adventure that charts a course from Vancouver and the Pacific Coast to Banff and Jasper National Parks, and stays at world-class, world-famous lodges. More …
Walla Walla Wine Weekends
May 8-10 & Oct. 9-11, 2009
If you love wine, come join one of our exclusive three-day tours of the Walla Walla Valley, often called the "Napa of the North." Visit acclaimed wineries and tasting rooms (all owned and operated by Huskies), participate in lectures by local experts and enjoy fabulous meals with wine pairings. More …
Space Is Still Available on the Following 2009 Tours
South India (Chennai, Kerala, Bangalore & more): Feb. 7-23
Tahiti (Bora Bora, Moorea, Raiatea & more): March 15-23
Japan: Alumni Campus Abroad (Kyoto, Nara, Miyama): April 20-28
Italy Cruise (Dubrovnik, Florence,Corfu, Monte Carlo, Rome): May 1-14
Scandinavia & St. Petersburg Cruise (Bruges, Helsinki, Copenhagen): June 14-29
Welcome Back Chianti: Alumni Campus Abroad Travelers!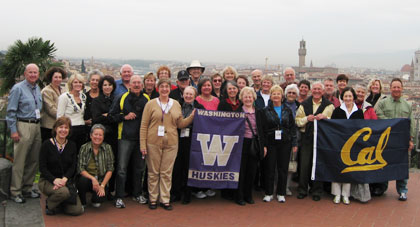 Pac-10 Rivals Enjoy Tuscany Together!
Oct. 19-27, 2008
"The tour went far beyond my expectations. This was my third trip to Tuscany and the best!"
—Joan Snelson, UW Friend
Favorite Web Site
CIA World Factbook
Find maps, country profiles and tons of demographic information about the countries of the world in this almanac-style publication of the Central Intelligence Agency. Use this reference to learn more about the people, geography, economy and government of the places you'll be visiting.
https://www.cia.gov/library/publications/the-world-factbook/

Resources