Message from the Director
I'm very excited to report that our tour reservations have been very strong in the early months of 2009. It's always fun for us to see which destinations are wildly popular—there's always a surprise or two that pops up.
And speaking of surprises, I'm amazed at the recent success we've had selling Egypt. Just a few short years ago we struggled to sell this destination and now, with five sold-out departures, we're having trouble obtaining enough space! It's a wonderful turn of events for a country that counts on the support of tourism income. If Egypt is still on your "bucket list" you'll be glad to know that we are offering it again in early 2010 and we're currently trying to secure another late 2009 date.
So where do you want to go in 2009? Italy, Japan, Iceland…? We have tours to these countries and many more. I hope to welcome you aboard an upcoming alumni tour.

Best,

Pauline Ranieri
Director, UW Alumni Tours
NEW Tour Added for 2009
Jordan
Oct. 23-Nov. 3, 2009
Join us as we encounter wonders both natural and man-made: lively Amman and rose-red Petra; the ruins of Jerash and the lunar-like landscape of Wadi Run; the resort life of the Red Sea and the restorative powers of the Dead Sea. This is the first full itinerary to Jordan that we've offered and we're quite excited to include it in our 2009 program! More...
Highlighted Trip
Scandinavia & St. Petersburg…aboard Oceania's Regatta
June 14-29, 2009
Make your reservations by Sept. 18 to take advantage of our special UW alumni cruise rates on this fabulous itinerary. Ports of call include Bruges, Amsterdam, Berlin, Copenhagen, Gdansk, Helsinki, Tallinn, Stockholm and three nights in spectacular St. Petersburg. Cruising with Oceania is truly a luxury experience—one that is sure to spoil you! More...
Space is Available on the Following 2009 Tours
South India (Chennai, Kerala, Bangalore & more): Feb. 7-23
Kenya & Tanzania (Masai Mara, Amboseli, Ngorongoro Crater & more): Feb.11-27
Argentina & Chile (Buenos Aires, Patagonia & more): Feb. 28-March 12
Southern Africa (Cape Town, Kruger National Park & more): March 10-23
Tahiti (Bora Bora, Moorea, Raiatea & more): March 15-23
Welcome Back Great Journey Through Europe Travelers!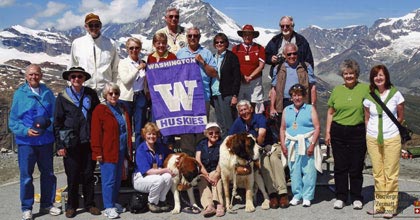 June 23-July 3, 2008
From the floor of the earth, where Amsterdam holds the sea at bay, to the song of the Lorelei, to the top of the world in the Swiss Alps and the Matterhorn, through diverse cultures, separated only by invisible boundaries, this truly has been a "Great Journey" to remember. Thank you!
Karen T. Mercer, '60
Favorite Web Site
TimeandDate.com
Do your friends and family want to keep in touch while you travel the world? Make sure they don't wake you in the middle of the night no matter where you are by sharing this Web site with them. By checking the site, they can discover the current time at your location and let you get your beauty sleep.
http://www.timeanddate.com/

Resources