Columns Votes - March 2007
Alumni Vote: Who Has More Pride?
Selected Comments from Huskies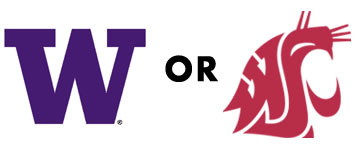 I believe that the homogeneity of Pullman translates into a sense of sameness among Coug alumni, which can also be interpreted as pride. The UW, conversely, has a much higher degree of cultural diversity by nature of its setting within a major metropolitan area. While Cougs have all spent time in the same places, walking the same paths in the relatively isolated town of Pullman, Husky grads have taken advantage of all the diverse opportunities that Seattle offers -- they have fewer shared experiences. I think this difference explains why Husky alumni are less likely to look and act the same or exhibit pride in the manner of your average Coug. (And I donít think thatís a bad thing.)
Huskies are busy demonstrating their pride in their involvement in community, business, and research, and continuing education. Excelling in these avenues leaves little time to devote to the more trivial demonstrations of pride, while the more telling are seen each day by those who walk into the board rooms, doctorsí offices, research laboratories, and institutions of higher education where the diplomas and colors of UW Huskies are proudly displayed for those who enter therein to see.
Although I believe in my university and am very proud of the work and degree I possess from the Information School, I am disappointed in our ďcommercial advertising.Ē We may have a recognizable logo and do more fund-raising than the Washington State University at certain times of the year (particularly for 2007, a new projected goal $2.5 billion!) Ö The Cougar logo just looks better on cars and in Seattle on monuments. In light of the references from our magazine (March 2007) I would say making the top 10 fund-raising schools in the United States constitutes pride in ownership of the ďpaperĒ we call our degrees, wouldnít you? The amount in billions is certainly reflective of appreciation for the Alumni Association and the efforts of all of the schools at the University of Washingtonís and their efforts when some of the students cannot pay for tuition.
In general Cougars spend more time hating the Huskies and wishing nothing but defeat; they often have more pride cheering against UW than cheering for their own team. Even outside of athletics, the WSU alumni spend more time worrying about, and hating, UW. However, most Huskies just care about one thing...UW! That is why we have more pride -- we have more positive pride, and we have a lot of which we can be proud. Our fine institution and athletic programs, our heritage and traditions mean more than a bunch of license plates. I donít have time or the energy to care about WSU. I bleed purple and gold, and it makes me proud to say I do!
The UW Huskies have such a deep tradition in excellence that we never felt like we had to participate in things to show our Husky pride. We know weíre the best in the state and history shows it. One other thing, our swagger speaks volumes.
To be perfectly blunt, the demonstration of ďprideĒ by WSU graduates is most likely an expression of trying to overcome a feeling of second-class status. WSU is a great university, but UW has stature nationally and internationally. It is the more desirable school by most measures, certainly by one -- higher incoming grade point averages. Iím sure many UW graduates feel it both unnecessary and undignified to be outspokenly prideful of their school over someone elseís. It would be false pride. It would suggest that those who study and work at another school are lesser people than those who study and work at their own school. And, that would be unseemly. UW students, faculty and alumni are secure in the knowledge that theirs is a great university without the need to be ďpridefulĒ at the expense of another great university.
Huskies have a self-assured pride that comes with a great education and understanding of the more important things in life. While it may be fun to root for your favorite team, Huskies know that it is the sciences and literary arts that sustain cultures.
There is a reason why UW is considered Public Ivy. Our students go on to top graduate schools more than WSU students for a reason. It is not about admission statistics that put UW ahead of WSU, it is the competition and the desire to do your best and make something of yourself, that is what I found at UW. You go to UW to do your best and to make something of yourself. You go to WSU because you want to get away from your parents, to party or just because you couldnít get into UW. The competition within my department, electrical engineering, drove me to achieve more than I ever thought I could and now I am at UC-Berkeley working on my Ph.D., looking forward to becoming a professor, something I never dreamed of before going to UW. I never thought about graduate school because I thought I wasnít smart enough. UW encouraged me to do my best and by doing so I saw that I was good enough to go to grad school. I wouldnít have worked so hard if I were at a school that isnít recognized as a top school. Your hard work isnít acknowledged. Plus, your peers are better at UW and that forces you to do better if you are really here for the degree, which most are. If they are not interested in working as hard, they can get a degree from somewhere else by taking the easier road. This fact isnít captured by any entering statistics; UW changes and challenges you to excel .
The pride for UW alum is shown by who we become, not by having more license plates.
The UW provides an education that allows you to do anything you want to do. You learn excellent critical thinking skills. The network of faculty and fellow students is a valuable resource the rest of your career.
Any pride I have in my degree from UW comes from the universityís intellectual values, scientific research and humanistic accomplishments. It is emphatically not based on the outcome of one football game or another.
UW graduates have pride in their university because of the rich education the received and the fond memories of the campus experience. This pride is heart-felt, and often doesnít result in banner-waving or sweatshirt wearing.
UW alumni have more smarts than to be caught up in fluffy polls. We are out changing the world vs. worrying about the color of the Space Needle.
There should be two parts to that question. First is the question of pride and the second regards its demonstration. It has been suggested that younger siblings feel compelled to be more obtrusive because of, for a lack of better words, lack of attention. Perhaps this is being observed between the alumni of these two academic institutions, thereby two styles develop from each institution regarding alumni pride and display. In essence, alumni pride may be equivalent, but alumni from one institution may be less overt in their demonstration than the other.
The main reason the Cougar fans outweighed the Husky fans in terms of their support for their alma mater seems unfathomable at first thought but understandably true: as a UW alumni twice (undergraduate and professional school), I personally feel that unless you get involved with research, teaching or develop close ties with the university after graduation, it is hard for an alumni to develop a meaningful, long term affiliation with the university. A small comprehensive university, however, like WSU, may be drawing students just for that reason.
We went to the greatest, largest, most diverse, most innovative, most leading edge university in the state. Just the medical research section gives more meaningful discoveries and findings than all of WSUís schools. Then we must add all the other schools within the UW which make meaningful contributions to society. The UW is so great that we know it so we donít need to show it.
Washington State University is located in a small, farming community and is the center of all student and faculty activities - not just academics. Almost all non-academic activities are coordinated/promoted thru WSU. The student must become a part of the community of WSU and this results in the very tight bond to Washington State University. The University of Washington is located in a major urban city where the students and faculty have many non-academic options outside the university. There is nothing to draw them to the university other than their classes or their individual interest in university sponsored activities. There is not the same sense of community because of this.
As a Husky grad school alum (í91,í98) who is now on the WSU faculty, I have seen both sides of this issue. UW is very big and impersonal in some ways, while WSU has done a great deal to make freshmen feel comfortable and included by having them take GER classes as a group and live in dorms as a group. The smaller population and the rural setting are advantages that UW will never have in terms of making students feel loyalty to a place as well as to other students. Who cares in a group of 700 in a lecture hall?
Quite frankly, itís the setting. In Pullman it is EXTREMELY university centric where Seattle is obviously much more vast, enabling the students to become more immersed in other points of interest outside of University specific activities.
At UW, there isnít a sense of community. Maybe itís because weíre in a major metropolitan city or maybe itís because students go home to their parentsí house every weekend to do laundry. WSU is in a college town and all they do is bleed Crimson and Grey the entire time they attend school. Iím a little envious to tell you the truth.
Huskies have more pride but donít need to show it off. We know our school is great. On the other hand, the Cougs need to buy license plates and have the tops of strange looking buildings painted in Coug colors to give their school the impression of legitimacy.
While attending the UW campus in Seattle, Huskies can become passionate about many things as Seattle allows for a balanced campus life within the urban setting. Huskies have tremendous school pride, but also know there is more to life than having a school license plate (that being said, I do actually have a UW plate). Cougars, on the other hand, spend their campus life in Pullman surrounded by all things WSU. This leads to a skewed sense of school pride and an unbalanced passion for their school. They have to maintain this rabid passion once they have left the confines of Pullman or else WSU would be forgotten and there will be no one left to make their beloved Cougar Gold cheese.
Cougars are stuck out in the middle of the Palouse with nothing else to do but focus on the Husky/Cougar rivalry. During freshman orientation they focus heavily on the rivalry. Huskies are in the city where there are unlimited things to do so we donít tend to dwell and become obsessive on the rivalry like our eastern friends. I have pride in the UW I just donít need to tell the world about it like WSU does.
I donít think buying a license plate should determine who has more pride as objects and images donít really matter. I am proud of the education I received at UW but realize that there is much more to learn and much more to accomplish in life. While some may buy all of the licensed University materials to show pride, others might be honoring their education by applying the experiences they gained. As far as the Space Needle, I only saw the result so perhaps that was a PR issue and not about pride.
It appears as though Cougars have more spirit, however Huskies just are quieter about their pride. Huskies are actually too busy saving the planet from global warming, running for political offices, and engineering Boeing planes to take the time to purchase alumni license gear.
I voted Husky, although, I believe Cougars probably have more spirit. I liken it to the movie ďRevenge of the Nerds.Ē Those tri-lambs really stuck together when what seemed like the rest of the world was against them. Adversity like that brings like-people together.
Husky fans have a certain sense of ďnoblesse obligeĒ and realize that it would be unseemly to flaunt their superiority. No, just kidding. In all seriousness, I do believe Cougar alumni show more school spirit. Husky alums donít have time to go out and buy vanity plates or entire wardrobes made up of UW sweat suits, simply because we have jobs.
Cougar fans usually donít have much talent to cheer for so they usually direct their attention to bashing the Huskies. A Husky fan has pride in that we donít feel the need to bash the Cougs, we just let our superiority be displayed on the field.
This probably wonít be published, but although I went to UW and am glad for the education I got, I donít think our pride comes anywhere close to the Cougar pride. The school spirit I saw there in three days visiting a friend exceeded my entire four years at UW. I have noticed while my brother is attending now (I attended 1998-2002) that the school is making more effort to increase school spirit, but while I was there we always joked that UW felt like we should just be happy they let us in.
Pride is not measured by the number of license plates purchased. Pride is how you feel and present yourself. I know that Huskies have more pride than Cougars. Huskies do not need to tell the whole world where they went to school. They demonstrate this by being productive members of society and through their everyday behavior. Huskies do not need to glorify their school because the UW already has its reputation as the leading university in Washington.
Having pride is more than just hating the other school or thinking that your school is the best. Pride is how you conduct yourself, your ambition, respect, and pursuit of greatness. Pride is trying to make a name for your school though your accomplishments. I work in Seattle in a lab with both WSU and UW grads, and (to me) the distinction is only too obvious. The WSU people ask what needs to be done, but the UW people actively figure out what they can do. Iím siding with the UW Huskies on this issue.
Pride isnít necessarily a function of demonstrative behavior. UW alumni have tremendous pride in their Husky background and experiences. WSU grads have always been in a position of overcoming the UW size and renown factor, true or otherwise, and have been more demonstrative to compensate for it. They consequently feel a need to do more to develop recognition by using visuals and other promotional actions to offset the UWís over all reputation. Pride isnít a matter of visual presentation or boisterousness. Pride is a sense of feeling and support that is personal and runs deep.
Showing our school pride by purchasing license plates and collecting school memorabilia may be one way. But the main way we like to show our Husky Pride is at a job interview. That is where we exemplify why college is really important--an education. One that is not only taught by professors but also the diverse people we meet along the way. We learn that the people we meet in life are more valuable than the things we buy or the teams we cheer for.