Columns Votes - March 2007
Alumni Vote: Who Has More Pride?
Selected Comments from Cougars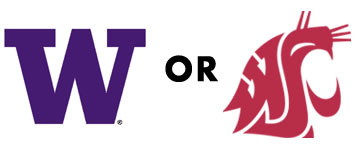 When you attend WSU, you get to experience the whole "going away to college" experience and live it up. You are more likely to form lifelong friendships at WSU. The majority of UW students live off campus; once class is over they are off back into the depth of the city away from campus. In Pullman, no matter where you live, you are never more than 10 minutes away from campus. You are more likely to run into friends and colleagues around town, which brings WSU students closer together. Having that type of atmosphere definitely made me feel at home away from home. Like the majority of WSU alumni, when I think of my time at WSU, I think of all the positive experiences I had and the great people I met, which make me proud of being a WSU alumni.
On the serious side, tons of students who go to UW live at home and drive to school. At WSU, 20,000 kids are stuck together in a town of 7,000, which centers around one thing and one thing only: WSU. Every building has signs in the windows, and every intersection has our logo in it. Pullman is WSU and our students and alumni love it there. We went there and our parents and grandparents went there as well. It was our home for 4-5 years. Huskies will always see Pullman as a second-rate cow town, just as we see the U-District as a drug-infested homeless shelter. If you are not a student or alumni you will never, and I mean never understand, what it means to be a COUG!
WSU is a more tight-knit school that institutes more of a sense of community. Half the students at UW go home on the weekends; you just don't see that at WSU. Also, a large portion of the UW-faithful in the Seattle area are just fans and have no ties to the school at all.
Cougars are immersed in a culture that really values it's students, faculty, and friends of the university. Where else do faculty mingle with freshman or graduate students at the local coffee shops, jazz club, grocery store after hours? Where else do students come together to learn about themselves, their discipline, and their local to global community 24/7? Washington State University, of course!
Cougars went to school in the middle of nowhere, and hardly ever get any respect. They join together and rabidly promote all things WSU. They're attached to their college experience, because there really was just the university community. It's not like that at a metropolitan campus like UW.
Quite frankly, it's the setting. In Pullman it is EXTREMELY university-centric where Seattle is obviously much more vast, enabling the students to become more immersed in other points of interest outside of university-specific activities.
Choosing WSU over UW was easy. Just driving the 300 miles to Pullman is full of anticipation. As you start on Hwy. 26, the WSU symbol is all along the highway. As you enter Pullman you've entered Cougar Territory. The town is centered around Cougar Life and creating school spirit! I love being a Cougar and wearing my crimson and gray. It's more then just colors. It was an amazing experience.
Growing up in Eastern Washington I have always been a part of a close-knit community, but Pullman is different. There is something about this strange little, yet big town. The minute you start your descent into town and see the sun breaking upon the beautiful red brick building on campus above you and the quaint little streets below you feel home. There is a connection that happens when you go to school in Pullman; even if you only know 10 people, you are connected to the whole student body in some way and this bond stays with you forever.
Cougars stay connected and win or lose, take a great deal of pride in the efforts of our athletes. We also respect the efforts of others and welcome them to our campus as respected guests. Pullman is our second home and not just a place to go to school.
The geographic isolation of Pullman is a major reason why. When you go to WSU, you are surrounded by Cougs, you become a Coug. When you go to UW, you are a Seattleite and probably go home on the weekends. It just isn't as strong a community as WSU.
Because we have a common bond! We go/went to a school where despite its educational/academic prowess, it tends to be outshined by its 'party school' image. We are and always have been underdogs! Never given respect, never expected to do anything, go anywhere! We as a "Cougar Nation" have thus become one of the most close-knit alumni groups in the nation. We are humble (mostly) and we are appreciative and proud of everything 'COUGAR'!!! It's all about the PASSION!!!
Coug alumni are a much closer group and proud of our school/traditions than UW alumni. Pullman is basically a college town, where everything you do and see is related to WSU. UW is nestled in Seattle, where many students live outside of the campus and don't affiliate themselves like we do with the Cougs. The roles would be reversed if UW was in Pullman and WSU in Seattle.
Many Cougars travel far and wide to be a student at WSU--across the state for most, and for others like me I came from two states away. You truly leave home and become an adult when you decide to become a Coug. You are away from the nest and comfort of everything you have known. Being on your own you are forced to decide whether you will succeed at this task or fail. Those who succeed--the alumni--feel a huge sense of pride and honor for what they achieved. Not only a world-class education, but entry into adulthood.
Cougar alums have more pride in their school. They understand what it means to have a community support the education, programs and athletics of their university unlike UW. There are too many other distractions in the Seattle area to truly build that community and university pride that WSU Cougars possess.
Cougs have a sense of camaraderie that is unmatched by most schools out there - especially those schools in big cities. In the Palouse, there isn't much to do outside of Pullman so we'd stay on campus. Who you met, who you did things with were other Cougs on campus. This helped build long lasting connections and friendships and pride for our school that last a lifetime. You relied on each other to get through the cold winter months to keep each other going and entertained and went to sports events even if the team wasn't doing so hot that year. In big cities, college students tend to live off campus and go to the city to have their fun. There's no doubt that both UW & WSU are great schools, but Cougar pride is untouchable, even in Huskies' backyard!
WSU is great, almost all of the students love being there, and many stay for the summer. Alumni flock back to WSU after they have graduated because when you are in Pullman it is all about being a Coug. UW is very impersonal; it is a check box in your life, not an experience of your life. UW provides a great education in the classroom, but they cannot touch the life experience you get at WSU -- and very few colleges in the country can. My family has gone to school all over the Pac-10 (UW, OSU, UCLA, Cal, USC, and WSU) everyone became a Coug fan while I was there and are still is avid Coug fans. Being in Pullman galvanizes this pride. Even though I would agree UW probably provides a better education (though not by much), WSU is the best college because of the whole experience and pride you receive by being a Coug. Not to mention Cougs hire Cougs.
The Cougars have more pride because they have more at stake. We often feel as if we are looked down upon by the Huskies, which give us a bit of a little brother feeling. Additionally, it probably has something to do with the fact that WSU is a school where students live on campus and UW tends to be a commuter school. It's harder to get excited about your school when you're only there for classes. Cougs are pushed by their isolated location to make the best of it, which leads to going to athletic events, rally's and generally being INVOLVED in their school, whereas Huskies have the draw of everything else in Seattle to do INSTEAD of being involved...
Location, location, location. Pullman is a quiet, unique rural setting. While attending Washington State University there are very few distractions from what is truly a family of Cougars. In Seattle the students bleed into the larger context and tend to lose track of that sense of family and ownership on their campus.
I attended both UW and WSU at different times. I started my freshman year at UW and having grown up a Coug, I have to say that I was highly disappointed in the Huskies' school spirit. It certainly wasn't what I would expect from a such a recognized university in terms of its athletics and academics. Upon transferring to Wazzu, I immediately came to admire both the student and alumni affinity for everything Cougars -- I immediately felt a part of the family. And that's a family I'll never leave.
I'll go ahead and keep this short and simple but I truly believe that one of the reasons why WSU students have the stronger pride is due to the fact that we all are bunched up and displaced in a small town in the middle of absolutely nowhere. As a result, we have nothing but ourselves and we end up seeing the same people everyday, either on campus, at the bars or even at the grocery store. The close proximity and the "we are all in an island together" mentality helps build the bond and feel of community amongst us in a much stronger effect and taking this into account, there's a greater sense of camaraderie and pride.
Cougars have a sense of pride based on a shared experience -- Huskies go to an insanely large school, spread out over a large city. Cougs are in a centralized location with a unified student body. Only people who have lived in Pullman and have experienced life at Washington State can understand true Cougar pride. I am a Cougar, and the daughter of a Husky. There is no pride at Washington, no unity among the alumni. When we go out in public (on the West Side, mind you), my dad in purple and myself in crimson, no one acknowledges his school gear, while I am stopped by alumni and strangers saying "Go Cougs!" Even today, Cougar alumni, even with smaller numbers, hold ten times the amount of pride held by any Husky alum. Perhaps, if the University of Washington treated its students more like people and less like numbers, Huskies would be able to have a quarter of the spirit Cougars do.
I have had numerous conversations with Husky fans, and the most common theme/question is "How can you cheer for a team who always loses?" This to me speaks to the core difference between Cougars and Huskies. To a Husky, pride is equal to winning. To a Cougar, pride is pride, regardless of winning, losing, ranking, etc. Cougars love their school, their town, their heritage, their teams, and each other regardless of who is top in the Pac-10 or who has a better record. Huskies are so easily dismayed by a losing season and give up on their teams readily. Cougars love their school and team, in the good times and the bad. That, to me, is what school spirit, what COUG spirit, is all about.
As an outsider who prefers the University of Oregon over both institutions, it would seem as though WSU's pride is derived from the standard assumption of elitism that is often exhibited by UW and its graduates. WSU is an underdog who sometimes lives in the shadows of its flagship sister. WSU students and alumni will not accept the assigned label of inferiority and therefore react by purchasing more license plates, eating more Cougar cheese and voting more often on on-line polls.
As a WSU graduate and UW employee, I must say that the Cougs definitely have more school spirit and an unwavering pride in our college. To be fair, I did marry a Husky, my best friend is a Husky, and I work for the UW, but my heart belongs to WSU. I think that because Pullman is so college-centric, the students there HAVE to bond together, they HAVE to form one tight-knit, cohesive community, or else we would have died of boredom. There is NOTHING to do in Pullman besides go to college and be a part of the collegiate lifestyle. Crimson and gray is forced upon you the moment you enroll because there is nothing else there! The town of Pullman IS WSU, the city of Seattle is NOT UW. UW is a very small part of the city, but WSU makes Pullman. Pullman is a magical town and a universe all it's own. Those who weren't a part of it will never understand, but those of us who WERE a part of it will ALWAYS live it. I bleed crimson and gray.
As a current student of Washington State University I have experienced "everything Cougars" All my friends and I show up to sports events 5+ hours before the doors even open to try and get the best seats. For the recent basketball games some of my sorority sisters were in line at 4 a.m. and the doors did not open until 5:30 p.m. On Friday and Saturday nights when you're walking around campus and Greek Row everyone that you see you give a high-five and shout "Go Cougs" as you pass. WSU students are completely dedicated to our school and our pride.
Two prominent factors come to my mind when searching for an explanation as to why WSU alumni tend to display school pride more avidly than their UW counterparts. The first involves regional pride. Much of WSU's student population comes from Eastern Washington, whereas the UW student body comes from a much more diverse regional background. (In particular, there are many more foreign students attending UW than WSU.) WSU students view their school as an icon of regional pride. In contrast, many people go to UW purely because of the institute's academic reputation--and not due to any intrinsic pride at "being a Husky." The second major factor involves the nature of the two universities' campuses. WSU is located in a very small town in the middle of wheat fields; there is very little to do off campus. As a result, most students are heavily involved in on-campus activities which tend to foster long term school pride. In contrast, the UW campus blends almost seamlessly into the surrounding city life of Seattle. The numerous shops, restaurants, and other attractions offered by Seattle tend to pull students off campus...and lessen school pride by providing more of a connection to the city itself than to the university.