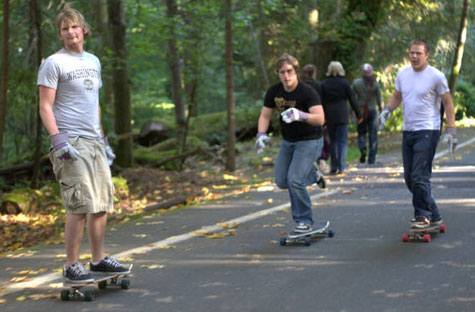 * Ben Warner, left, and two friends will skate across the country for local Boys & Girls Clubs.
Skating for a Reason
By Jill Carnell Danseco
When Ben Warner was approached by a group of teenagers looking for a fight, he could have hopped on his longboard and skated off to safety.
But this UW Tacoma senior cared enough to try to talk it out. And when that didn't work, he took a long ride—and hatched a plan to use his board to bring hope to a legion of kids across the country.
This March, Warner, an IAS senior from Lakewood, and two friends will embark on a longboarding trip from San Diego to Savannah, Ga. Their goal is to raise money and awareness for Boys & Girls Clubs, boosting an agency that helps keep kids off the streets.
"We didn't have a lot when I was growing up, but I had Boys & Girls Club," he said. "It kept me focused when I was a kid. Some kids, they don't have anyone telling them they can be better."
Earlier this year, Warner was out on his longboard—a long, wide version of a skateboard that's popular among racers and distance skaters—when he decided to make a nighttime visit to the Southeast Tacoma neighborhood where he grew up. As he looked at his old family home, he heard someone call out a crude greeting from the street.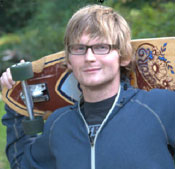 * Ben Warner
He spun around to find three boys, all about 14 years old, approaching him. One was carrying a hatchet. The other two carried a bat and a tire iron. All three wanted to fight. Warner just wanted to talk.
He asked the kids why they chose this path in life.
"I told them, 'You're better than this,'" he said. "One of the kids said to me, 'No, I'm lower than dirt. I'll die a Crip just like my dad.'"
An older gang member intervened, telling Warner to leave. He skated away, but couldn't shake the image of the three boys throwing their lives away in front of his childhood home. So he just kept on riding. He thought about neighborhoods breaking down, about the rise of gang violence and the loss of human connection. He thought about his own youth, when family members told him college probably wasn't in his future. He thought about the Boys & Girls Club volunteers who had helped him learn to believe in himself—and wished the boys who had confronted him would find a similar positive influence in their lives.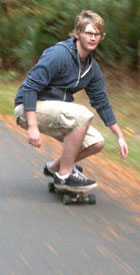 * Ben Warner, on the move
After skating about 15 miles, he realized it was up to people like him to make that happen.
Working with IAS Lecturer Steve DeTray and staff at Boys & Girls Clubs of South Puget Sound, Warner hatched a plan to use his longboard to gain awareness for the issue. His ambitious trip will take him and his friends on a two-month, 3,000-mile trek across the southern United States, followed by a support vehicle and a film crew. Along the way, they'll speak at local Boys & Girls Clubs, meet with local youths and encourage people of all ages to volunteer at a club, coach or even just show up to watch a baseball game.
"We believe that increasing this social capital will help build communities and encourage the youth of America to further their education and become more fit," he said.
And the trip is more than a fundraising effort—Warner is using it to craft an internship with Boys & Girls Clubs. Success will not only earn money for the agency, it will earn Warner the last credits he needs toward his IAS degree and minor in nonprofit management. After he graduates at the end of Winter Quarter, Warner hopes to enter the Master of Education program at Pacific Lutheran University. He wants to be a teacher.
The group hopes to leave on March 21 and arrive in Savannah in late May. They are currently skating 40 miles a day to train and seeking sponsors to help raise the $20,000 they'll need to fund the trip. Money raised above that amount, through sponsorships and fundraising efforts along the route, will support Boys & Girls Clubs. They hope to raise a total of $100,000 for the agency.
"Boys & Girls Clubs of South Puget Sound helped me with so much in my life," Warner said. "A stronger Boys & Girls Club could really change a community."
Learn more at Warner's Web site: http://www.longboardingamerica.com/
* Photos provided by Ben Warner