Events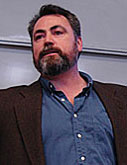 Andrew Fry
Regional Tech Industry Is Focus of Kitsap/Jefferson/Clallam Lecture
Join us for an in-depth look at the state of the technology industry in the South Sound and Washington state as measured by innovation, funding and work force. Andrew Fry, assistant director of Industry Partnerships at UWT's Institute of Technology, weighs in on a variety of topics including start-ups, angel investing, venture capitalism and IPOs for funding. He'll also speak on educational degrees granted for bolstering the work force, the pervasiveness of technology and how it will affect all industries, not just technology.
Get more information online for the Feb. 22 lecture or call 206-543-0540 for more information.


Black History Month at UWT to Feature Film on ALCAN Highway
This hour-long film chronicles the story of the more than 3,000 African-American soldiers who, under winter's harshest conditions, paved the way for the great ALCAN Highway across the mountains and the frozen tundra of Canada and Alaska.*
Date: Sunday, Feb. 12
Time: 12:30-1:30 p.m.
Location: Carwein Auditorium, UW Tacoma
For more information, visit the UW Tacoma Campus Events Calendar.


Tacoma Coaches Tour Stop to Welcome Husky Football's Steve Sarkisian
Round up your foursome early and tell your friends! The 38th Annual Coaches Tour Golf Tournament and Husky Insider Banquet takes to the road, with the first stop at Fircrest Golf Club in Tacoma on Thursday, May 30. Rub elbows with UW varsity coaches, including new head football coach Steve Sarkisian, at this regional fund-raiser for scholarships and Husky athletics. Enjoy a great day on the links and fine dining and get the inside track on your favorite sports! Keep watching for more information at your UW Tacoma alumni events page or at UWalum.com—and don't miss it!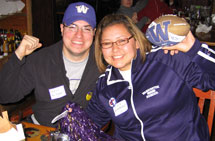 Tacoma Dawgs at Apple Cup Bash.**
Scoreboard Couldn't Dampen Huskies' Spirits
at UW Tacoma Apple Cup Bash
For many Husky faithful who couldn't make the trek to Pullman, spirits were still high—from the opening kick-off to the last whistle—at The Harmon in Tacoma on Nov. 21. During a game marked by missed opportunities, UWT students, alumni and friends alike lifted their glasses, stomped their feet and cheered on the Dawgs as Cougar fans heckled and bellowed from the other end of the restaurant. With coach Steve Sarkisian ushering in a new era of Husky football, expectations for next season are running high! See more pictures ...
* Photo courtesy Willam Edward Griggs
** Photo by Scott Pinkston